Project Blue Blook (History) -- S: Aidan Gillen -- UFO Drama series
01-08-19, 03:16 PM
Project Blue Blook (History) -- S: Aidan Gillen -- UFO Drama series
---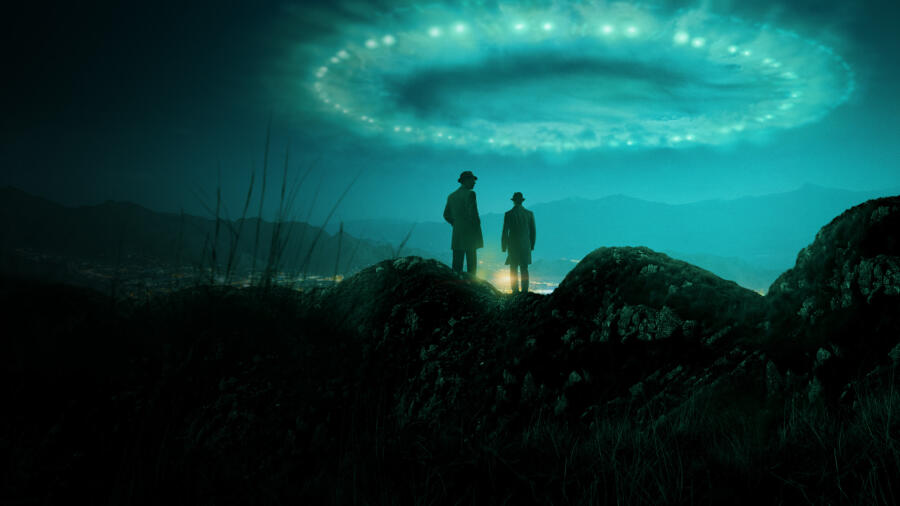 HISTORY's upcoming new drama series 'Project Blue Book' is based on the true, top-secret investigations into Unidentified Flying Objects (UFOs) and related phenomena conducted by the United States Air Force from 1952 to 1969.

Dr. J. Allen Hynek (Aidan Gillen), a brilliant yet underappreciated college professor, is recruited by the U.S. Air Force to spearhead a clandestine operation called Project Blue Book. Along with his partner, the debonair Air Force Captain Michael Quinn (Michael Malarkey), he is summoned to investigate UFO sightings around the country and use science to discover what really happened. However, when some encounters cannot be explained away and cases remain open, Hynek begins to suspect that he has been duped by the government into a larger conspiracy to cover up the truth. Set against the backdrop of the Cold War and rising Atomic Era, each episode will draw from the actual Project Blue Book case files, blending UFO theories with authentic historical events from one of the most mysterious eras in United States history.
10 episode season
Looks like a period version of X-Files.
01-10-19, 11:39 AM
Re: Project Blue Blook (History) -- S: Aidan Gillen -- UFO Drama series
---
Thought it was a bit of a letdown.

I have been fascinated by UFO culture since I was a kid, and this stuff is right up my alley even though I am a skeptic.

I thought the first episode lacked focus and tried to do too many things. Too many characters and subplots were dropped into the first hour to keep track of. This thing was just all over the place with the wife and her friend, and the Hynek's investigation, and the military conspiracy stuff.

I might bank the episodes on my DVR and binge them when it's over.
01-10-19, 12:31 PM
DVD Talk Gold Edition
Join Date: May 1999
Location: IL
Posts: 2,678
Re: Project Blue Blook (History) -- S: Aidan Gillen -- UFO Drama series
---
I remember watching the original Project Blue Book series back in the late 70s so had to give this new iteration a try. I might give it a few weeks but so far it's a stinker. Since most of the effects were crappy CGI I don't get why they didn't use the actual aircraft that can be seen in the historical case files at the end of the show, a P-51 Mustang, instead of a T-6 Texan trainer that would have had no armament in it with which to engage a UFO. I suppose so they could shoehorn in the whole copycat flight that required a two-seater and ended in an oh so believable crash that ejected the good doctor but left him with nothing more than a scratch on his head. Yes, I'm being nit-picky but it shows how lazy the whole effort seems to be.
01-10-19, 02:28 PM
DVD Talk Special Edition
Join Date: Jan 2018
Posts: 1,131
Re: Project Blue Blook (History) -- S: Aidan Gillen -- UFO Drama series
---
I thought about watching this last night, but I passed.

Unless I find a giant spaceship hovering over my city someday, I remain a skeptic.
Too many times "evidence" turns out to be bogus or outright fraudulent.
If an alien species, with the technology needed to get here, wanted to visit Earth we wouldn't know about it unless they wanted us to.
So far I haven't seen anything close to that.
01-19-19, 01:05 PM
DVD Talk Platinum Edition
Join Date: Nov 2001
Posts: 3,186
Project Blue Book (History) óS: Aiden Gillen, Neal McDonough; Premiered 1/8/19
---
Project Blue Book
is a Canadian-American
historical drama
television series that premiered on
History
on January 8, 2019. The main role of
Josef Allen Hynek
is played by
Aidan Gillen
, and the series will consist of ten episodes. The series is based on the real-life
Project Blue Book
, a series of studies on
unidentified flying objects
.
The series revolves around secret U.S. Air Force investigations into supposed UFO encounters and unexplained phenomenon, undertaken by astrophysicist, and eventual ufologist, Josef Allen Hynek in the 1950s and 1960s.
Anyone else been watching this? 2 episodes have aired so far and Iíve enjoyed it. It has a bit of an X-Files vibe, but in this case itís a fictionalized account of real people. Iím not uet sure if the stuff theyíre researching are based on actually historical events or are just made up for the show.
itís worth cathing up on if it sounds like something youíd be into.
McDonough plays his typical asshole type of character, but itís cool to see Gillen play a character cery unlike Littlefinger from GoT.
01-19-19, 01:27 PM
Re: Project Blue Book (History) óS: Aiden Gillen, Neal McDonough; Premiered 1/8/19
---
01-19-19, 01:45 PM
DVD Talk Special Edition
Join Date: Jan 2014
Posts: 1,120
Re: Project Blue Blook (History) -- S: Aidan Gillen -- UFO Drama series
---
I'm rather annoyed that Hynek isn't telling Quinn about the people shadowing them. I understand why Hynek won't mention the symbols, Quinn isn't exactly a flexible thinker yet, but being tailed is evidence of espionage or worse, which would seem to be a very important thing for Quinn to know. Besides, Hynek doesn't have any obvious motive for keeping that a secret. Quinn can protect him if those people get physical, and it's not as if Quinn has any reason to disbelieve somebody might be spying on them.

The Russian spy trying to cozy up to Hynek's wife is a little weird, what is Hynek supposed to have that would interest them? He's a low-level scientist, it's not like they're spying on Oppenheimer.
Posting Rules
You may not post new threads
You may not post replies
You may not post attachments
You may not edit your posts
---
HTML code is On
---