Resurrection (S2E12) -- "Steal Away" -- 1/18/15
01-18-15, 03:21 PM
DVD Talk Godfather
Resurrection (S2E12) -- "Steal Away" -- 1/18/15
---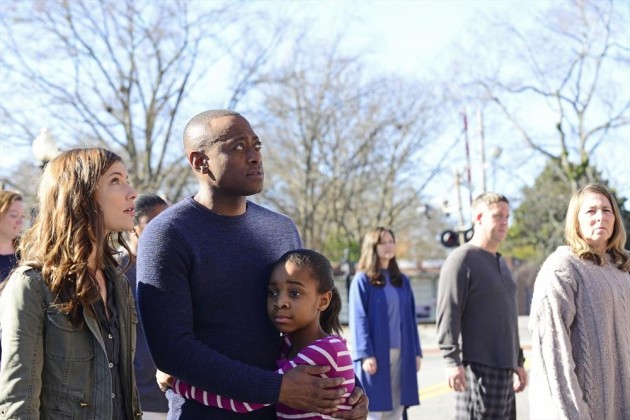 BELLAMY FEARS FOR RACHAEL AND HER UNBORN CHILD AFTER A SERIES OF INEXPLICABLE EVENTS, ON ABC'S "RESURRECTION"

"Steal Away" - After a series of inexplicable events, Bellamy fears for the safety of Rachael and her unborn child. Preacher James predicts that the baby's birth will unleash an ancient evil. Margaret rallies the Returned at the government facility and forms an uneasy alliance with Preacher James, and Bellamy's government contact (Donna Murphy) warns that something big is on the horizon, in the penultimate episode of "Resurrection," SUNDAY, JANUARY 18 (9:01-10:01 p.m. ET) on the ABC Television Network.

"Resurrection" stars Omar Epps as J. Martin Bellamy, Frances Fisher as Lucille Langston, Matt Craven as Fred Langston, Devin Kelley as Maggie Langston, Mark Hildreth as Pastor Tom Hale, Samaire Armstrong as Elaine Richards, Landon Gimenez as Jacob and Kurtwood Smith as Henry Langston.

Guest cast includes Michelle Fairley as Margaret Langston, Kathleen Munroe as Rachael Braidwood, Nadej Bailey as Jenny, Michael Tourek as Cauliflower Ear, Jim Parrack as Preacher James, Cheryl White as Robin and Donna Murphy as Angela/aka The Elegant Woman.

"Steal Away" was written by Nathan Louis Jackson and directed by Felix Alcala.


Episode 12 of 13
Next week is the season and probably series finale.
Shame this show went from being a semi-hit during season 1 to no one caring about it anymore in the 2nd season.
01-19-15, 11:40 AM
DVD Talk Platinum Edition
Join Date: Aug 2004
Location: Texas
Posts: 3,920
Likes: 0
Received 0 Likes on 0 Posts
Re: Resurrection (S2E12) -- "Steal Away" -- 1/18/15
---
Omar Epps said on a talk show recently that there WILL be a Season 3? I mean, what is the point, its just limping along to a lame finale now.
Posting Rules
You may not post new threads
You may not post replies
You may not post attachments
You may not edit your posts
---
HTML code is On
---