RIP---> Andrew "Boner" Koenig (1968-2010)
02-26-10, 08:10 AM
Inane Thread Master, 2018 TOTY
RIP---> Andrew "Boner" Koenig (1968-2010)
---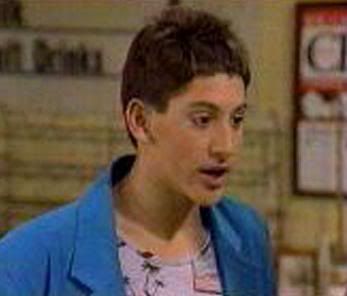 i was just going to post that the other day i saw he was missing. didn't know he was the son of Walter Koenig (Chekov on original Star Trek). just found out he killed himself. sad.
http://news.yahoo.com/s/nm/20100226/...nm/us_koenig_6
VANCOUVER (Reuters) Ė Missing U.S. actor Andrew Koenig, who starred in the 1980s television comedy "Growing Pains," killed himself, his distraught father said Thursday after police located his body in an isolated area of a park.

"Our son took his own life," Walter Koenig, who portrayed Lieutenant Pavel Chekov in the original "Star Trek" TV series, told reporters at a late afternoon news conference.

Andrew Koenig, 41, was last seen on February 14 when he left the Vancouver apartment of a friend he had been visiting, and he was reported missing four days later after his father, in Los Angeles, received a despondent letter from his son.

Koenig's disappearance caused friends including actress Alyssa Milano, actor Kirk Cameron and comedian Sarah Silverman to post comments online or put out statements seeking information on his whereabouts.

On his father's website, Koenig's parents posted a long description of their son, including the fact that he had been suffering from clinical depression when he disappeared.

Walter Koenig Thursday pleaded with people who may be similarly depressed not to ignore the illness and to seek help.

After a week of searching, Walter Koenig said Vancouver police tried a last sweep of Stanley Park -- a large expanse of grass, trees and tourist attractions near the city's downtown -- Thursday morning. Near noon, police found his son's body.

Andrew Koenig portrayed Richard "Boner" Stabone on "Growing Pains," but since then he'd had mostly small roles on TV and in the movies. He performed standup comedy at Los Angeles clubs such as The Improv, and had edited and produced films.

Koenig also was active in social causes and was arrested in 2008 for protesting U.S. involvement in the Beijing Olympics.

http://www.eonline.com/uberblog/b168...mdb_topstories
<embed width="400px" height="300px" flashvars="width=400px&height=300px&ampID;CEGPromoPlayer&releasePID=UlYjMeMbUwmrzA_U2Pgbo2SsXh_V8KPB&playerId=Embed&l ocId=US&player.autoPlay=false&SWF_URL=http://www.eonline.com/static/videoplayer/platform_players/swf/&skinUrl=http://www.eonline.com/static/videoplayer/platform_players/swf/skinCEGPlayer.swf" allowScriptAccess="always" allowfullscreen="true" salign="tl" scale="noscale" wmode="transparent" quality="high" bgcolor="#000000" name="CEGPromoPlayer" id="CEGPromoPlayer" src="http://www.eonline.com/static/videoplayer/platform_players/swf/CEGDynamicPlayer.swf" type="application/x-shockwave-flash"/>

Andrew Koenig's parents wish their son had realized how many people cared about him.

"My son took his own life," dad Walter Koenig said during a police news conference this evening. "Obviously, he was in a lot of pain."

Andrew's body was discovered by a group of friends who had organized their own search at noon Thursday in a densely wooded area of Vancouver's Stanley Park.

Walter said that Andrew considered the 1,000-acre landmark a second home. Police said that three search-and-rescue teams searched the area on Tuesday because they knew it was one of his favorite places, but found no trace of him.

Now that their son is gone, the actor's parents hope that others who suffer from depression will be encouraged to seek help.

"I have received hundreds of emails from people who said they are depressed and considering the same course of action or showed signs of the same behavior," Walter, who played Chekov on the original Star Trek, said.

"The only thing I will say is if you are one of these people and feel you canít handle it anymore, I hope you learn from this. Know that there are people are out there who really care. It may not be enough, but before you make your final decision, check it out again, talk to somebody."

Added Andrew's mother, Judith: "People don't realize there is help. Families, familiarize yourself with these signs. Don't rationalize anything away. People have shown signs of love.

"In his pain, Andrew didn't realize what was available to him. He had much love and much to contribute. This is the only statement we are going to make. Please respect our privacy."

Vancouver Police Constable Jana McGuiness said that they do not suspect foul play. The investigation will now be turned over to the coroner's office.

"It's a devastating day for the family," McGuiness said, adding that there will be no comment on cause or time of death for the time being, due to the sensitivity of the matter.
---
Last edited by OldBoy; 02-26-10 at

08:13 AM

.
Posting Rules
You may not post new threads
You may not post replies
You may not post attachments
You may not edit your posts
---
HTML code is On
---