The Curse of La Llorona (2019) D: Michael Chaves
10-17-18, 12:51 PM
The Curse of La Llorona (2019) D: Michael Chaves
---
This thing is going to rake it in! Trailer drops tomorrow but I'm digging this poster.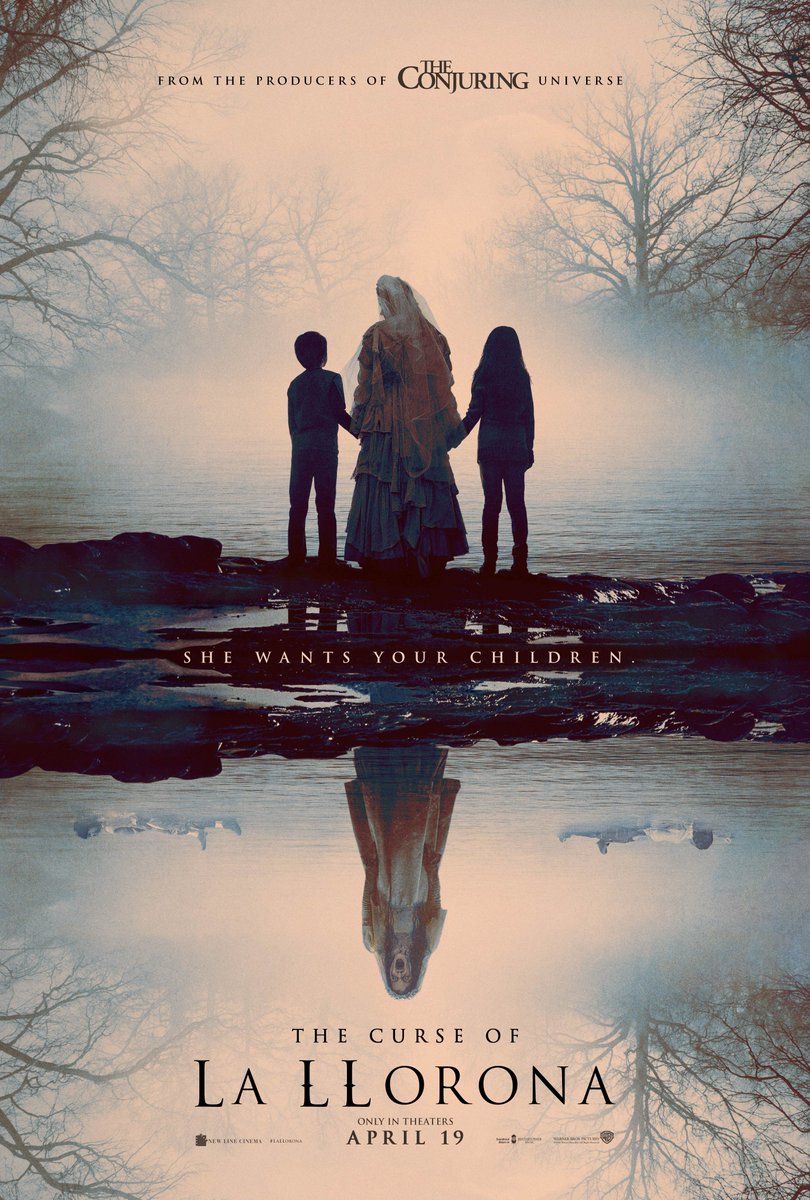 Looks like it's also a standalone unrelated film to the "Conjering-verse."
10-17-18, 12:57 PM
Re: The Curse of La Llorona (2019) D: Michael Chaves
---
"La Llorona. The Weeping Woman. A horrifying apparition, caught between Heaven and Hell, trapped in a terrible fate sealed by her own hand. The mere mention of her name has struck terror around the world for generations.

In life, she drowned her children in a jealous rage, throwing herself in the churning river after them as she wept in pain.

Now her tears are eternal. They are lethal, and those who hear her death call in the night are doomed. La Llorona creeps in the shadows and preys on the children, desperate to replace her own. As the centuries have passed, her desire has grown more voracious…and her methods more terrifying.

In 1970s Los Angeles, La Llorona is stalking the night—and the children.

Ignoring the eerie warning of a troubled mother suspected of child endangerment, a social worker and her own small kids are soon drawn into a frightening supernatural realm. Their only hope to survive La Llorona's deadly wrath may be a disillusioned priest and the mysticism he practices to keep evil at bay, on the fringes where fear and faith collide.

Beware of her chilling wail…she will stop at nothing to lure you into the gloom.
Because there is no peace for her anguish. There is no mercy for her soul.
And there is no escape from the curse of La Llorona."
10-17-18, 02:02 PM
Re: The Curse of La Llorona (2019) D: Michael Chaves
---
My dad, being Mexican, has wanted a LA LLORONA movie his entire life. But he got pretty pissed off when I told him that this takes place in the 70s (When the cast/crew appeared at Comic Con) but just like the Conjuring/Blumhouse machine, if this is successful, then heíll finally get his origin story...But hopefully itíll take lessons from Annabelle:Creation And not The Nun
10-18-18, 10:43 AM
DVD Talk Gold Edition
Join Date: Aug 1999
Location: Chicago, IL
Posts: 2,508
Re: The Curse of La Llorona (2019) D: Michael Chaves
---
My mom, and aunts would completely scare us when they told us stories of la llorona when we visited family back in the small town in Mexico where they grew up. I love that you could hear her say "Mis Hijos". My mom would NOT want to see this, she would be so scared.
10-18-18, 10:54 AM
Re: The Curse of La Llorona (2019) D: Michael Chaves
---
12-27-18, 08:18 PM
Re: The Curse of La Llorona (2019) D: Michael Chaves
---
I donít know squat about the La Llorona myth but I love most of the movies in the Conjuring-verse so Iíll definitely check this out.
Line Cardellini is a bonus.
Posting Rules
You may not post new threads
You may not post replies
You may not post attachments
You may not edit your posts
---
HTML code is On
---