Max Fleischer's Superman Blu-ray
03-03-23, 08:55 PM
Max Fleischer's Superman Blu-ray
---




Max Fleischer's Superman Blu-ray
Posted March 2, 2023 07:21 PM by

Warner Bros. Home Entertainment is preparing a Blu-ray release of
Max Fleischer's Superman
(1941-1943). The release is expected to arrive on the market this May.
Make them exciting and visually bold, make them in brilliantly saturated Technicolor: This is a job for Superman! From their signature bullet-paced prologues to their muscular style to their stories steeped in heroics and wartime topicality, these 17 animated theatrical shorts produced by Max Fleischer (with the first nine directed by his brother Dave) set the tone for future screen versions of the Man of Steel's exploits, inspired animators for decades to come and, best of all, continue to pack a thrilling punch for fans. Superman's adventures in comic books were scarcely three years old when the Academy Award-nominated debut cartoon, Superman, burst onto the screen with its breakthrough look and vitality. The excitement still soars.
Special Features and Technical Specs:
NEWLY RESTORED
Max Fleischer's Superman: Speeding Toward Tomorrow - intense action, noir filmmaking, a heroic soundtrack, Max Fleischer's Superman changed the world of superhero storytelling forever - Featurette
First Flight: The Fleischer Superman Series - Featurette
The Man, The Myth, Superman - Featurette
Optional English SDH, Spanish, and French subtitles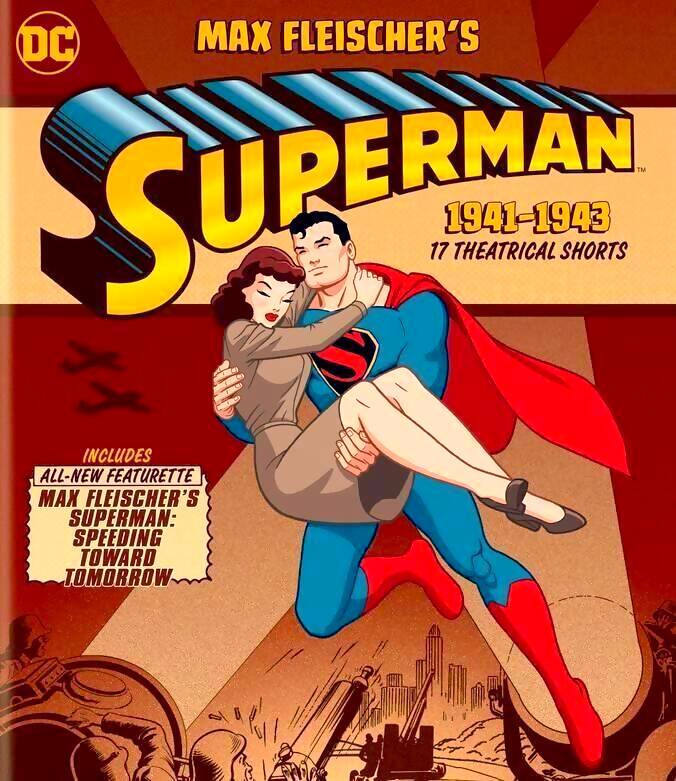 Source:
Blu-ray.com
|
Permalink
The following 7 users liked this post by RocShemp:
03-03-23, 10:54 PM
DVD Talk Hero
Join Date: Feb 2007
Location: The Phantom Zone
Posts: 26,347
Re: Max Fleischer's Superman Blu-ray
---
Crossing my fingers they've been credibly restored with new scans. This has been a long awaited disc for me.
03-03-23, 11:57 PM
DVD Talk Reviewer/Moderator
Join Date: Jul 2007
Location: Formerly known as Kurt D - On a cloud of Judgement
Posts: 12,271
Re: Max Fleischer's Superman Blu-ray
---
I'm interested ....
03-04-23, 07:21 AM
Re: Max Fleischer's Superman Blu-ray
---
Fortunately it's been a couple years since I bought the inferior Blu ray. I can look forward to this better version without regretting the previous purchase.
Posting Rules
You may not post new threads
You may not post replies
You may not post attachments
You may not edit your posts
---
HTML code is On
---