Dollar General Blu-rays
11-20-18, 06:25 PM
Senior Member
Join Date: Mar 2009
Location: South Dakota
Posts: 469
Re: Dollar General Blu-rays
---
The problem I have with Dollar General and movies for blu ray is that I think they order way too much of Taken 1 and Taken 2 where they just clog up the spinner rack. That and Joyful Noise.

Whos the target audience anyway for a movie like Joyful Noise?
11-20-18, 07:10 PM
Re: Dollar General Blu-rays
---
When mine rang up yesterday, my 4 titles rang up at $2.48 each. I was about to question it and then when the cashier pushed total and the total was 4.95 with tax.

Did you guys cancel before or after they pushed total?

I'm asking as there is one more location I plan to visit tomorrow and don't want to waste the trip if things changed since my purchase yesterday?
11-21-18, 11:30 AM
Senior Member
Join Date: Mar 2009
Location: South Dakota
Posts: 469
Re: Dollar General Blu-rays
---
I went to the Dollar General store earlier today not to buy a movie, but just a 20 ounce bottle of Coke.

I have will power, folks.

Ive bought enough moneys since October anyway.

I lost count of how many horror movies I bought in October.

6 or 7 movies for blu from this year's short BOGO sale is enough for me. Time to take a break from going to the Dollar General store back and forth nearly every day.
11-22-18, 04:04 AM
Senior Member
Join Date: Dec 2009
Location: Pennsylvania
Posts: 961
Re: Dollar General Blu-rays
---
Bust. Didn't have as much free time on Tuesday as expected and hit only about 10 stores total. Of the disks that caught my eye, they were typically either
1) stuff I already owned
2) "previously viewed" (and my backlog is already too great)
3) the wrong price point
I did buy Taps and Sideways...for $2.95 each, and may go back for Killing Bono and a David Byrne concert (same price), but that's it.
BTW, has anybody noticed these: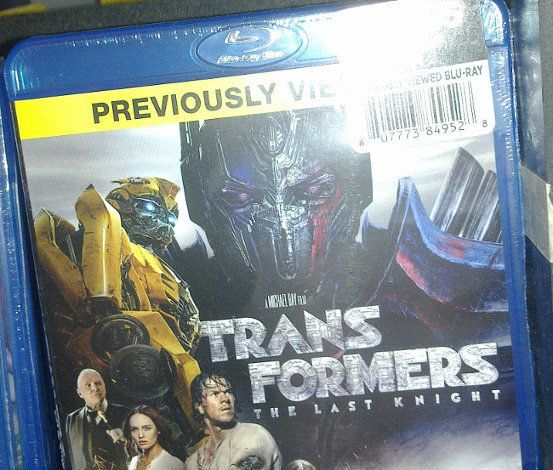 That yellow banner is NOT a sticker. I guess this is the packaging some studios now ship to Red Box?
My driving eventually took me to a shopping center where I thought there was a Dollar General, but instead was a Dollar Tree. I wandered inside the Big Lots next door and feasted on an untouched stash of 3D films from their recent buy.
10-02-19, 07:43 AM
Re: Dollar General Blu-rays
---
Credit goes to Rumble Bee (initial post) & bayoozen (verification) on bluray.com for posting that DG has their Movies U Buy BDs & DVDs for 50 % off!

Initial thinking is that this sale is just for this week so it's off to the races for me.
---
Last edited by bacigalup; 10-02-19 at

08:05 AM

.
10-02-19, 01:17 PM
Member
Join Date: Nov 2008
Posts: 128
Re: Dollar General Blu-rays
---
10-02-19, 02:28 PM
10-06-19, 04:07 PM
New Member
Join Date: Apr 2019
Posts: 17
Re: Dollar General Blu-rays
---
I dont get blu ray really unless real cheap and combo with a dvd by chance. untill get a br player i just stick with dvd for now. but have tried to cut back my trips to place for movies any unless i see reason to get anything. just gotta hope black friday they got some good stuff worthy at right price to get any later. i try to hold off but it feels like an addiction in a good way lol.
Posting Rules
You may not post new threads
You may not post replies
You may not post attachments
You may not edit your posts
---
HTML code is On
---