Designated Survivor (S1E05) -- "The Mission" -- 10/26/16
10-26-16, 05:57 PM
DVD Talk Godfather
Designated Survivor (S1E05) -- "The Mission" -- 10/26/16
---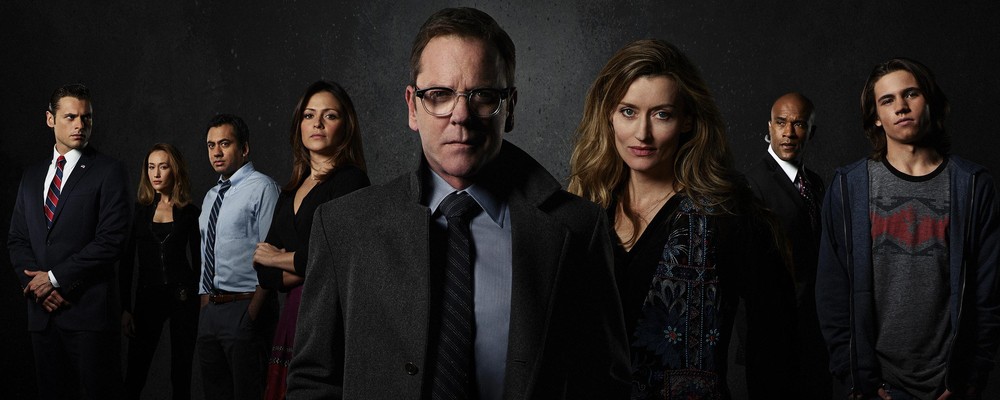 WHEN DIPLOMACY FAILS, KIRKMAN IS FORCED TO MAKE A DECISION THAT WILL DEFINE HIS PRESIDENCY, ON ABC'S 'DESIGNATED SURVIVOR,'

"The Mission" - Realizing his attempts at diplomacy with Algeria have failed, President Kirkman makes the difficult decision of sending Navy SEALs on a mission that will define his presidency. Meanwhile, as the investigation into the Capitol bombing continues, Agent Hannah Wells discovers more secrets than answers, on ABC's "Designated Survivor," WEDNESDAY, OCTOBER 26 (10:00 - 11:00 p.m. EDT).

"Designated Survivor" stars Kiefer Sutherland as Tom Kirkman, Natascha McElhone as Alex Kirkman, Adan Canto as Aaron Shore, Italia Ricci as Emily Rhodes, LaMonica Garrett as Mike Ritter, with Kal Penn as Seth Wright and Maggie Q as Hannah Wells.

"The Mission" was written by Sang Kyu Kim & Michael Russell Gunn. Paul Edwards is the director.

"Designated Survivor" is from The Mark Gordon Company and ABC Studios. David Guggenheim is the creator and executive producer. Executive Producers are Simon Kinberg, Mark Gordon, Jon Harmon Feldman, Nick Pepper, Suzan Bymel, Aditya Sood and Kiefer Sutherland.
Episode 5 of 22


---
Last edited by DJariya; 10-28-16 at

03:42 AM

.
10-28-16, 03:47 AM
DVD Talk Godfather
Re: Designated Survivor (S1E05) -- "The Mission" -- 10/26/16
---
Decent episode. At least there was a little action with Kirkman sending the SEAL team to take out the terrorist. Wasn't surprised that Dylan Walsh's character was killed in the battle.
I
at Kiefer's Dammit at the beginning of the episode.
I recognized one of the SEALS. It was the actor who played Four on Dark Matter.
On the other hand, Tom possibly not being the father of his son was an eye rolling plot development.
10-28-16, 07:14 AM
DVD Talk Hall of Fame
Join Date: Apr 2005
Posts: 7,638
Likes: 0
Re: Designated Survivor (S1E05) -- "The Mission" -- 10/26/16
---
Given the reveal of the bomb shelter built for the senator to survive, he could be the "designated survivor" of the show's title. Maybe.
10-28-16, 08:22 AM
DVD Talk Gold Edition
Join Date: Apr 2000
Posts: 2,141
Likes: 0
Received 0 Likes on 0 Posts
10-28-16, 03:43 PM
DVD Talk Legend
Join Date: Jul 2014
Location: Cygnus
Posts: 12,524
Likes: 0
Received 0 Likes on 0 Posts
Re: Designated Survivor (S1E05) -- "The Mission" -- 10/26/16
---
Decent series, but far too many times they handle plot twists and long story arcs very badly. The stuff with Madson's character could be good (but so far it's been terrible) and the stuff with the family (drugs and now infidelity) only takes away from the rest of the show.
Oddly enough the FBI element has been the best part of the show. Which basically makes it yet another crime series.
11-07-16, 03:41 AM
DVD Talk Legend
Join Date: Aug 1999
Posts: 16,465
Likes: 0
Re: Designated Survivor (S1E05) -- "The Mission" -- 10/26/16
---
Like Timeless and a few other shows for me, this is on the fence

I gave it a chance because of Jack Bauer withdrawals and whilst Kiefer is quite good in the role, i don't want to see a show based around political backstabbing and moles
Posting Rules
You may not post new threads
You may not post replies
You may not post attachments
You may not edit your posts
---
HTML code is On
---