Banshee (S4E03) -- "Job" -- 4/15/16
04-15-16, 06:28 PM
DVD Talk Godfather
Banshee (S4E03) -- "Job" -- 4/15/16
---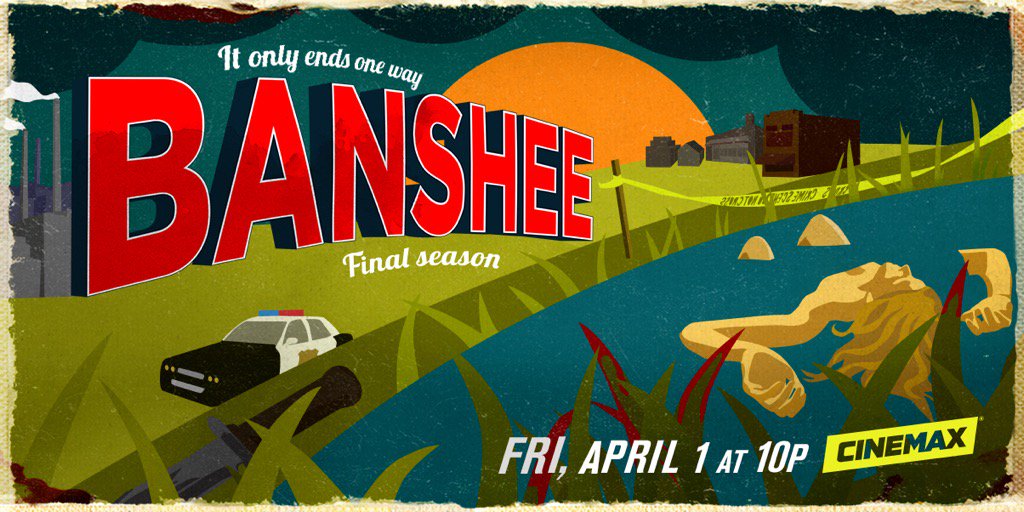 Lucas and Carrie enlist Fat Au in a last-ditch attempt to track down Job.

Written by Liz Sagal; directed by Everardo Gout.
Episode 3 of 8
04-16-16, 01:38 AM
DVD Talk Godfather
Re: Banshee (S4E03) -- "Job" -- 4/15/16
---
Good to have Job finally back. Decent episode. Nothing too crazy. Good to see Fat Au back helping out. Of course he would come prepared for the exchange.
The evidence against Hood is purely circumstantial. But, I guess Hood can't reveal it all to Brock.
The blood in Rebecca's car was from his injuries in that drug farm incident and of course we all know he was banging Rebecca semi-regularly. Hood had no motive to kill her unless Brock thinks the pregnancy was it. Boy, can't wait until this gets back to Proctor.
at Proctor trying to find a Rebecca replacement and the chick tries to rob him.
Looks like we'll finally be seeing Eliza Dushku next week. Can't wait.
04-16-16, 01:50 AM
DVD Talk Hero
Re: Banshee (S4E03) -- "Job" -- 4/15/16
---
Seems kind of random that they're bringing in a new character this late in the game. I wonder if they'll try to pitch a spin-off with her character since Banshee is probably Cinemax's biggest series, and that would give them a way to extend it.
04-16-16, 02:14 PM
DVD Talk Hall of Fame
Re: Banshee (S4E03) -- "Job" -- 4/15/16
---
This show has been on my "to watch" list for awhile now, but seeing that Eliza Dushku will be in it gives me more reason to get started. One of my personal favorites, she's exactly my type. I watched all of Tru Calling just because of her.
04-17-16, 12:58 PM
Enormous Genitals
Re: Banshee (S4E03) -- "Job" -- 4/15/16
---
I forgot this show was back on. I need to catch up. I probably also need to look for a synopsis of the last season because I completely forgot what happened.
04-17-16, 07:35 PM
DVD Talk Limited Edition
Join Date: Jun 2008
Location: Philadelphia, PA
Posts: 6,809
Likes: 0
Re: Banshee (S4E03) -- "Job" -- 4/15/16
---
04-18-16, 01:52 AM
DVD Talk Godfather
Re: Banshee (S4E03) -- "Job" -- 4/15/16
---
What do you need to remember? Here's a 2 minute season 3 recap
(Well, I guess you're probably not going to read this thread again since you haven't seen the season yet and there's major spoilers here)
The show left off with Job being kidnapped in the season 3 finale.
04-19-16, 06:46 PM
DVD Talk Platinum Edition
Join Date: Jun 2009
Location: NYC-ish
Posts: 3,270
Likes: 0
Received 0 Likes on 0 Posts
Re: Banshee (S4E03) -- "Job" -- 4/15/16
---
04-20-16, 09:45 AM
DVD Talk Hall of Fame
Join Date: Jul 2003
Location: Marina Del Rey, California
Posts: 9,919
Received 0 Likes on 0 Posts
Posting Rules
You may not post new threads
You may not post replies
You may not post attachments
You may not edit your posts
---
HTML code is On
---