Don't miss the total lunar eclipse
02-19-08, 04:56 PM
DVD Talk Limited Edition
Join Date: Oct 1999
Posts: 6,461
Don't miss the total lunar eclipse
---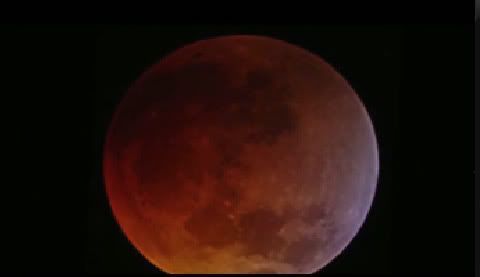 http://earthlink.com.com/2300-11397_...tag=ne.gall.pg
Don't miss the total lunar eclipse
February 19, 2008 12:20 PM PDT
del.icio.us Digg this
On Wednesday, February 20, 2008, beginning at 7:01 p.m. PST, the moon will move completely under the shadow of the Earth in a total lunar eclipse. The eclipse can be seen in the Americas, Europe, and Africa. Hope for good weather because the next total lunar eclipse won't happen until December 2010.
The moon will be completely under Earth's shadow for about 50 minutes. During this time, the moon won't be completely obscured because of indirect light coming from the Earth's atmosphere. But the moon will appear to change colors from light gray to orange or deep red. The shade depends on the amount of dust and clouds in the Earth's atmosphere.
Credit: NASA TV
_______________
02-19-08, 05:07 PM
This is getting radiculos. Maybe we should consider removing the
from your profile?
Posting Rules
You may not post new threads
You may not post replies
You may not post attachments
You may not edit your posts
---
HTML code is On
---