Weird ebay auction of the day
07-28-06, 06:26 PM
DVD Talk Limited Edition
Join Date: Jul 2000
Posts: 5,663
Weird ebay auction of the day
---
Squash balls
A friend of mine grew it so if it is against the rules, go ahead and delete it. (It's his auction, not mine)
So far all of the bids are from guys at work messing around today.
---
Last edited by asabase; 07-28-06 at

10:28 PM

.
07-28-06, 07:41 PM
If you are lucky, that casino that likes to buy crap like this will see your auction.

It can't be any worse than the time I saw dryer lint sell for money on Ebay.
07-28-06, 07:55 PM
DVD Talk Legend
Join Date: Jul 2000
Location: (formerly known as Inglenook Hampendick) Fairbanks, Alaska!
Posts: 15,152
DO NOT EAT DEEZ. THEY ARE NOT FOR CONSUMPTION. I'M SERIOUS. THEIR SOLE PURPOSE IS TO BE AWESOME, NOT TO BE EATEN. THEY'D PROBABLY KILL YOU. THEY'RE LIKE THE CHUCK NORRIS OF SQUASH BALLS.
Okay, that made me snicker.
07-28-06, 08:32 PM
DVD Talk Hall of Fame
Join Date: Dec 2002
Location: Oklahoma, USA
Posts: 8,494
Is your friend part of the Blue Man Group?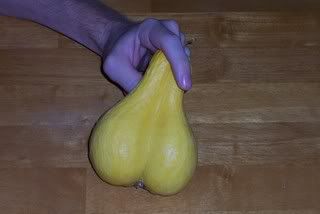 07-28-06, 09:48 PM
DVD Talk Limited Edition
Join Date: Jul 2000
Posts: 5,663
I think he had the white balance wrong or something.


Or he just has blue balls.
07-29-06, 09:50 AM
DVD Talk Hero
Join Date: Mar 2001
Location: Lighten up, Francis! (Funland)
Posts: 26,856
I see you're the current high bidder Mr. Base. You must really like your friend's balls.
07-29-06, 10:46 AM
DVD Talk Limited Edition
Join Date: Jul 2000
Posts: 5,663
I got in a bidding war with a guy at work, but I've hit my max. I'd really like to teabag a few guys at work with the squash nuts.
05-05-14, 07:09 PM
Suspended
Join Date: Jan 2011
Location: California
Posts: 3,323
Re: Weird ebay auction of the day
---
Someone tried to sell a dead whale on eBay.
Frustrated by a lack of help from the government, a town on Newfoundland's west coast tried to auction off a sperm whale carcass on eBay.

The gigantic dead mammal washed up in Cape St. George a week ago, Mayor Peter Fenwick told Canada.com. In Newfoundland, animal carcasses are the responsibility of the municipality they wash up in, even if they're 12 metres long and weigh 25 or 30 tons like this one does.

Disposing of a dead whale is no easy task and whether its buried, towed out to sea or sliced up to preserve the bones, it requires equipment and funds the town just doesn't have. Although Fenwick said he'd like to preserve the bones, "it's just not within our financial capability."

That's when he turned to eBay.

"Since we weren't getting much help from either the provincial or federal government, and we were told that it's our responsibility, we decided that this was probably the most efficient way to get rid of it," said Fenwick.



Bidding started at 99 cents and was past $2,000 by the time the auction was taken offline. Although quite accurately placed in the "really weird" category, the auction violated eBay's rules which state "items made from marine mammals regardless of when the product was made" are prohibited.

However, that was only one of the wrinkles in Fenwick's plan. The second came in the form of a call from the federal government on Monday afternoon.

"I received a call from the federal department of the environment saying that you're not allowed to sell any parts of sperm whales, even if they're dead," said Fenwick.

"So I said, 'Oh that's very good, I'm glad to hear that, now can you send somebody over here to get rid of it for us?'"

They said they could not.

"They've got to sort it out somehow. The uncertainty means it just sort of sits there and rots," said Fenwick.

"I don't know if you've ever seen a whale that's been rotting on the beach for a couple of months — actually sometimes you can't see it for the clouds of flies around it — but you can smell it for about a mile."


A sperm whale carcass sits on shore in Cape St. George, N.L., in this recent handout photo. (THE CANADIAN PRESS/HO – Michael Fenwick)
The whale is currently half-submerged in cold Gulf of St. Lawrence water so it's not too foul at the moment.

The lack of aid from the provincial and federal government when it comes to big, stinky carcasses is a familiar story for two towns north of Cape St. George — Rocky Harbour and Trout River. Blue whales carcasses washed up in both towns and, also lacking the funds to tackle the problem themselves, the local councils were at a loss. Lucky for them, the Royal Ontario Museum has stepped up to help remove the whales and preserve their skeletons.

Cape St. George is hoping to attract interest from a museum or other organization that wants the sperm whale's bones for display.

"If we're not allowed to sell it, we're willing to drop our 99 cent price down to a zero," said Fenwick.
http://o.canada.com/news/newfoundlan...arcass-on-ebay
05-05-14, 07:16 PM
Re: Weird ebay auction of the day
---
Man Tries To Sell His Girlfriend On eBay And Is Surprised When People Actually Bid On Her
http://finance.yahoo.com/news/man-tr...132110634.html
05-05-14, 08:32 PM
Re: Weird ebay auction of the day
---
Interesting. Two whale auctions. Right after the other.
05-05-14, 08:50 PM
05-05-14, 08:51 PM
Banned
Join Date: Jan 2006
Posts: 6,584
Re: Weird ebay auction of the day
---
I have made a lot of money selling my bottled farts on ebay. I am thinking about quitting my day job, and making this my new career. Nothing beats farting all day long and getting paid for it.
05-05-14, 08:55 PM
Moderator
Join Date: May 2000
Location: In mourning
Posts: 26,241
Re: Weird ebay auction of the day
---
Closed thread for another unnecessary bump of an old thread, again without comment.
Posting Rules
You may not post new threads
You may not post replies
You may not post attachments
You may not edit your posts
---
HTML code is On
---