Best Coen Brothers Movies Ranked
03-18-18, 10:49 AM
DVD Talk Special Edition
Join Date: Dec 2015
Posts: 1,049
Best Coen Brothers Movies Ranked
---
Hi All,

Yes, another one...Two of my favorite filmmakers of all-time...and the makers of my absolute favorite movie of all-time (FARGO!!!)...I haven't seen some of there movies, mainly because I didn't care to see The Ladykillers or Intolerable Cruelty (I pretty much hate the movies they do with Clooney, as you will see)...But I've seen most of them, so here we go...Again, feel free to provide feedback...

1. Fargo - As stated, my favorite movie of all-time...I went through a phrase where I watched this on VHS after school every day for weeks at a time (sometimes twice). I wanted to understand how they created this masterpiece. How the characters all fit together. How they crafted such wonderful dialogue (especially the scenes between Peter Stormare and Steve Buscemi...some of the funniest scenes, most deadpan dialogue scenes you'll ever listen to)...Frances McDormand is great...The movie has such an unusual structure, and there's simply nothing like it...Their masterpiece.

2. The Big Lebowski - One of the funniest, if not the funniest movie of all-time. Firing on all cylinders...The dialogue is kick-ass...The interactions between Goodman, Buscemi, and Jeff Bridges are hilarious...And Turturro's turn is a scene-stealer...One of the most quotable movies of all-time...Love every minute of it...The Coen's twisted take on a Raymond Chandler/Dashielle Hammett old school detective movie...Only this time the "detective" is a pothead...

3. Blood Simple - What a great debut picture. M. Emmet Walsh is gifted a fantastic role from these first time filmmakers. McDormand is lights out. And John Getz is great. Love this neo-noir...The cinematography is great...Also love hearing the backstory about the efforts they had to go through to get this one made...And just a great script, which shows what you can really do with a limited budget...

4. Inside Llewyn Davis - This one crept up on me...I haven't necessarily been a fan of a lot of their more recent stuff, but this was just a heartwarming/breaking movie. The whole thing with the cat...The folk music was great...I hadn't really known too much about Oscar Isaac aside from his small role in Drive, but this really showed what he was capable of...Lots of little bits of humour...This movie really felt like it was filmed in Greenwich Village in the '60s...Great stuff...I've since purchased the screenplay in book format and it is a fascinating read...

5. True Grit - Great remake. Better than the John Wayne original. Loved Bridges, Brolin, and Damon...And I can't remember her name, but the actress that played the little girl was amazing...Couldn't believe how fast she was able to read her dialogue...She should have a bright future in film...

6. Miller's Crossing - Awesome, albeit a tad slow, gangster movie...Featuring one of the best gangster movie scenes set to "Danny Boy", as Albert Finney learns he's about to be "hit", so he hauls out a tommy-gun and shows everyone how it's done...Love the scenes in the forest, and the weird hat metaphor thing (I love how the Coen's respond every time somebody asks about the symbolicalness of the hat; "It's just a hat." Ha)...Love the scene where Turturro's character begs for his life...Some of the best dialogue ever written...Again, just a tad slow at times...But aside from that, a really good movie...Really got lost in the shuffle at the time of its release because it was out during the same period that Goodfellas and The Godfather Part III were released...It's reputation has grown quite a bit since then...

7. Raising Arizona - A childhood favorite. One of my mom's favorite movies, she'd show us this all the time. Found the whole Mad Max/Road Warrior thing hilarious, and Holly Hunter and Nicholas Cage were just sooooooo good. The country/hillbilly score is also so-fitting...And Goodman and Forsythe are hilarious...Just a great way to spend an hour and a half...

8. The Man Who Wasn't There - Really underrated in my mind. I think Billy Bob gives one of his best performances (his others would be Sling Blade and Bad Santa), and it's a wonderful homage to classic film noir. Not sure why others don't like this one as much as I do...The cinematography is great...And Billy Bob does most of his acting without even saying anything...

9. A Serious Man - Still not quite sure what to make of the plot...especially the prologue...but I like this movie. Odd movie, features a great Jefferson Airplane tune...But it is a weird movie...

10. No Country for Old Men - Always felt this has been overrated. Now don't get me wrong, this is a good movie. Maybe a great movie. But it's not up there with the all-time classics. I remember this was up against There Will Be Blood the year it came out, and I'd argue that There Will Be Blood is ten times better than this movie. It's a good movie. That's it. And even though I like Cormac McCarthy books, I did not like No Country for Old Men as a book. I didn't. I feel it's one of his weakest. The performances were good, but I just did not buy into many of the decisions the characters made throughout the movie. And I could've done without the pointless monologues from Tommy Lee Jones's character that seemed to go on for 5 or 10 minutes at a time...Again, it sounds like I hate this movie. I don't. It just bugs me that so many people absolutely love this movie and rank it as one of the greatest of all time...It's not...

11. Barton Fink - Amusing movie. Turturro and Goodman are good. The plot just isn't that compelling...Doesn't really draw you in...I can appreciate it, and agree that it is well made...The subject matter just didn't interest me that much...

12. O Brother, Where Art Thou? - I wish they never started working with Clooney, as I've loathed most of the movies they've done with him. This is one of them. I don't understand why this movie was popular back in the day. I don't understand why the soundtrack was popular back in the day (I worked in a music store at the time, and there were days where we had to play it all shift on loop, as it was a big seller). One of my least favorite Coen brother movies...Oh but wait...next up...

13. Burn After Reading - Hated this. Again, I hate seeing Clooney act so slapstick in their movies. Their best comedies feature characters who don't realize they're being funny. They read their lines in a serious fashion. And yet they're funny. Clooney always seems to feel the need to do stuff with his eyebrows and read his lines like a bumbling idiot. If he read them seriously, they might come across as funny. The only redeeming thing about this movie was John Malkovich. I thought he was funny. That said, the trailer for this movie was about 1000x funnier than the movie itself.

14. Hail, Caesar! - Finally got through this recently. I remain with the comments mentioned above about Clooney. Just a piss-poor movie. Especially hated the stupid musical sequence with Channing Tatum. There were a lot of great actors in this movie...What a waste of talent...

Nevertheless, while I feel the Coens have been slipping for a while, I still look forward to every movie that they put out, and hope that they eventually release another movie that can rival their greatest hits...

Thanks
03-19-18, 11:35 AM
Re: Best Coen Brothers Movies Ranked
---
Watched Blood Simple last night for the first time since I was in high school. I'd forgotten so much it was like seeing it for the first time. What a fantastic movie. I was struck by how the colour and lighting of the film (even some of the POV shots) looked just like The Evil Dead.

One of the movie's biggest strength is it's belief the audience will understand the plot twists, so there is no reason to waste time reviewing them. The best parts of Blood Simple are the long stretches without dialogue. This movie must have played really well when it was translated into languages other than english.
03-19-18, 11:41 AM
DVD Talk Ultimate Edition
Join Date: Oct 2005
Posts: 4,182
Re: Best Coen Brothers Movies Ranked
---
Originally Posted by
Goonies85
Hi All,

Yes, another one...Two of my favorite filmmakers of all-time...and the makers of my absolute favorite movie of all-time (FARGO!!!)...I haven't seen some of there movies, mainly because I didn't care to see The Ladykillers or Intolerable Cruelty (I pretty much hate the movies they do with Clooney, as you will see)...But I've seen most of them, so here we go...Again, feel free to provide feedback...

1. Fargo - As stated, my favorite movie of all-time...I went through a phrase where I watched this on VHS after school every day for weeks at a time (sometimes twice). I wanted to understand how they created this masterpiece. How the characters all fit together. How they crafted such wonderful dialogue (especially the scenes between Peter Stormare and Steve Buscemi...some of the funniest scenes, most deadpan dialogue scenes you'll ever listen to)...Frances McDormand is great...The movie has such an unusual structure, and there's simply nothing like it...Their masterpiece.

2. The Big Lebowski - One of the funniest, if not the funniest movie of all-time. Firing on all cylinders...The dialogue is kick-ass...The interactions between Goodman, Buscemi, and Jeff Bridges are hilarious...And Turturro's turn is a scene-stealer...One of the most quotable movies of all-time...Love every minute of it...The Coen's twisted take on a Raymond Chandler/Dashielle Hammett old school detective movie...Only this time the "detective" is a pothead...

3. Blood Simple - What a great debut picture. M. Emmet Walsh is gifted a fantastic role from these first time filmmakers. McDormand is lights out. And John Getz is great. Love this neo-noir...The cinematography is great...Also love hearing the backstory about the efforts they had to go through to get this one made...And just a great script, which shows what you can really do with a limited budget...

4. Inside Llewyn Davis - This one crept up on me...I haven't necessarily been a fan of a lot of their more recent stuff, but this was just a heartwarming/breaking movie. The whole thing with the cat...The folk music was great...I hadn't really known too much about Oscar Isaac aside from his small role in Drive, but this really showed what he was capable of...Lots of little bits of humour...This movie really felt like it was filmed in Greenwich Village in the '60s...Great stuff...I've since purchased the screenplay in book format and it is a fascinating read...

5. True Grit - Great remake. Better than the John Wayne original. Loved Bridges, Brolin, and Damon...And I can't remember her name, but the actress that played the little girl was amazing...Couldn't believe how fast she was able to read her dialogue...She should have a bright future in film...

6. Miller's Crossing - Awesome, albeit a tad slow, gangster movie...Featuring one of the best gangster movie scenes set to "Danny Boy", as Albert Finney learns he's about to be "hit", so he hauls out a tommy-gun and shows everyone how it's done...Love the scenes in the forest, and the weird hat metaphor thing (I love how the Coen's respond every time somebody asks about the symbolicalness of the hat; "It's just a hat." Ha)...Love the scene where Turturro's character begs for his life...Some of the best dialogue ever written...Again, just a tad slow at times...But aside from that, a really good movie...Really got lost in the shuffle at the time of its release because it was out during the same period that Goodfellas and The Godfather Part III were released...It's reputation has grown quite a bit since then...

7. Raising Arizona - A childhood favorite. One of my mom's favorite movies, she'd show us this all the time. Found the whole Mad Max/Road Warrior thing hilarious, and Holly Hunter and Nicholas Cage were just sooooooo good. The country/hillbilly score is also so-fitting...And Goodman and Forsythe are hilarious...Just a great way to spend an hour and a half...

8. The Man Who Wasn't There - Really underrated in my mind. I think Billy Bob gives one of his best performances (his others would be Sling Blade and Bad Santa), and it's a wonderful homage to classic film noir. Not sure why others don't like this one as much as I do...The cinematography is great...And Billy Bob does most of his acting without even saying anything...

9. A Serious Man - Still not quite sure what to make of the plot...especially the prologue...but I like this movie. Odd movie, features a great Jefferson Airplane tune...But it is a weird movie...

10. No Country for Old Men - Always felt this has been overrated. Now don't get me wrong, this is a good movie. Maybe a great movie. But it's not up there with the all-time classics. I remember this was up against There Will Be Blood the year it came out, and I'd argue that There Will Be Blood is ten times better than this movie. It's a good movie. That's it. And even though I like Cormac McCarthy books, I did not like No Country for Old Men as a book. I didn't. I feel it's one of his weakest. The performances were good, but I just did not buy into many of the decisions the characters made throughout the movie. And I could've done without the pointless monologues from Tommy Lee Jones's character that seemed to go on for 5 or 10 minutes at a time...Again, it sounds like I hate this movie. I don't. It just bugs me that so many people absolutely love this movie and rank it as one of the greatest of all time...It's not...

11. Barton Fink - Amusing movie. Turturro and Goodman are good. The plot just isn't that compelling...Doesn't really draw you in...I can appreciate it, and agree that it is well made...The subject matter just didn't interest me that much...

12. O Brother, Where Art Thou? - I wish they never started working with Clooney, as I've loathed most of the movies they've done with him. This is one of them. I don't understand why this movie was popular back in the day. I don't understand why the soundtrack was popular back in the day (I worked in a music store at the time, and there were days where we had to play it all shift on loop, as it was a big seller). One of my least favorite Coen brother movies...Oh but wait...next up...

13. Burn After Reading - Hated this. Again, I hate seeing Clooney act so slapstick in their movies. Their best comedies feature characters who don't realize they're being funny. They read their lines in a serious fashion. And yet they're funny. Clooney always seems to feel the need to do stuff with his eyebrows and read his lines like a bumbling idiot. If he read them seriously, they might come across as funny. The only redeeming thing about this movie was John Malkovich. I thought he was funny. That said, the trailer for this movie was about 1000x funnier than the movie itself.

14. Hail, Caesar! - Finally got through this recently. I remain with the comments mentioned above about Clooney. Just a piss-poor movie. Especially hated the stupid musical sequence with Channing Tatum. There were a lot of great actors in this movie...What a waste of talent...

Nevertheless, while I feel the Coens have been slipping for a while, I still look forward to every movie that they put out, and hope that they eventually release another movie that can rival their greatest hits...

Thanks
Good ranking. I can't really do one since I haven't seen a few of those films, but True Grit is definitely my #1. That Coen flavor just adds so much richness to a simple plot with very interesting characters and perfectly cast. Love even the secondary characters like Barry Pepper who just owns that role.
03-19-18, 12:12 PM
Re: Best Coen Brothers Movies Ranked
---
I re-watched "O Brother" a couple of weeks ago. It holds up pretty well. Clooney's is pretty hammy in his role, but it works well enough for the character.

"Man of Constant Sorrow" is a pretty catchy song, but I'd probably be sick of the score, too, if I had to play it on loop.

"Burn After Reading" certainly should sit the end of the list. Pretty dumb movie, although it did have a few scenes that made me chuckle.
03-19-18, 12:20 PM
Re: Best Coen Brothers Movies Ranked
---
My top 5:

Fargo
No Country For Old Men
Hudsucker Proxy
Burn After Reading
Inside Llewyn Davis

I only saw Blood Simple once a long time ago - maybe I should give it another chance.
03-19-18, 02:15 PM
DVD Talk Limited Edition
Join Date: Oct 2002
Location: Cincinnati, OH
Posts: 5,231
Re: Best Coen Brothers Movies Ranked
---
My top six, in order:

1. The Big Lebowski
2. Raising Arizona
3. Blood Simple
4. Miller's Crossing
5. O Brother, Where Art Thou?
6. The Hudsucker Proxy

With the exception of Intolerable Cruelty, I have at least enjoyed the other films I have seen. I haven't seen Burn After Reading, Inside Llewyn Davis, A Serious Man, The Ladykillers, and Hail, Caesar!, and I have no interest in seeing those last two.
03-19-18, 04:20 PM
Re: Best Coen Brothers Movies Ranked
---
Yep, he's awful. Smug, head bobbing douche who never really becomes the character. No coincidence he's in 4 Coen films and those are their worst, other than that POS Ladykillers.
Always had a warm spot for second tier Coen films like Barton Fink, The Man Who Wasn't There, A Serious Man, Inside Llewyn Davis .. these would be considered near masterworks if made by other directors.
As far as their best, No Country will always be at the top for me because of Anton Chigurh, just one of the most creepily effective performances ever. True Grit is also right up there.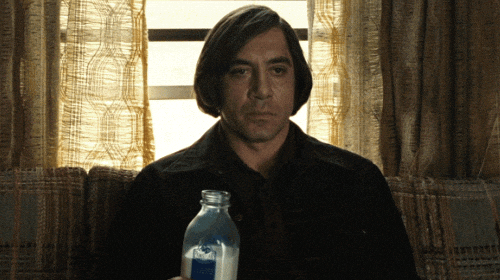 03-19-18, 04:29 PM
Re: Best Coen Brothers Movies Ranked
---
Holy crap this is gonna be rough. OK... of those I've seen, in order:
Fargo
No Country For Old Men
A Serious Man -- by far the best movie of 2009. Absolutely stunningly brilliant.
Raising Arizona
Miller's Crossing
The Hudsucker Proxy -- so massively underrated, it hardly abides the telling
Barton Fink
The Man Who Wasn't There
True Grit
O Brother Where Art Thou
Inside Llewyn Davis
Burn After Reading
The Big Lebowski
Blood Simple
Intolerable Cruelty
Hail Caesar
03-19-18, 07:06 PM
DVD Talk Special Edition
Join Date: Dec 2015
Posts: 1,049
Re: Best Coen Brothers Movies Ranked
---
Posting Rules
You may not post new threads
You may not post replies
You may not post attachments
You may not edit your posts
---
HTML code is On
---