Unprecedented 3-CD set for "Goodbye, Mr. Chips" (1969) from FSM
03-19-06, 08:18 AM
Suspended
Join Date: Nov 2003
Location: Toronto
Posts: 3,039
Unprecedented 3-CD set for "Goodbye, Mr. Chips" (1969) from FSM
---
Film Score Monthly (FSM), a printed and on-line American film score magazine that also produces soundtrack CDs, just announced an unprecedented 3-disc edition of this film's soundtrack, featuring Petula Clark: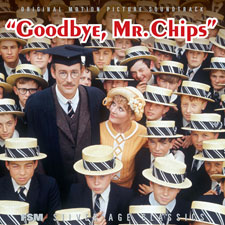 There is still no news of a DVD edition. The soundtrack album looks like a surefire collector's must-have for fans of Petula Clark and the film.
From this page
http://www.screenarchives.com/fsm/de...as.cfm?ID=358:
FSM releases its first film musical in a spectacular and unprecedented 3CD edition: Goodbye, Mr. Chips (1969), featuring songs and music by Leslie Bricusse, conducted and supervised by John Williams.


Goodbye, Mr. Chips was Arthur P. Jacobs's musical remake of M-G-M's acclaimed 1939 drama, based on a novel by James Hilton about a stuffy British schoolmaster and the woman who brings love to his life. Peter O'Toole starred as Mr. Chips, alongside formidable musical talent Petula Clark as Mrs. Chips. The film was unconventional in that the characters do not "break out into song," but perform as a kind of psychological counterpoint to the story.

Goodbye, Mr. Chips was the first of John Williams's three large-scale musical adaptations (the others being Fiddler on the Roof and Tom Sawyer), a massive creative undertaking in which he was solely responsible for the film's underscore, conducting, orchestrations and source music. For Williams, this was an all-encompassing effort which helped forge his legendary "blockbuster" sound familiar on such later films as Superman and E.T. The Extra-Terrestrial.

Although the Goodbye, Mr. Chips production came in under-budget, it had a long and colorful history of "development hell" in which multiple composers, directors, and stars were attached -- and a wealth of music generated. This comprehensive 3CD set focuses on Bricusse's and Williams's involvement with a definitive chronicle of their recordings:

Disc one features the complete score as it was intended for the finished film (including several unused Williams score cues).

Disc two features an "alternate narrative" of the story through different versions of the songs (many of which were included on a "demo" LP of the soundtrack), source cues, score alternates, and promotional interviews given by the film's stars.

Disc three features the original 1969 soundtrack album, followed by yet more demo and alternate versions of songs, including "Tomorrow With Me," sung by Petula Clark and orchestrated by Williams and one of Bricusse's favorite unused songs.

The 48-page booklet features a definitive account of the movie and soundtrack's creation, written by album producer Michael Matessino (of the Star Wars Trilogy Special Editions and other Williams CD restorations).

The album is almost entirely in stereo, with interview tracks and a few source and demo cues in mono.
On March 6, 2006, FSM hosted a reunion of original artists who participated in this release, all of whom signed a limited number of the CD set's front inlay cards:
John Williams (Music Supervisor/Conductor)
Petula Clark ("Katherine")
Leslie Bricusse (Composer/Lyricist)
Ian Fraser (Associate Music Supervisor)
This limited edition came with a photograph of these four taken at the reunion, plus the inlay card... which also included the autograph of associate producer Mort Abrahams, who added his signature one week later.
This edition unfortunately sold out in just a few days. It looked like this: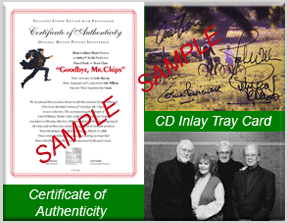 ---
Last edited by baracine; 03-19-06 at

08:20 AM

.
03-19-06, 12:08 PM
Suspended
Join Date: Nov 2003
Location: Toronto
Posts: 3,039
Originally Posted by digitalfreaknyc
Humf. Wish they would do this with Temple of Doom.
Available from Amazon.com for a measly $ 195 US:
http://www.amazon.com/exec/obidos/AS...ode=imdb-adbox
Posting Rules
You may not post new threads
You may not post replies
You may not post attachments
You may not edit your posts
---
HTML code is On
---