A Lizard In A Woman's Skin (Optimum Release/UK)
06-10-10, 03:20 PM
DVD Talk Legend
Join Date: Jan 2004
Location: California
Posts: 19,305
A Lizard In A Woman's Skin (Optimum Release/UK)
---
This release sort of took me by surprise and I hadn't seen talk about it here.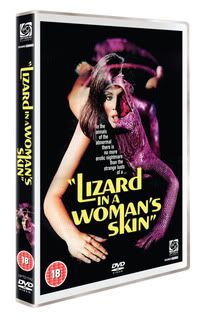 DVDBeaver Comparison/Review:
http://www.dvdbeaver.com/film3/dvd_r...omans_skin.htm
Discussion at Cult Lab Forums:
http://www.cult-labs.com/forums/show...5388#post85388
06-10-10, 08:31 PM
DVD Talk Gold Edition
Join Date: Jul 2004
Location: Tokyo, Japan
Posts: 2,609
Likes: 0
Received 0 Likes on 0 Posts
Re: A Lizard In A Woman's Skin (Optimum Release/UK)
---
It may be the best looking, but I'm disappointed that Optimum decided to go extras-free on this release.
06-10-10, 11:37 PM
DVD Talk Legend
Join Date: Jan 2004
Location: California
Posts: 19,305
Re: A Lizard In A Woman's Skin (Optimum Release/UK)
---
That sort of bothers me as well, but I'm happy the image quality is as solid as it is.
Also I need to dig deeper on the Cult Lab forums to figure out what cut of the film this is (American, Italian, or that completely odd composite release).
I passed on the original Shriek Show 2-Disc release of this because of all the mentioned problems (and eventual re-release/remaster/corrected release), so I don't know if I'd be able to get the extras disc on the cheap.
Posting Rules
You may not post new threads
You may not post replies
You may not post attachments
You may not edit your posts
---
HTML code is On
---