TOY STORY 4: 4K UHD / Blu-ray
06-21-19, 10:14 PM
DVD Talk Limited Edition
TOY STORY 4: 4K UHD / Blu-ray
---
https://www.bestbuy.com/site/toy-sto...?skuId=6355974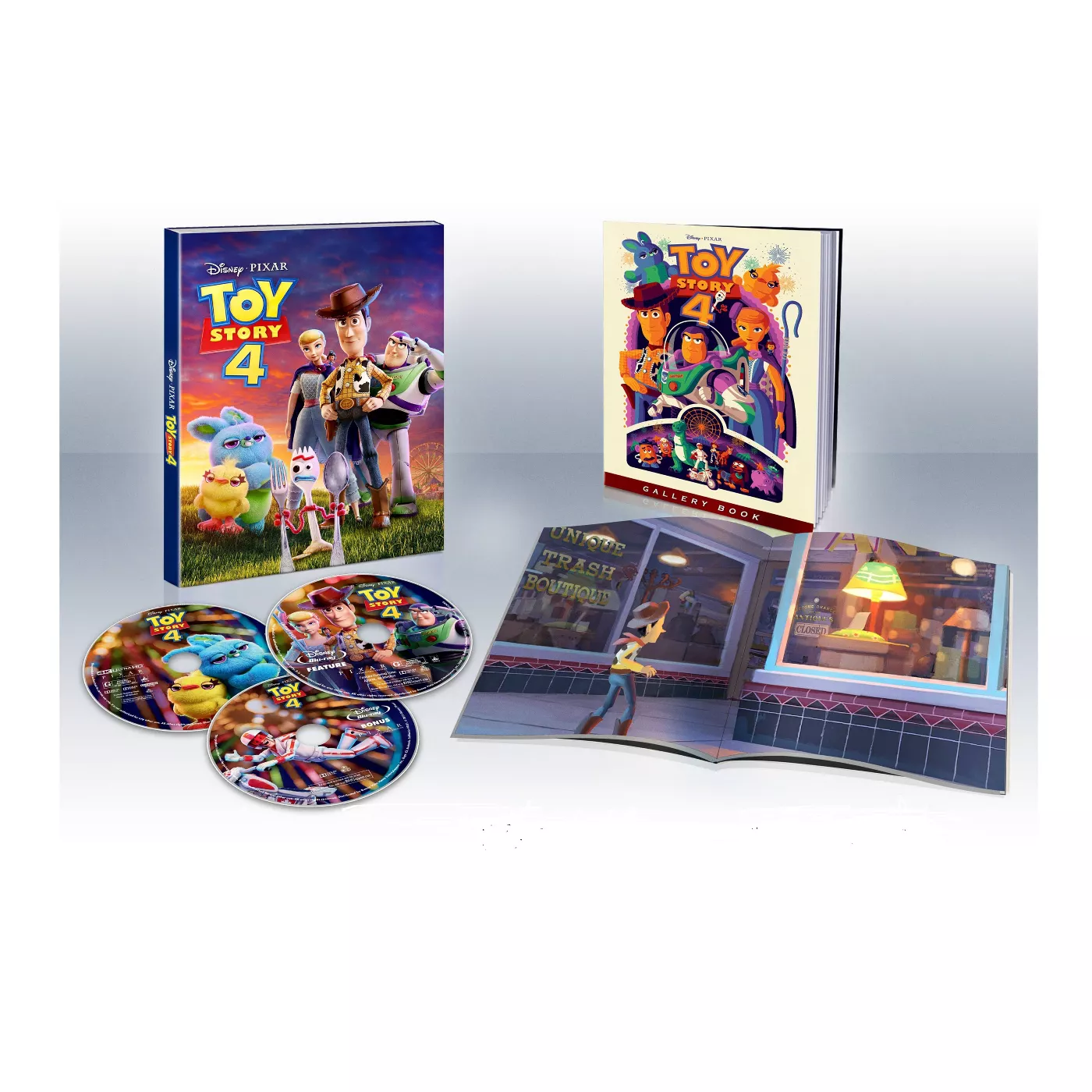 https://www.target.com/p/toy-story-4...d/-/A-76615169
06-30-19, 05:41 PM
DVD Talk Legend
Join Date: Jul 2008
Location: CA
Posts: 14,620
Re: TOY STORY 4: 4K UHD / Blu-ray
---
They look nice

The Best Buy steelbook something that might sell out quickly or be hard to find?
07-02-19, 07:34 PM
DVD Talk Legend
Join Date: Jul 2008
Location: CA
Posts: 14,620
Re: TOY STORY 4: 4K UHD / Blu-ray
---
It will be pricey when it first comes out unless they come out with a cheaper one like they did with the batman 60's tv series though that is not exactly a bargain either.
08-23-19, 12:02 AM
DVD Talk Limited Edition
Re: TOY STORY 4: 4K UHD / Blu-ray
---
This fall, the fourth film in the beloved
Toy Story
series, which leads Woody to an unexpected fork in the road, arrives home on Digital in 4K Ultra HD, HD, and Movies Anywhere October 1st and on 4K Ultra HD, Blu-ray, DVD October 8th.
BONUS FEATURES
The must-own, fourth installment in the
Toy Story
series will be packaged several ways:
Toy Story 4
arrives home a week early on Digital 4K Ultra HD, HD and SD with two exclusive extras including a deleted scene, "Bonnie's Playtime". A physical copy of the film is available as a 4K Ultra HD Combo Pack (4K Ultra HD, Blu-ray, and Digital Code), a Multi-Screen Edition (Blu-ray, DVD and Digital Code) and a single DVD. Fans who wish to relive all four Toy Story adventures may opt for a Digital bundle, which is available for pre-order.
Blu-ray & Digital:
'Toy Stories
– The Toy Story 4 cast and crew share their love of toys!
Woody & Buzz – Take a look at the relationship between these two legendary characters.
Bo Rebooted – Discover how Team Bo reimagined all aspects of Bo Peep's identity to arrive at the fully realized character seen in the film.
Toy Box – Enjoy a collection of mini-docs on the film's memorable new characters, featuring the voice actors, director Josh Cooley and Pixar artists talking about the many elements that make these characters fun and lovable
Let's Ride With Ally Maki – Ally Maki, voice of Giggle McDimples, learns all about Pixar's dialogue recording process from director Josh Cooley and his team.
Deleted Scenes introduced by director Josh Cooley including:

Scamming Playtime
Bo Knows Hippos
Desperate Toys
Knock-Offs
Recruit Duke
She's The One

Audio Commentary, Trailers and more!
Digital Exclusive:
Anatomy of a Scene: Prologue – Filmmakers and crew review key scenes of the movie and dissect the practical and technological methods used to bring them to life.
Additional Deleted scene –Bonnie's Playtime
Toy Story 4 Digital & 4K Blu-ray Release Date, Details & Trailer Revealed | Collider
08-27-19, 06:27 PM
Re: TOY STORY 4: 4K UHD / Blu-ray
---
I would hold off on that. I do not think that we have seen the last of Toy Story.
I was the sucker that bought the Fast & Furious 7 film package only to see them come out with a F8TE package within the next year.
08-27-19, 10:56 PM
DVD Talk Legend
Join Date: May 2001
Location: Chicago suburbs
Posts: 14,009
Re: TOY STORY 4: 4K UHD / Blu-ray
---
Posting Rules
You may not post new threads
You may not post replies
You may not post attachments
You may not edit your posts
---
HTML code is On
---