Greta Garbo on DVD
02-20-07, 08:16 AM
New Member
Join Date: Feb 2007
Posts: 2
Greta Garbo on DVD
---
Hello
A friend started this petition so as to get a new DVD set from Warner Bros with the remaining titles in Greta garbo's filmography that were not yet released on DVD. A maximum of signatures is necessary so as to make the point to Warner and release these wonderful films on DVD. Here is the link
http://www.petitiononline.com/GGDVD/petition.html
Sincerely
Yiannis
02-20-07, 07:41 PM
DVD Talk Legend
Join Date: Oct 2000
Posts: 12,306
i really don't think you need a petition...Warner is hands down the top dog when it comes to releasing classic catalog titles. They have a rotation system for actors, and while Garbo may not be coming this year, believe me they'll get around to it. If you want to pester, hit up paramount for the thousands of unreleased films from before the 1950's
02-20-07, 08:32 PM
Originally Posted by Cameron
i really don't think you need a petition...Warner is hands down the top dog when it comes to releasing classic catalog titles. They have a rotation system for actors, and while Garbo may not be coming this year, believe me they'll get around to it. If you want to pester, hit up paramount for the thousands of unreleased films from before the 1950's
Unless you're referring to Republic (which is in the hands of Lionsgate again), Paramount's only pre-1950 films are the pre-1929 silents (whatever's left and still copyrighted - like Wings, The Wedding March, The Covered Wagon, Docks of New York, The Last Command, Old Ironsides, and Running Wild) and a handful of 1948-1949 films that were not sold to EMKA/MCA along with the 1929-1949 talkie package (now in the hands of Universal).
08-11-08, 07:47 PM
Suspended
Join Date: Nov 2003
Location: Toronto
Posts: 3,039
I just signed the petition. I have a bad feeling about this as there are still only 327 signatures...
Here are the American films that haven't made it yet to DVD:
Two-Faced Woman
(1941)
Conquest
(1937)
The Painted Veil
(1934)
As You Desire Me
(1932)
Susan Lenox: Her Fall and Rise
(1931)
Inspiration
(1931)
Romance
(1930)
The Kiss
(1929)
The Single Standard
(1929)
Wild Orchids
(1929)
A Woman of Affairs
(1928)
Love
(1927)
Torrent
(1926)
Of those,
Conquest, The Painted Veil, As You Desire Me, Susan Lenox, Romance, The Kiss
and
Love
are absolute musts.
Inspiration
and the other titles are almost never seen anywhere and I've certainly never seen them. It would be interesting to see them but let's not ask for the impossible.
As You Desire Me
(1932) is possibly my favourite title of all, as it is based on a 1930 play by Luigi Pirandello, which meshes perfectly with Garbo's mysterious personality. It is a complex - and decadent - story about love, trust, truth, memory, morality and identity and how only one of these can compensate for all the others when those qualities are lacking. Even if a happy ending was tacked on by Hollywood, and the film whittled down to 70 minutes, it preserves the meaning of the play and remains a superior and very adult work of art brought to the masses in spite of the censors.*
The entire film is available on YouTube, by the way. Some of us just couldn't wait.
It would also be nice to re-issue
The Mysterious Lady
with a suitable film score this time, one that respects the writers' and director's intention that the music should reflect Puccini's opera
Tosca,
as the opera is shown in the film, its most famous aria
Vissi d'arte
is sung twice by the heroine and the final murder scene of that film is a direct and pointed reference to the famous murder scene of that opera.
* Although I'm sure it didn't exactly wow'em in Wyoming.
---
Last edited by baracine; 08-12-08 at

07:55 AM

.
08-12-08, 07:12 AM
Suspended
Join Date: Nov 2003
Location: Toronto
Posts: 3,039
Inspiration
, complete on YouTube (in eight parts starting here) :
http://ca.youtube.com/watch?v=tv1cn8iOhJs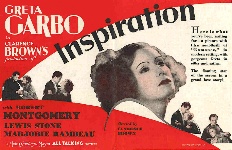 It's based on Alphonse Daudet's novel
Sapho
(uncredited), which also inspired Massenet's scandalous opera of the same name (created in Paris in 1897, it completely failed in New York in 1909). Daudet's novel (1884) was itself a kind of modern retelling for the Parisian art world of Alexandre Dumas fils' novel and play
La Dame aux camélias
(1852, known in English as
Camille
after Sarah Bernhardt's tour of the Americas in 1880), which, of course became Verdi's "pilfered" opera
La Traviata
(1853).
Talk about "inspiration"...
---
Last edited by baracine; 08-12-08 at

11:58 AM

.
08-13-08, 08:36 AM
Suspended
Join Date: Nov 2003
Location: Toronto
Posts: 3,039
I just saw Inspiration on YouTube yesterday. I must say it's a very impressive, if understated and underacted, film. The ending is especially gripping in its novelty and simplicity for the time. I don't want to spoil it for anyone but it's a lot like the ending of Nun's Story.
Posting Rules
You may not post new threads
You may not post replies
You may not post attachments
You may not edit your posts
---
HTML code is On
---