Question about comparing surround sound systems
04-21-15, 06:45 PM
DVD Talk Legend
Join Date: Jun 2001
Location: the kingdom of the evil Voratians, ruled by the wicked Ak-Oga
Posts: 11,409
Question about comparing surround sound systems
---
I've owned an RCA RT2600 for years, and it's been satisfactory for my needs, but over time its cooling fans have started going south. They still do their job, but they're really loud when you first turn on the unit, although they quiet down some after warming up.
While at Goodwill today, I found an RCA RT2620, which I would assume to just be the next model up from my old one. It didn't come with speakers, but I figured my current speakers would work with it.
However, when I looked up the specs for the 2620 online, it seems like it might be a little lesser in power than my 2600. I don't know much about electronics terminology, but I am able to tell that the overall wattage is lesser in the 2620 than in my old 2600. That, to me, at first glance, makes me think my old one is better. But, I thought maybe there might be other information in the specs that might make the 2620 better than the 2600.
If someone could take a look at the comparable specs, I'd appreciate advice on which one is actually better overall. The 2620 specs are on the left, and the 2600 is circled in yellow on the right.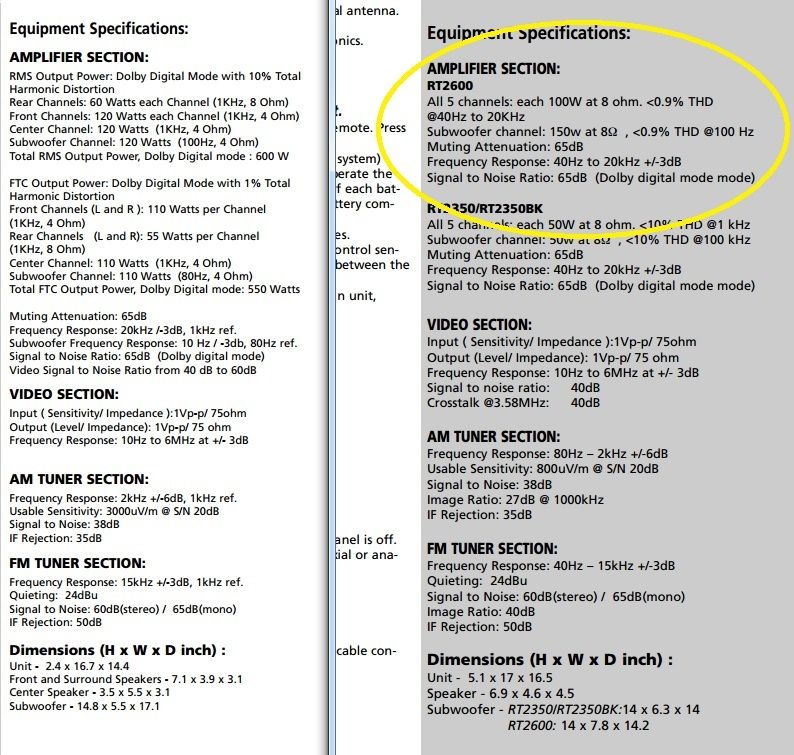 Thanks in advance.
04-21-15, 11:58 PM
DVD Talk Legend
Join Date: Jun 2001
Location: the kingdom of the evil Voratians, ruled by the wicked Ak-Oga
Posts: 11,409
Re: Question about comparing surround sound systems
---
Never mind. I'm taking it back anyway. I went ahead and hooked up the speakers and turned it on, and the volume knob seems to be broken. Wouldn't turn down via remote nor manually.

Thanks for all the responses. It was tough digging through the mass of posts for the best advice. I can only aspire to return such a similar favor when someone else needs something I might be able to help with.
04-22-15, 08:51 AM
DVD Talk Limited Edition
Join Date: Mar 2002
Location: Mpls, MN
Posts: 6,831
Re: Question about comparing surround sound systems
---
Anytime, dude. That 5 hour window was absolutely enough time for 100 responses to help with your life decision.

FWIW, the 2600 appears to have better specs. However, these specs are so weakly presented that it really is impossible to know the true capability of these particular products. This is the marketing crap they pull so that they can get the magic numbers of "100wpc" or higher. Specifically, the right is rated at a range of frequencies, 40-20kHz. Whereas the left only says one specific freq of 1kHz. And the distortion is lower on the right, too. But, with the other variables being different, they could truly be identical amp components inside and we can't tell from the specs you posted.

You will not find a system at this level that gives honest marketing specs. Even high end (>$1000) receivers don't give proper specs, although they would be more useful than the above. They generally save totally accurate specs for separate amps only, as those are catering to a different market.
Posting Rules
You may not post new threads
You may not post replies
You may not post attachments
You may not edit your posts
---
HTML code is On
---