My second homemade jukebox
03-25-09, 07:50 PM
DVD Talk Special Edition
Join Date: May 2002
Posts: 1,188
My second homemade jukebox
---
So I just finished my second jukebox and it was a hell of a lot less work than the first one. I decided to make this one with just the touchscreen lcd screen within a wood frame I made out of red oak. I ordered some long usb cords, power cords, and svga cords from monoprice, and ran them covered up across the ceiling on a wood panel. I decided to keep the computer away from the screen, across the room so I could just have a sleek look on the wall. I also ordered some wire covering to give it a more finished look instead of just dangling wires, like I had with my first jukebox. The computer has a 7.1 surround sound card in it and I have an optical cord running to my onkyo 606..... I have it running album player which I have on my other jukebox as well and I highly recommend it....... Anyways here are some pics.....thanks for looking, Andy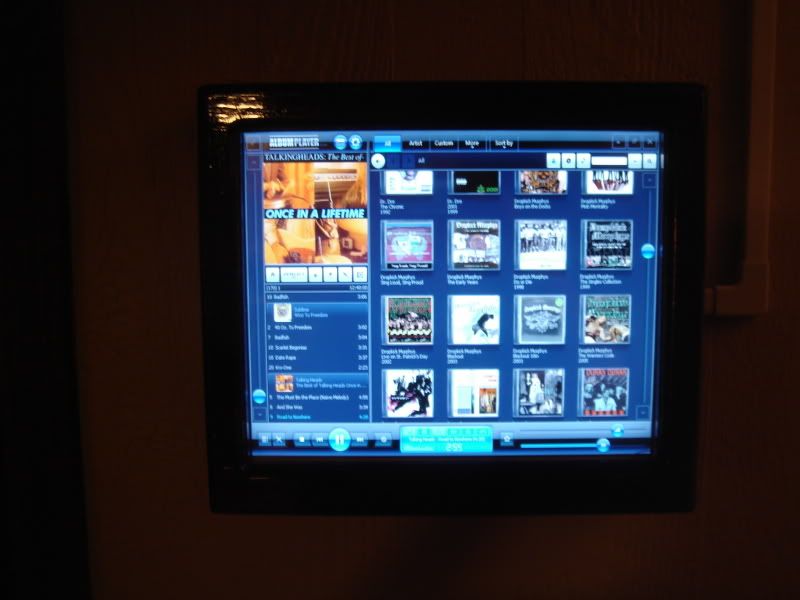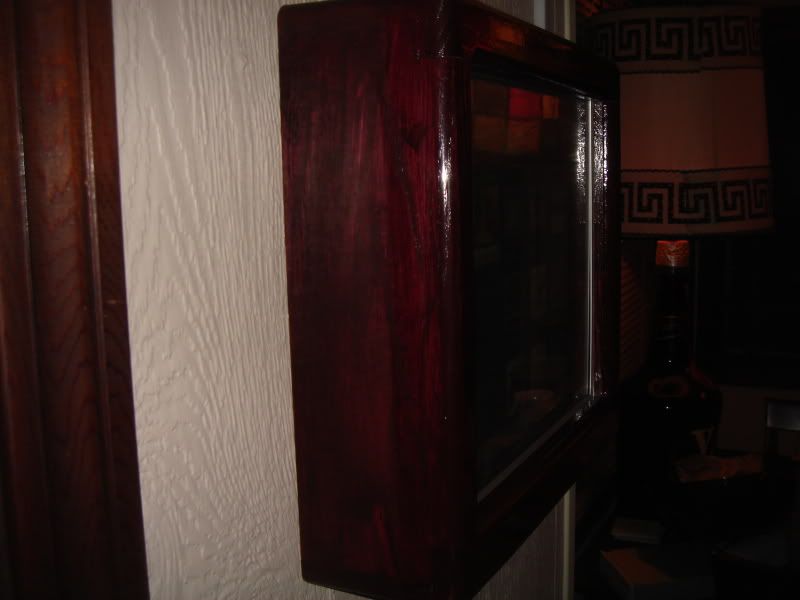 this one below is jukebox number one......It was in the same spot, now its going to go into the basement.......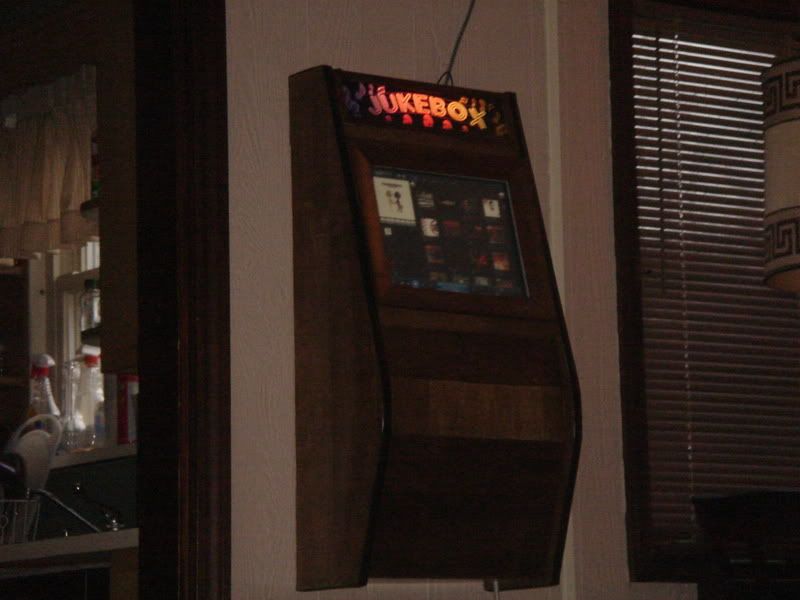 There was a few bumps along the way and the girlfriend asked me during one of my stressful moments, if I really needed two jukeboxes.....(ofcourse this was after all parts were purchased and in the building stage).........Sometimes they just don't understand our thought process. YES I NEED TWO JUKEBOXES..........
03-26-09, 09:10 AM
Re: My second homemade jukebox
---
That is really sweet looking Andy. I wouldn't know where to begin with something like that. It looks like a lot of time and energy went into doing it, and not just in production mode, but pre-production must have been a bitch as well.

Can I ask for an estimate of your costs? screen/software.
03-26-09, 11:42 AM
DVD Talk Ultimate Edition
Join Date: May 2006
Location: Winnipeg, MB, Canada
Posts: 4,813
Re: My second homemade jukebox
---
That jukebox is awesome. I'd like to know what the costs would be as well. I don't think I could make something like that myself, but I would love to have that in my house.
Great job.
03-26-09, 03:23 PM
DVD Talk Special Edition
Join Date: May 2002
Posts: 1,188
Re: My second homemade jukebox
---
to break down costs depends on what you already have........

Monitor lcd 100 dollars or so, buy it used for even cheaper, I got mine for free from a friend who extras around his place.....

Touchscreen kit piece 100 dollars at most including shipping, check ebay

If you have an extra computer from the last 5-7 years it is more than capable for a jukebox, if not buy a used one (just the desktop) 100 dollars or less

Albumplayer software 50 dollars check out their site

30 foot Long USB , SVGA, Power cords 30 dollars

red oak pieces from lowes for frame 20 dollars

7.1 surround sound card with optical output 50 dollars check amazon

wire covering 20 dollars check lowes home depot or amazon

stain and poly 25 dollars

This plugs into my reciever so if you dont have a reciever (which I find unlikely for most dvdtalkers) that will run you a bit more, make sure that it has atleast an optical input and 5.1 or even better 7.1 sound,,,,,

right around 500 if you do not have the computer and monitor, as low as 300 if you do.........very reasonable in price if you are handy and like projects to keep you busy......
03-26-09, 04:02 PM
Re: My second homemade jukebox
---
What I am thinking about doing is running this for zones 2 and 3 for my Yamaha. I can connect my server in my basement to my yamaha receiver but I would need to find a way to get the new cable to where the existing ones (for my volume controls) are.

I have a 19" monitor lying around here I could use and the perfect spot on the wall for it.

If Icould find a way to incorporate the receiver volume control wit hthe lcd that would be sweet.
03-26-09, 05:02 PM
DVD Talk Special Edition
Join Date: May 2002
Posts: 1,188
Re: My second homemade jukebox
---
you can use a windows mce remote hooked up the computer which can control the output volume on the computer.........it is what I have. As long as your reciever is turned up enough, you can dramatically effect its level by turning up or down the computers output volume.......
Posting Rules
You may not post new threads
You may not post replies
You may not post attachments
You may not edit your posts
---
HTML code is On
---