TruBuffyFan's BST List
05-27-08, 03:08 PM
Member
Join Date: Aug 2005
Location: NC
Posts: 179
Likes: 0
Received 0 Likes on 0 Posts
TruBuffyFan's BST List
---
Have some stuff for sale. Or Trade for some newer things. All the DVDs have been viewed once or twice, and I am selling because they have been replaced by HD or BR... The Heroes Season has never been watched, all I did was open it and put it on the shelf. All my haves can be seen here: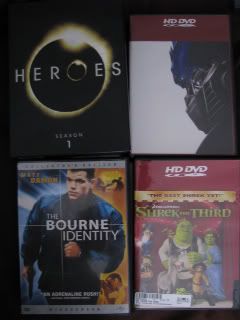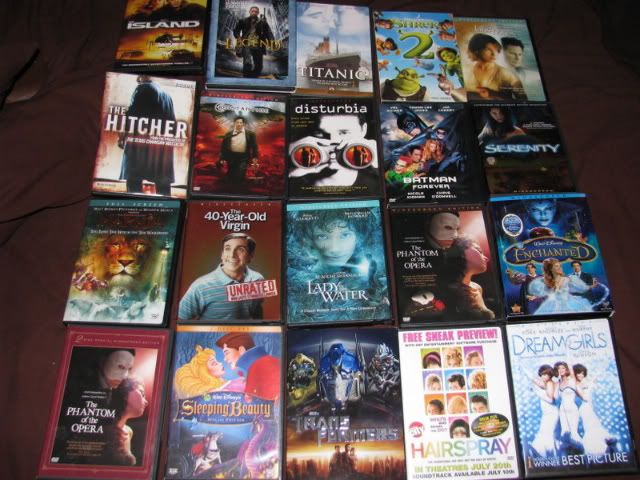 Heroes season is $25 shipped, HD's $12 shipped, All other normal DVDs are $6 shipped. (Excludes Enchanted, and I am Legend (2 Disc) which are $17 shipped, Sleeping Beauty is $22 shipped)
I am looking to trade for things such as:
Coyote Ugly (BR)
P.S. I Love You (BR/HD)
Juno (BR)
X-Men 3 (BR)
Day After 2maro (BR)
National Treasure 2 (BR)
Company (BR)
I am Legend (BR)
Fantastic 4 (BR)
Fantastic 4 2 (BR)
27 Dresses (BR)
Music and Lyrics (BR)
Santa Clause 3 (BR)
Dirty Dancing (BR)
Goal
(BR)
The Covenant (BR)
Planet Earth (HD/BR)
Top Gun (HD)
Twister (HD/BR)
Waterworld (HD)
The Breakfast Club (HD)
A Christmas Story (HD)
Liar Liar (HD)
Bruce Almighty (HD)
Erin Brockavitch (HD)
No Reservations (HD)
Freedom Writers (HD)
The Break-Up (HD)
Pulse (HD)
Gilmore Girls Season 7
Golden Girls Seasons 4 and up
Toy Story 2
Ghost Whisperer Season 2
Charmed Seasons 4 and up
Dark Angel Seasons 1 and 2
Joan of Arcadia Season 2
90210 Seasons 1,2,4
Saved by the Bell Seasons 2/3 and 5
Saved by the Bell College Years

PLMK any offers...
Posting Rules
You may not post new threads
You may not post replies
You may not post attachments
You may not edit your posts
---
HTML code is On
---