Mc2
08-23-20, 10:25 PM
DVD Talk Legend
Mc2
---
So after stumbling on to Spider-Girl and just falling in love with that series (I love the characters, stories, art, and the overall style), I'm looking to get the entire MC2 catalog. Not that it's a huge catalog, but it looks entertaining.
It all started with Spider-Girl in an issue of What If? An issue so popular it was spun off into it's own alternate future series. Which led to an expanded alternate future universe proper with A-Next, The Buzz, Darkdevil, J2, Fantastic Five, etc. Most of these characters were introduced in the Spider-Girl comic, but were then given their own series.
I particularly like Darkdevil. A Daredevil spin-off, I got impatient to find out who he really was, so I cheated and went to Wikipedia. Great concept.
It's a shame that the MC2 didn't do better and last longer. There was a fully developed world that Tom DeFalco and Ron Frenz created, one that really feels like the Silver and Bronze age comics. It's timeless stuff.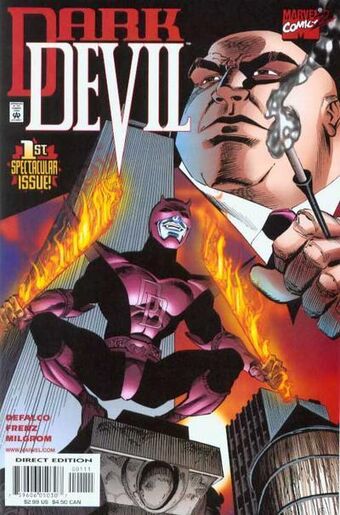 08-24-20, 08:26 PM
Re: Mc2
---
Wow. I remember MC2 as a concept, and, of course, Spider-Girl who lasted the longest. But I don't remember any of those other titles. After looking them up, I have the vaguest memory of J2. Maybe it's because I never read any of them, because I remember a lot about Marvel 2099 and New Universe.
08-25-20, 08:11 AM
Re: Mc2
---
The Spider-Girl series came off more as a sequel or continuation of the regular Marvel Universe Spider-Man. The other series seemed more like they were spoofs or rip offs of their original counterparts.
08-25-20, 11:02 AM
DVD Talk Legend
Re: Mc2
---
I wouldn't say spoofs or rip offs - more like
spin
offs. Sequels. I thought the rest of them seemed like legitimate continuations of the Marvel universe as it was in the mid 90's, just set 15-20 years later.
Darkdevil was a particularly fascinating character. Very well thought out and well executed.
04-07-21, 10:10 PM
DVD Talk Legend
Re: Mc2
---
Yeah, I loved the Darkdevil mini-series. I wish they had done a full series for that one - he was a fantastic character. Really cool, actually.

I just got the Fantastic Five TPB, "The Final Doom," and that was excellent as well. Very much of the style of the early to mid 70's combined with elements of the 80's and 90's (the best parts of those decades).

I'm getting closer to having the entire MC2 run. I'm only missing about 15 issues of Spider-Girl, and a handful of the other titles. I should have the entire MC2 by the end of the year.

It's an absurdly fun and entertaining subset of Marvel's universe. It's a shame they didn't do more with it.
04-08-21, 07:10 PM
DVD Talk Legend
Join Date: Feb 2007
Location: The Phantom Zone
Posts: 24,079
Re: Mc2
---
Have they put it out as an omnibus or giant trade?
04-09-21, 12:16 AM
DVD Talk Legend
Re: Mc2
---


Honestly, I haven't read anything from the MC2 that I didn't like a lot, or flat out love. Sure, it's totally retro, but that's the whole point!
Posting Rules
You may not post new threads
You may not post replies
You may not post attachments
You may not edit your posts
---
HTML code is On
---