Superman/Batman (2003-2011)
07-07-20, 10:13 PM
DVD Talk Hall of Fame
Superman/Batman (2003-2011)
---
Another title I got in that great Zavvi deal was the Superman/Batman: Supergirl book. I wasn't sure whether I'd like it or not, but at that price why not give it a shot?
And while the art does have some flaws (come on - Superman's supposed to blend in, and he can't do that if he looks like Arnold Schwarzenegger, and Bruce Wayne shouldn't be that bulky, either), it's quite good, overall.
But it's the story that really worked for me. I loved the writing (and the alternating voices for the narration - Superman & Batman) - the plot was great and I loved the dialogue & narration. Good stuff. Loeb strikes me as a really good writer.
So I bought this lot off of ebay the other day...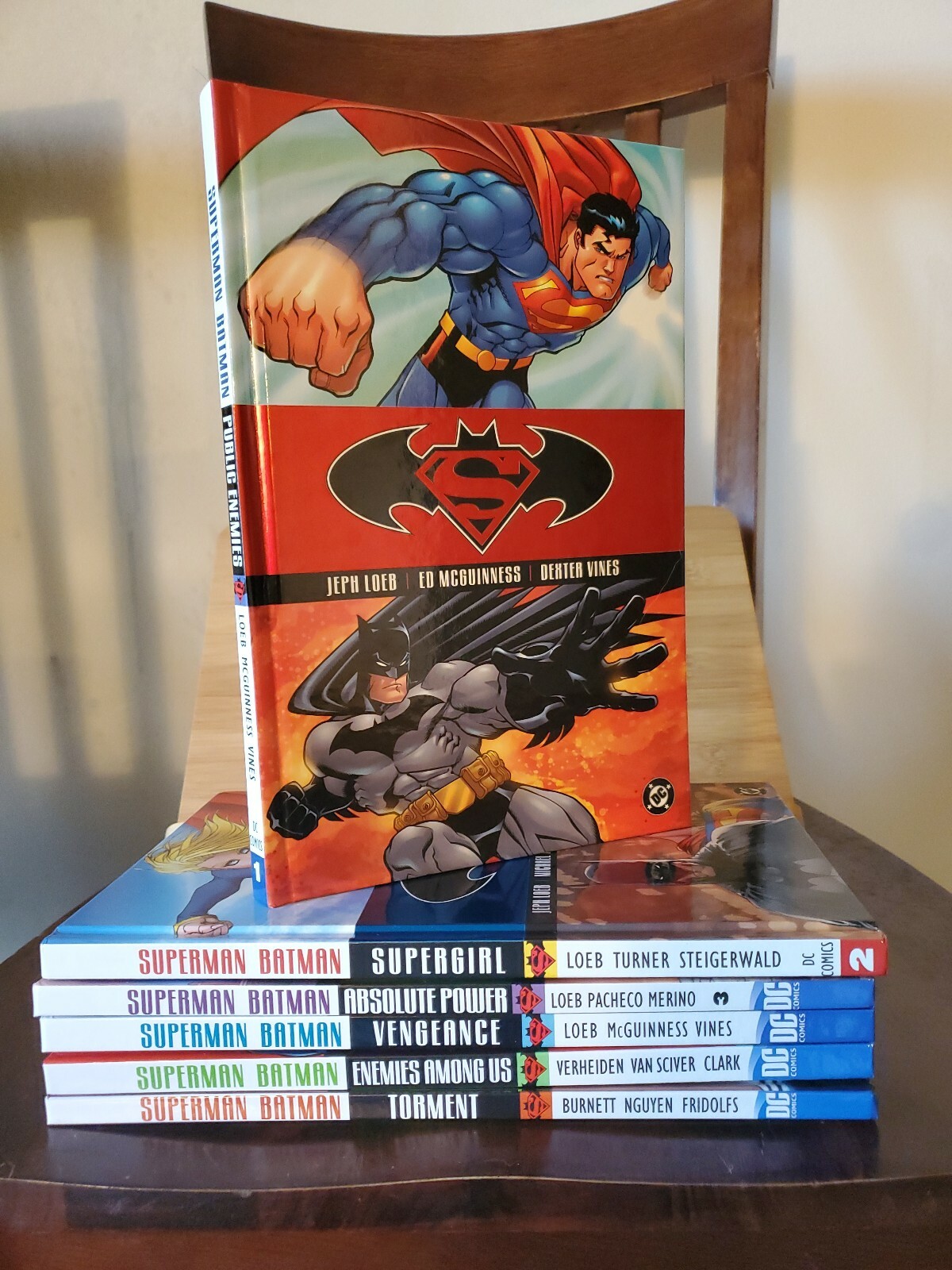 Despite the (sort of) duplicate of the Supergirl book, it's got the other 5 of the first 6 collections from that series (and I got it ridiculously cheap).
I've scanned through those issues online (briefly - trying to avoid spoilers), and they look really good, too.
07-08-20, 10:39 AM
Re: Superman/Batman (2003-2011)
---
Never liked McGuiness bulky cartoonish look and hated the first story arc of that series. Once Michael Turner came in, the art and the stories inside improved a lot. Always felt the Public Enemies story was just lazy, bad writing. Why would the Earth heroes hunt Batman and Superman of all people because the new President, Lex Luthor, says so? It doesn't make sense that without any reason whatsoever heroes felt the need to hunt Superman, who's always been their leader and the person all these guys aspire to be.
07-08-20, 11:07 AM
Re: Superman/Batman (2003-2011)
---
I like McGuiness's art (though I like Wieringo's more). I agree that the plot is barely existent for Public Enemies, it's basically an excuse to draw superheroes battling superheroes. Like why was Major Force there after what he did to Kyle's girlfriend? But the whole series was almost an out of continuity Worlds Finest book where Loeb just did whatever he wanted.

I wasn't a big fan of them reintroducing Supergirl like that... I haven't read it in a long time but the pacing was terrible when I first read it, it was like they were racing through the plot just to reintroduce Kara, and they introduced all this crap into her mythos that it took them years (and several directional changes) in her own book to work out. But then I liked what Peter David had morphed Matrix Supergirl into right before this.

Both of those initial stories were adapted in animated form as:
Superman/Batman: Public Enemies
Superman/Batman: Apocalypse

Both are available on DC Universe (and probably HBO Max soonish)


07-08-20, 01:23 PM
DVD Talk Legend
Join Date: Feb 2007
Location: The Phantom Zone
Posts: 23,231
Re: Superman/Batman (2003-2011)
---
07-08-20, 02:46 PM
Re: Superman/Batman (2003-2011)
---
It was a fun series, with a variety of just incredible artists:

Ed McGuinness
Michael Turner
Carlos Pacheco
McGuinness again
the all star 26th issue that was a tribute to Sam Loeb
Kevin Maguire
Ethan Van Sciver

etc.

07-08-20, 03:14 PM
DVD Talk Limited Edition
Re: Superman/Batman (2003-2011)
---
Carlos Pacheco is on my list of majorly underrated.

I was eyeing the Superman/Batman omnibus, but I can't really afford it right now.

07-08-20, 06:57 PM
07-08-20, 07:14 PM
DVD Talk Limited Edition
Re: Superman/Batman (2003-2011)
---
Far more comfortable to hold and read too.
I'm pretty OCD about condition so I saw "Zavvi" and "books" and ran the other way.
Had I looked and saw they were that cheap, I'm sure I would have taken a chance.
Congrats on the great score!
07-08-20, 07:33 PM
DVD Talk Hall of Fame
Re: Superman/Batman (2003-2011)
---
Yeah, and I'm probably keeping the UK edition of the volume with the Supergirl story (unless the U.S. version has all of the same content, including the first ever Supergirl appearance), so that won't match at all.
But I know what you mean. Why change the design in the middle of a series like that?
Still, for $4.80 total shipped for each Zavvi book, and $5.83 per book for that Superman/Batman set above I can't complain.
Posting Rules
You may not post new threads
You may not post replies
You may not post attachments
You may not edit your posts
---
HTML code is On
---