FS: couple of Playstation games (some Japan)
05-06-07, 01:45 AM
Member
Join Date: Apr 2003
Location: USA
Posts: 124
FS: couple of Playstation games (some Japan)
---
Guardian of Darkness, Just added (Play as the Exorcist Monk using your psychic powers to destroy enemies) Rare in English exclusive from Europe!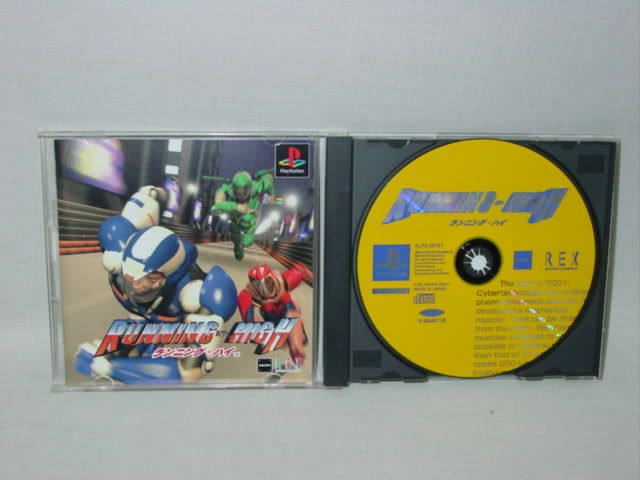 Running High (cool Cybernetic racing)
Ah the classics:
Namco Museum Vol 3 Playstation Best (includes fav arcade Classics such as Mr. Pacman, Dig dug, Druga, Galaxian plus interviews) New Sealed
Simple 1500 series vol 35: The Shooting (thats right its a classic side scrolling shmup!)
Simple 1500 vol 37: The Illust Puzzle & Slide Puzzle (Its not just puzzles it also seems to have a painting game (like mariopaint) must beat the clock, a number puzzle, a mini game and several modes.)
Horrific:
Echo Night (Famous horror game from USA)
Platformers:
Floating Runner: Crystals Densetsu (A great platforming action; set in 2D world with 3D backrounds. Their seven Worlds with fourteen levels each with challenges to complete. Lots of variety as you work your way through a swamp, forests desert, water, fire and sky. You'll need to collect tools including crystals and gems, weapons and fight enemies to overcome obstacles.)
Hugo 2 (Play as Hugo in the mighty jungle..Hugo the trolls back defeat evil queen of darkness Action Platformer, Europe English )
Shipwreckers (Famous yet unheard much game.. puzzles, collecting treasures, battle pirate foes)
Walt Disney: Tarzan USA (Just open) Play as Tarzan in the mighty jungle Action Platformer
Race:
Ford Racing US (Racer) 2.00
Rapid Racer (A fun racer with speed boats)
00751 Running High (Cybernetic Racing)
Simple 1500: The bikerace (check if avail
Rhythm/Music/Beat:
Band Simulation of Sold Out (like Idol Promotion except a rock band instead of 1 idol)
Dance the Great Hits! (Its better than your occasional DDR! A video production game, think it supports your own CD. "You're the director, producer, and creative talent in the music video that you craft from scratch.
Idol Promotion (Like American Idol? Control the idol, succeed and go on tour!)
Pocket Tuner (Rhythm and music skills training software. Learn the proper beats, timing, and other musical structure for the portable pocketstation too, this in english as well and musically inclined.)
Robots: Video Alchemy (collection of videos from the group Robots and mini games I think))
Oha Star Dance Dance Revolution (This ones Rare so its about 8.00 or so)
RPGs:
Knight & Baby (Communication/ RPG Great game where you have this little guy as your helper!)
Majotachi no Nemuri: Fukkatsu Matsuri (sleeping witch) As far as I know its an RPG where you play as a witch who has mystical powers!
Master of Monsters J (RPG) 2.00
Shadow Madness (Interesting 2 disk RPG) USA 4.50
Tenshon (Awesome dungeon crawler with cool monster, like Torneko/Taloon's Quest, RPG stylin!)
White Diamond (The Best) Fantasy RPG by Escot 4
World Never Island - The Best (an action rpg taking place on an island)
Mahjong as well:
Hanafuda Graffiti: Koi Koi Monogatari (Mahjong Dating) 5.00 HELD
Mahjong Senjutsu: Anzou Michuru no Tsugi Akima Satsuhou (Warashi) HELD
Mahjong Pro (play as 1 or 7 japanese characters) HELD
Space shoota:
Aubird Force After (Space shooter simulation, straight from collection)
based anime story) Action/Anime
Invasion From Beyond (space shmup with aliens aliens) USA )
Total Eclipse Turbo US Big Box) Shmup!
Tunnel B-1 Europe Great action shooting taking place in tunnels! Europe english
Strategy/Control em:
A.IV. Evolution Global (the 2nd AIV game.... simulation sorta like simcity focusing on trains) europe english
Aubird Force After (Galactic space sim with 3D maps and combat)
Excalacuse: Anime Sim game (Pending in)
Dokidemo Hamster (Hamster raising simulation!)
Neo Planet (Planet with dinosaurs in futuristic?)
02292 PET PET PET (Dogs cats and pets simulation)
Quo Vadis (A real time strategy like Command and Conquer in space, you choose a planet and destroy the enemy. Very addiciting cool scenes to
show the mecha battle sequence) 8.00 US (4.00 GBP)
Urban Chaos (here you can command vehicles, control cars, vans and use your martial arts skill so stop evil doers) Action Europe english 4.50 (2.00 GBP)
Trading card/board/roll the dice:
Beyblade 2002: (Spinners ram each other in battle arena again, surrounding anime has a story to it too)
Dokapon: Kingdom of (Ikari no Tetsuken, cutsie game)
Monster Collection: A game universe world connected to six gates fire, water, earth, wind, good, or evil element monsters. Their ability decided by battle spell, unit's equipment, combat items & terrain. Using north through west summon them in this famous card game and engage in battle with summoned monsters. 8.00 US
Tetsuodoh 96 (Cute anime board game)
1st person:
Disrupter (protect from enemies of the United Earth) 1st person shooting Europe english 5.00 (2.50 GBP)
Grind Session ? 8.00 US (4.00 GBP)
Guardian of Darkness, Just added (Play as the Exorcist Monk using your psychic powers to destroy enemies) Rare in English exclusive from Europe!
Lifeforce Tenka (like Doom blast away the enemies and take on 28 different missions!!) PAL Europe english
Over Blood 2 (just opened Complete with spine)
Reloaded (Think 1st person shooting) US
Fighting:
Battle Arena Toshinden 2 (Fighting BIG BOX US Sequel to a famous game that started it a)
02199 Ichigeki: Hagane no Hito (Karate fighting)
Robo Pit 2 Europe (also in mech section)
Zero Divide (US Bix box, Robot Fighting Big Box. Many characters with unique combo attacks and 20 different special moves with different levels for each character)
Go Mechs/Robots:
Extreme Power (Mech Blastin action in a 3D enviroment, similar to VC check it out) SOLD
Vehicle Cavalier (Similar to Armored Core where you control mercenary in a mech and take on missions think Virtua On and Mechwarrior control vehicles; plus one on one duels. ) Action SOLD
Robo Pit 2 European - Awesome game, better than the 1st you create the robots and AWESOME MECH Fighting! SOLD
Zero Divide (Robot Fighting Big Box)
Learn that language:
PS I also have Learn Japanase Now volume 7, Pimsleur Learn Japanese (recommend ), Easy Language 1998: (25 World languages, learn japanese as well other languages including Korean, Chinese & German etc). Languages & Translators 2000: (Similar to above one Japanese and Foreign language tutorials plus translator, this one includes Norwegian and Vietnamese too) for computer.
Misc/Other genre/Couldn't know:
Chakusin Melody Damon (Rare melody PSX Game if you like music)
Chakusin Melody Damon Gold ..
Chakusin Melody Damon Volume 2 .
Chakusin Melody Damon Volume 3 ..
Chakusin Melody Damon Volume 4
Digicro (Crossword puzzles with cute cat character)
King of Producer (Awesome game where you Simulate in a Palace))
Momotarou Matsuri (2nd RPG in Momotarou series' Festival, DQ style!)
Project V6 (Anime interaction game starring a boy group)
The Great Peak (Mountain Climbing game)
Tokimeki no Houkago (Tokimeki memorial chars quiz) )
Sport:
Dynamite Boxing (Defeat your opponent with various punches)
V Tennis (virtua tennis) SOLD
NCAA Madness 2000 USA (Basketball) "
NCAA Final Four 2000 USA (Basketball) "
NCAA Football 2001 USA "
The Mix:
US Playstation vol 18: Syphon filter, bust a grove, shadow madness, Mr Domino and Akuji
US Playstation vol 24
US Playstation vol 30: Syphon Filter 2, Final four 2k, CT Racing, Ave combat 3, Silent
Playstation 59 UK: - Tony Hawk 2, Muppet Racemania, Star Ixiom, Euro 2000, Europe english
Playstation 61 UK: Vib Ribbon, Star Trek: Invasion, Destruction Derby Raw, Moho, Silent Bomber. Prevs: Tenchu 2, Vanishing point, Galerians and
SPECIAL PSX/PROMO TITLES:
Dokidoki potachyo Promo disk (may include additional features such as interviews etc for collectors)
Rarara Playstation: Summer 1998 (somewhere.. another one from the 98 Tokyo TGS show (Inside demos incude Echo Night,Dragon Seeds,ALIVE, Bomberman Fantasyrace,Kawa no Nushi Tsuri: The River of fish and SD Gundam G-Generation!)
Gamewave DVD vol 5 (For PS2, haven't tried it yet, looks like it may have some FFantasy stuff)
Gamewave DVD vol 12 (Tidus on the cover)
Squaresoft Preview 3 (Random Japan SQUARE demos in 1 disk!)
Dengeki Playstation D36 (Kamurai, Hosigami, Kamurai, more
Dengeki Playstation D37 (Save Date, Pocketstation stuff and games)
Dengeki Playstation D39 (Havent tried but possibly some interview here few demos. Producer PS2, GT3 etc)
Dengeki Playstation D42 (True Love story, AC4 and others)
Hyper Remix 1999 #11: Tomba, Wizardry: New Age of Lygyam, SD Gundam, Ultraman, Pop n music
Hyper Remix 1999 #12: Lord of monsters, Tomarunner, Remote control dandy, Minano Golf 2, A6 train and Zeus 2: Carnage Heart
Play Play Vol 4 - 20+ 2-3 Each (Rare Collectors only disks)
Play Play Vol 10,16: Feb 98,99 (Bunch of samples with exclusive CM Collection disk (previously Not for Sale) and I think Tokyo Game show movie great for collectors) 2 disks
Famiwave promo disks and demos 10/99,11/99,12/99,3/00 check
*Game books: Dragon Quest 7, Noel La Neige, Favorite Dear and Angelique Special 1 & 2
**Game cards Brave Fencer Musashi (musashi himself 1 card, Langrisser booster pack (From the famous Strategy game genre), Tenchi Muyo booster pack, , Airs (2 cards) Monster Collection (2 cards), Wizardry (1), Yuyu Hakusho (several cards
Other just got haven't put in order yet:
* Even more 11 additions by catalog
*Terracon SCES 02836 Europe (wierd game where you control an alien in 1st person perspective Action, some marks)
01602 Un Un puzzle slps (Puzzle game match the colors)
00323 NEO PLANET, (Planet with dinosaurs?)
00484 (Soreike kokoroji), ?
00597 Band Simulation of Sold out (like Idol promotion),
02172 (River of fish RPG),
00323 Neo Planet (Planet with dinosaurs in futuristic?)
01257 (Train game 1),
01865 (19:03 Train game 2),
00448 (Admiral General II), Koei war game
A5
The Conveni: Anomachi (Own and simulate a convenient store)
The Conveni 2
PS2:
Usagi: The Arcade Yamashiro: is this Anime style game dunno much havent tried it.
The Seed: Very fun, like command and conquer where you think and control the ships everywhere
Some title are not shown here you can ask for those or I can give you a listing.
Posting Rules
You may not post new threads
You may not post replies
You may not post attachments
You may not edit your posts
---
HTML code is On
---