S.W.A.T. (CBS) -- Season 2 Thread -- Premieres 9/27/18
09-27-18, 04:25 AM
S.W.A.T. (CBS) -- Season 2 Thread -- Premieres 9/27/18
---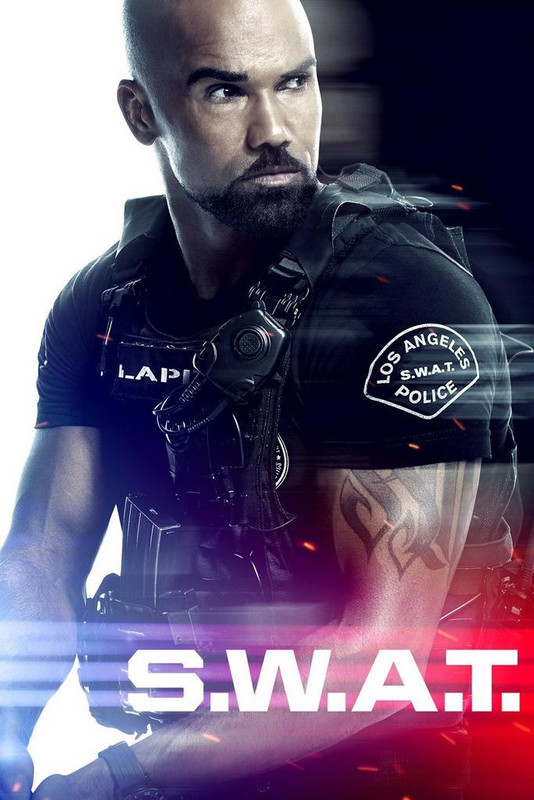 THE SWAT TEAM ENGAGES IN A STANDOFF WITH HUMAN TRAFFICKERS HOLDING CHILD HOSTAGES WHEN A MAJOR EARTHQUAKE HITS LOS ANGELES, ON THE SECOND SEASON PREMIERE OF "S.W.A.T.," THURSDAY, SEPT. 27
"Shaky Town" – The SWAT team engages in a standoff with human traffickers holding child hostages when a major earthquake hits Los Angeles during their operation and compromises the takedown. Also, while Hondo forms an unexpected personal connection with Deputy District Attorney Nia Wells (Nikiva Dionne), Jim Street has trouble adjusting to his new life as a patrol officer, on the second season premiere of S.W.A.T., Thursday, Sept. 27 (10:00-11:00 PM, ET/PT) on the CBS Television Network.
CHEAT TWEET: Hondo & the #SWAT team are 'quaking in their boots' – literally – when a major earthquake hits during an operation, forcing them into a standoff with human traffickers! @shemarmoore stars in the @SWATCBS S2 premiere 9/27 10pm #CBS
http://bit.ly/2w35H7a
REGULAR CAST:
Shemar Moore (Daniel "Hondo" Harrelson)
Stephanie Sigman (Jessica Cortez)
Alex Russell (Jim Street)
Jay Harrington (David "Deacon" Kay)
Lina Esco (Christina "Chris" Alonso)
Kenny Johnson (Dominique Luca)
Peter Onorati (Jeff Mumford)
David Lim (Victor Tan)
Patrick St. Esprit (Commander Robert Hicks)
RECURRING CAST:
Lou Ferrigno, Jr. (Rocker)
Otis Gallop (Sgt. Stevens)
GUEST CAST:
Nikita Dionne (Nia Wells)
Juan Javier Cardenas (Beni)
Joseph Lee Anderson (Tony)
Gene Farber (Drummond)
Jimmy Jean-Lous (Desir)
Sumalee Montano (Gwen)
Lee Chesley (Jan)
Alexander Charles Arzu (Isaac)
Mataeo Mingo (James)
Camden Coley (Paul)
Aiden Berryman (Stanley)
Lynn Adrianna (Carol)
E.R. Ruiz (Jax)
Beau Casper Smart (Kaden)
Michael Trucco (Eric)
Betty Murphy (Mrs. Perkins)
Wali Habib (Nick)
Molly Erdman (Nurse)
Christina Craddick (Stacey)
Dmitri Schuyler (Teen Boy)
Minerva Garcia (Hospital Administrator)
WRITTEN BY: Michael Jones-Morales
DIRECTED BY: Billy Gierhart
Season 1 was pretty good, not great overall. Had some good action episodes, but it did get a little heavy at points. But overall I was entertained. it didn't feel as cookie cutter as many cop dramas.
09-27-18, 02:25 PM
DVD Talk Legend
Join Date: Jan 2001
Location: MA
Posts: 10,286
Re: S.W.A.T. (CBS) -- Season 2 Thread -- Premieres 9/27/18
---
Same here; enjoyed last season.

Although since I've been watching Shield for the last few weeks, it's gonna be weird seeing Kenny Johnson in his role here.
09-28-18, 07:08 AM
DVD Talk Special Edition
Join Date: Dec 2008
Location: N. Carolina
Posts: 1,819
Re: S.W.A.T. (CBS) -- Season 2 Thread -- Premieres 9/27/18
---
09-28-18, 08:14 AM
DVD Talk Legend
Join Date: Jan 2001
Location: MA
Posts: 10,286
09-29-18, 11:42 AM
Re: S.W.A.T. (CBS) -- Season 2 Thread -- Premieres 9/27/18
---
Fun episode to start season 2. Some good action and a cool chopper sequence. I guess Street is going to stay a beat cop awhile longer.

Kind of ironic that SWAT's storyline used a huge earthquake like 911's premiere.

I wasn't feeling Hondo's new apparent love interest. Plus she's got an estranged husband too as the end showed.

Read that SWAT took a hit ratings-wise as it was airing against football. Last year SWAT aired after football finished in November. A write up I saw said that SWAT kind of shares the same audience as football (male viewers)
10-15-18, 01:50 AM
Re: S.W.A.T. (CBS) -- Season 2 Thread -- Premieres 9/27/18
---
Fire bombing plot from this past week's episode was entertaining. Hondo's new girlfriend was a big part of it. I'm not really a fan of her. She's not a very good actress. Stephanie Sigman is a much better actress than her. And now it looks like they're bringing back Michael Trucco next week to cause some trouble.
Just noticed that the 2nd SWAT leader Mumford is no longer on the show.
I guess they dropped Peter Onarati because the Commander Hicks is now a regular and in the opening credits.
Posting Rules
You may not post new threads
You may not post replies
You may not post attachments
You may not edit your posts
---
HTML code is On
---