Frequency (S1E10) -- "The Edison Effect" -- 1/4/17
01-04-17, 10:04 PM
DVD Talk Godfather
Join Date: Aug 2002
Location: La Palma, CA
Posts: 61,983
Frequency (S1E10) -- "The Edison Effect" -- 1/4/17
---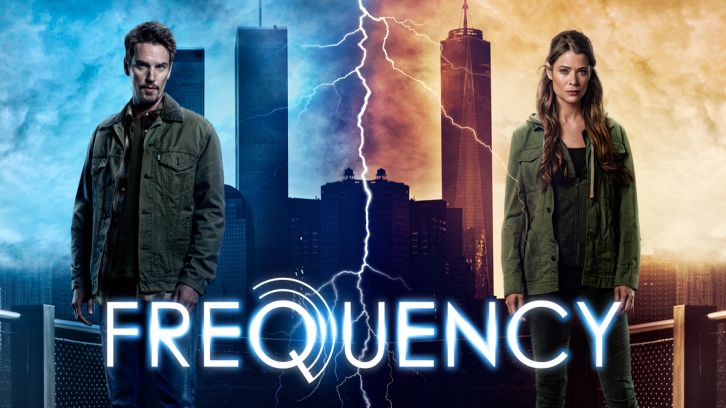 WEDNESDAY, JANUARY 4

FREQUENCY

"The Edison Effect" - (9:00-10:00 p.m. ET) (Content Rating TBD) (HDTV)

FREQUENCY IS BACK WITH A NEW EPISODE - Frank (Riley Smith) and Raimy (Peyton List) put a plan in motion for Frank to kill the Nightingale. Frank finds himself agonizing over whether it's the right thing to do, and Raimy is confronted with an unexpected moral decision. Mekhi Phifer, Devin Kelley, Anthony Ruivivar, Daniel Bonjour and Lenny Jacobson also star. Rob Seidenglanz directed the episode written by John Dove (#110). Original air date 1/4/2017.
Episode 10 of 13
01-05-17, 05:12 AM
DVD Talk Ultimate Edition
Re: Frequency (S1E10) -- "The Edison Effect" -- 1/4/17
---
Sadly my interest in this waned over the break. There were several plot points I'd forgotten.
01-08-17, 03:59 PM
DVD Talk Godfather
Join Date: Aug 2002
Location: La Palma, CA
Posts: 61,983
Re: Frequency (S1E10) -- "The Edison Effect" -- 1/4/17
---
The ending was a little weird.
So Raimy was hoping that Frank was going to kill Deacon Joe in 1996 and that would eliminate his current transgressions in the present? So that's why she decided to kill him anyways?
Too bad that car accident screwed things up.
http://tvline.com/2017/01/08/frequen...-if-cancelled/
According to the CW's President, the show will wrap up with some kind of closure with no loose ends. It will probably have some kind of tag or epilogue on the digital side.
---
Last edited by DJariya; 01-08-17 at

04:05 PM

.
Posting Rules
You may not post new threads
You may not post replies
You may not post attachments
You may not edit your posts
---
HTML code is On
---