The Amazing Race (S28E09) -- "Salt That Sand!" -- 4/22/16
04-22-16, 02:23 PM
DVD Talk Godfather
The Amazing Race (S28E09) -- "Salt That Sand!" -- 4/22/16
---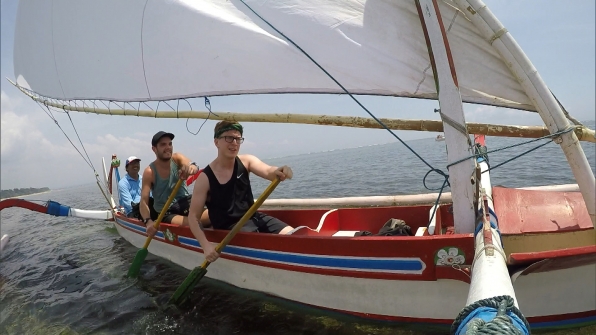 A TIGHT RACE TO THE MAT IN BALI HAS TEAMS ROWING AND SWIMMIMG TO A BOAT FOR THE PIT STOP, WHERE LOSERS ARE ELIMINATED BY WALKING THE PLANK, ON "THE AMAZING RACE," FRIDAY, APRIL 22

"Salt That Sand!" (Bali)
- In a tight race to the mat, teams row and swim to the Pit Stop located on a boat, where the losers walk the plank and are eliminated, on THE AMAZING RACE, Friday, April 22 (8:00-9:00 PM, ET/PT) on the CBS Television Network. Phil Keoghan (@philkeoghan)
is the host.

Remaining Teams in THE AMAZING RACE:

Tyler and Korey

Burnie and Ashley

Sheri and Cole

Zach and Rachel

Dana and Matt

Brodie and Kurt



Episode 9 of 12
04-24-16, 03:27 PM
DVD Talk Limited Edition
Join Date: Aug 2006
Location: Land of Lincoln
Posts: 5,630
Likes: 0
Re: The Amazing Race (S28E09) -- "Salt That Sand!" -- 4/22/16
---
Finally get rid of a team, and it's the nondescript one. It was probably asking too much to see the dude bros eliminated. Has Brodie sucked the whole race or was this just a one episode storyline?
04-24-16, 03:35 PM
DVD Talk Special Edition
Join Date: Sep 2011
Location: Los Angeles
Posts: 1,954
Likes: 0
Received 0 Likes on 0 Posts
Re: The Amazing Race (S28E09) -- "Salt That Sand!" -- 4/22/16
---
Brodie didn't do very well in the previous episode's challenge, maneuvering the little silver letters in the canister and then using the express pass. Other than that, I don't recall him struggling much.

I definitely would have preferred to see them go. Not as much as Cole, but Zach and Rachel had seemed the most likable to me among those teams remaining.
Posting Rules
You may not post new threads
You may not post replies
You may not post attachments
You may not edit your posts
---
HTML code is On
---