Hawaii Five-O (S5E17) -- "Kuka'awale" -- 2/27/15
02-27-15, 10:13 PM
DVD Talk Godfather
Hawaii Five-O (S5E17) -- "Kuka'awale" -- 2/27/15
---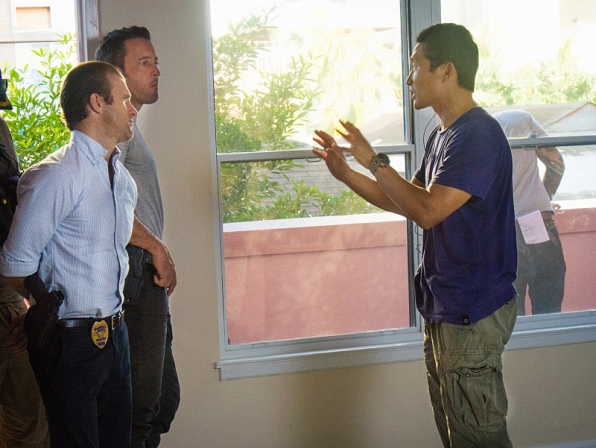 MCGARRETT AND DANNY WORK ON THEIR RELATIONSHIP WHILE THEY STAKEOUT A WOMAN'S APARTMENT AFTER SHE ESCAPES FOLLOWING A DIAMOND ROBBERY, ON "HAWAII FIVE-0," FRIDAY, FEB. 27

Series Star Daniel Dae Kim Makes His Directorial Debut

Max Weinberg, Emmy Award Winner Cloris Leachman, Charlie Saxton, Jon Lovitz and Jessica Lowndes Guest Star

"Kuka'awale" - McGarrett and Danny work on their relationship while they stakeout a woman's apartment after she escapes following a diamond robbery, on HAWAII FIVE-0, Friday, Feb. 27 (9:00-10:00 PM, ET/PT), on the CBS Television Network. Series star Daniel Dae Kim makes his directorial debut. Max Weinberg, Emmy Award winner Cloris Leachman, Charlie Saxton, Jon Lovitz and Jessica Lowndes guest star.

(*Kuka'awale is Hawaiian for "Stakeout")
REGULAR CAST:

Alex O'Loughlin (Steve McGarrett)
Scott Caan (Danny "Danno" Williams)
Daniel Dae Kim (Chin Ho Kelly)
Grace Park (Kono Kalakaua)
Masi Oka (Dr. Max Bergman)
Chi McBride (Lou Grover)
Jorge Garcia (Jerry Ortega)
RECURRING CAST:

Taylor Wily (Kamekona)
Dennis Chun (Sgt. Duke Lukela)
Shawn Garnett (Flippa)
Max Weinberg (Norm)
GUEST CAST:

Cloris Leachman (Ruth Tennenbaum)
Jon Lovitz (Barry Burns)
Charlie Saxton (Ricky Schiff)
Jessica Lowndes (Emma Mills)
Arden Cho (Mia Price)
Julien Foures (Josif Radzik)
Zoltan Hayth (Jacob Anders/Radomir Ivanovich)

WRITTEN BY: David Wolkove and Lorenzo Manetti

DIRECTED BY: Daniel Dae Kim


Episode 17 of 25
02-28-15, 02:41 AM
DVD Talk Gold Edition
Join Date: Jun 2003
Location: Orange County, CA
Posts: 2,897
Likes: 0
Received 0 Likes on 0 Posts
Re: Hawaii Five-O (S5E17) -- "Kuka'awale" -- 2/27/15
---
Stupid "relationship" storyline - hope we never see that again.
Fun to see Norm (Max Weinberg) again.
I guessed the store owner reveal the moment she appeared on screen.
When all else fails, go for the girl-on-girl action.
Final shootout: That's the ridiculous, over-the-top H50 we all love.
02-28-15, 08:03 AM
DVD Talk God
Join Date: Feb 2000
Location: Directionally Challenged (for DirecTV)
Posts: 123,191
Likes: 0
Re: Hawaii Five-O (S5E17) -- "Kuka'awale" -- 2/27/15
---
This episode was hilarious. I lost it over that Terminator-like assault.
Needed more Jessica Lowndes though.
03-04-15, 12:15 AM
DVD Talk Platinum Edition
Join Date: Mar 2009
Posts: 3,174
Likes: 0
Received 0 Likes on 0 Posts
Re: Hawaii Five-O (S5E17) -- "Kuka'awale" -- 2/27/15
---
Wow, worst 5-0 episode ever. If anyone ever needed an example of a "filler" episode, this is it.

Fast forwarded pretty much through the whole episode, which I never do for shows I watch on a regular basis.

Exception - I did watch the lesbo scenes haha
Posting Rules
You may not post new threads
You may not post replies
You may not post attachments
You may not edit your posts
---
HTML code is On
---