The Amazing Race 26 Cast Announced
01-20-15, 06:29 PM
DVD Talk Limited Edition
The Amazing Race 26 Cast Announced
---
The Amazing Race Season 26 has announced their cast today. This will be an all couples season with 6 established couple and 10 singles matched together for the ultimate blind date. The season begins Wednesday Feb. 25 at 9:30/8:30 Central with a 90 minute episode. It will start airing on Fridays on Feb. 27 at 8/7 Central.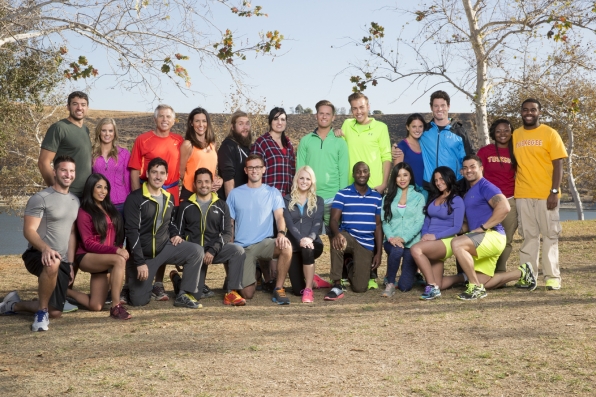 The Dating Couples:
Aly Dudek & Steve Langton
CJ Harris & Lebya Simpson
Harley Rodriguez and Jonathan Knight
Jeff Magee & Lyda Grawn
Matt Cucolo & Ashley Gordon
Rochelle Nevedal & Mike Dombrowski
The Blind Dates:
Bergen Olson & Kurt Jordan Belcher
Blair Townsend & Hayley Keel
Jackie Ibarra & Jeffrey Weldon
Jelani Roy & Jenny Wu
Tyler Adams & Laura Pierson
More information here:
http://tvline.com/2015/01/20/the-ama...ason-26-teams/
---
Last edited by lwhy?; 01-21-15 at

02:16 PM

.
01-20-15, 06:40 PM
DVD Talk Hero
Re: The Amazing Race 26 Cast Announced
---
So we get two male couples, but no lesbians? Howard Stern is not happy.

Not sure how this season will be. I would assume that the established couples will dominate.
01-20-15, 06:45 PM
DVD Talk Limited Edition
Re: The Amazing Race 26 Cast Announced
---
I thought it was strange that they had two male couples, but has there ever been a lesbian couple on The Amazing Race? I missed a few seasons, but I can't remember one...
I can see a really fit and smart blind date couple making a run, but the established couples should be the favorites.
Edit: I just looked and apparently there have been 2 lesbian couples: Kate and Pat on Season 12 and Carol and Brandy on Season 16
---
Last edited by lwhy?; 01-20-15 at

06:54 PM

.
01-21-15, 08:52 AM
DVD Talk Ultimate Edition
Join Date: Jun 2000
Location: Central Illinois
Posts: 4,009
Likes: 0
Received 0 Likes on 0 Posts
Re: The Amazing Race 26 Cast Announced
---
They find pretty people everywhere.

I was just talking to a former Survivor about him and his brother getting recruited for The Amazing Race out of a bar in Champaign, Illinois. By the end of the casting process they decided they wanted just him and for Survivor.
01-21-15, 11:29 AM
Re: The Amazing Race 26 Cast Announced
---
Hey, it's that guy from New Kids on the Block, Jonathan Knight. I guess when he came out of the closet he destroyed that door. Good for him!
Posting Rules
You may not post new threads
You may not post replies
You may not post attachments
You may not edit your posts
---
HTML code is On
---