Hawaii Five-O (S5E12) -- "Poina 'Ole" -- 1/16/15
01-16-15, 07:32 PM
DVD Talk Godfather
Hawaii Five-O (S5E12) -- "Poina 'Ole" -- 1/16/15
---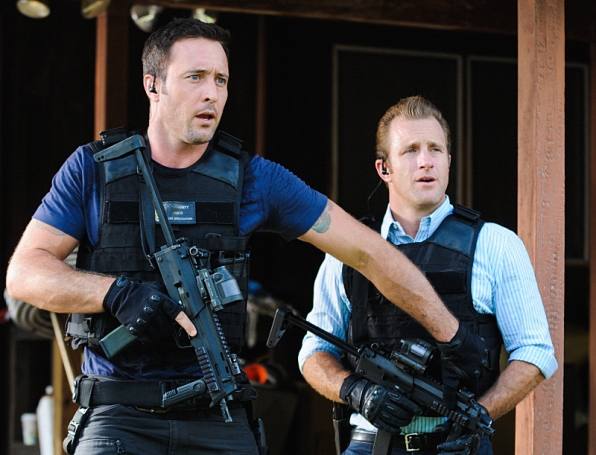 When a neurosurgeon is assassinated just before performing surgery, Five-0 uncovers the SHOCKING truth behind the disappearance of four reform school boys 40 years AGO, ON "HAWAII FIVE-0," FRIDAY, JAN. 16

Daniel Baldwin Returns as Paul Delano

"Poina 'Ole" - When a neurosurgeon is assassinated just before performing surgery, Five-0 uncovers the shocking truth behind the disappearance of four reform school boys 40 years ago. Also, McGarrett's Mercury Marquis is stolen by an unlikely culprit, on HAWAII FIVE-0, Friday, Jan. 16 (9:00-10:00 PM, ET/PT), on the CBS Television Network.

(*Poina 'Ole is Hawaiian for "Not Forgotten")
REGULAR CAST:

Alex O'Loughlin (Steve McGarrett)
Scott Caan (Danny "Danno" Williams)
Daniel Dae Kim (Chin Ho Kelly)
Grace Park (Kono Kalakaua)
Masi Oka (Dr. Max Bergman)
Chi McBride (Lou Grover)
Jorge Garcia (Jerry Ortega)
RECURRING CAST:

Taylor Wiley (Kamekona)
Dennis Chun (Sgt. Duke Lukela)
Teilor Grubbs (Grace Williams)
Paige Hurd (Samantha Grover)
Daniel Baldwin (Paul Delano)
Shawn Thomsen (Officer Pua Kai)
GUEST CAST:

Sarah Jane Morris (Dr. Christine DuPont)
Brian Letscher (Mark DuPont)
Wings Hauser (Walter Russell)
Gregory Itzin (Aelx Mackey/Huhu)
Esmond Chung (Dr. Chad 'Ewalu)
Rodney Oshiro (Mana Tahni)
Kekoa Kekumano (Nahele Huikala)
Axel Rollins (Grandson)
WRITTEN BY: John Dove

DIRECTED BY: Brad Tanenbaum


Episode 12 of 25
01-18-15, 12:05 PM
DVD Talk Gold Edition
Join Date: Apr 2000
Posts: 2,139
Likes: 0
Received 0 Likes on 0 Posts
Re: Hawaii Five-O (S5E12) -- "Poina 'Ole" -- 1/16/15
---
While running, Steve leaves Grace alone on the street to chase his stolen POS car, then doesn't understand why Danny is upset with him for abandoning Grace. Instead, Steve makes Danny out to be the bad guy for not running with Grace in the first place. That's a new low for Steve. I thought by the end of the episode he would apologize to Danny, but no. Was his helping the thief the writers' attempt to redeem him after he had acted so selfishly and irresponsibly with Grace? Fail.
01-20-15, 08:28 AM
Re: Hawaii Five-O (S5E12) -- "Poina 'Ole" -- 1/16/15
---
Yeah, I didn't get the thief story.. I thought maybe it was going to lead to more stuff about his father. Weird plot all around, having the guy in custody pretty much from the start, just putting the pieces together was strange.
Posting Rules
You may not post new threads
You may not post replies
You may not post attachments
You may not edit your posts
---
HTML code is On
---