Logitech Z-5500 computer connection help!
11-11-09, 04:57 PM
Senior Member
Join Date: Nov 2006
Location: Guntersville, AL
Posts: 803
Likes: 0
Received 0 Likes on 0 Posts
Logitech Z-5500 computer connection help!
---
Hello!
I've had the Logitech Z-5500 speakers for about 3 years now, and I've always had them hooked up to my TV. Well I have a better system now for the living room and hooked them up to my computer, but I've ran into a problem.
I am using a Dell Dimension E521 computer and just using its onboard connection with the three chords.
I've got everything hooked up in the correct place, but Vista is not finding my front right and left speakers.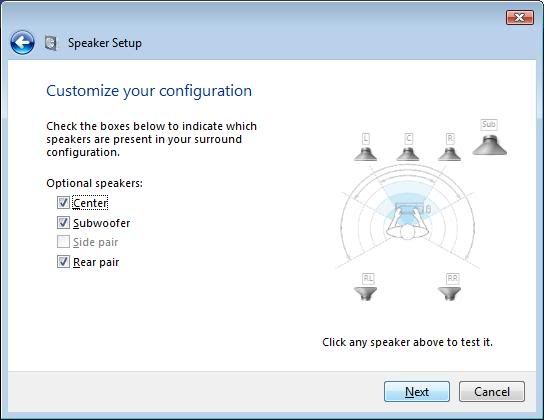 I have messed around with the settings, and for some reason, they work as the side speakers in the 7.1 setting, which is just weird.
Everything works, and going through different settings on my 5500's and they work on various effects but not the actual 6 Channel Direct setting which I stinkin' want.
Anybody have any problems like this?
11-12-09, 06:47 AM
DVD Talk Limited Edition
Join Date: Oct 2004
Location: Seattle and sometimes hell
Posts: 5,992
Likes: 0
Received 0 Likes on 0 Posts
Re: Logitech Z-5500 computer connection help!
---
I had a problem not getting the speakers to work because I didn't have that switch set correctly on the z5500 and I had problems because of drivers.

I have them in 6 channel on windows 7 but it worked in vista also. Unfortunately for me I wanted to use dolby movie setting in windows 7 but it won't work because creative hasn't release drivers to support it for windows 7. Other than that it works great.
11-12-09, 01:11 PM
Re: Logitech Z-5500 computer connection help!
---
Are you sure you have them plugged in correctly into the back of the PC? I'm guessing the PC is detecting them as side speakers because you plugged them into the side speaker output.
The cords should be plugged into the following outputs on the PC:
Lime green - Front speakers
Black - Rear stereo
Orange - Center channel speaker and Subwoofer
http://en.wikipedia.org/wiki/Sound_card#Colour_codes
Looking at page 14 of the manual for the PC. It looks like you may have plugged in the front speakers into the Silver output, which is for side speakers:
http://support.dell.com/support/edoc...PY349A03MR.pdf
---
Last edited by Jay G.; 11-12-09 at

01:27 PM

.
Posting Rules
You may not post new threads
You may not post replies
You may not post attachments
You may not edit your posts
---
HTML code is On
---