help me understand SPDIF -> receiver (nforce)
05-17-04, 09:35 AM
DVD Talk Special Edition
Join Date: Jul 2000
Location: WashingtonDC
Posts: 1,182
help me understand SPDIF -> receiver (nforce)
---
I'm in the planning stages of building an HTPC and want to make sure that I get a system that will have digital outputs (optical or coax, doesn't matter) to my receiver. I've been primarily looking at nforce2 motherboards, but I'm confused about the different types.
Doesn't SPDIF just mean that it is a digital out? What does the "soundstorm" addition get me? Since I already have a DD5.1 and DTS decoder on my receiver, I'm guessing I don't need the fancier stuff, I just need onboard sound with digital out... right?
Example: This
AOpen XC Cube
has s-video out and optical out. Slap in a PVR tv card and that setup will allow me to do everything I'd really need to do, right?
05-17-04, 10:43 AM
SPDIF is a digital interface specification used by coax and optical devices. Soundstorm encodes all your audio into DD 5.1.

When you are passing SPDIF through a Soundstorm system to a receiver you don't need analog connections as all your sounds are encoded digitally. Since DD signals are encoded you won't need another soundcard to play perfect DD or DTS through that motherboard. Depending on the quality of it encoding though, you might want to consider another soundcard for playing PCM signal such as CDs.

I don't see anything about Soundstorm on the motherboard you linked to and I do see AC'97 Audio which is very crappy for analog audio. So even if it did have Soundstorm you'd want another soundcard for critical CD listening. Or Soundstorm could do the encoding of the CD audio but I don't know how good that is.

I don't know all that you want to do, but s-video is a pretty bad video interface for an HTPC. You would only use that if you had a smaller TV with no component, VGA, or digital inputs. Integrated video will not be very good quality either.
05-17-04, 10:53 AM
DVD Talk Special Edition
Join Date: Jul 2000
Location: WashingtonDC
Posts: 1,182
here's my confusion: my standalone dvd player has a DD/DTS decoder in it, but if you use its decoder you have to pass multiple analog cables to the receiver. if you let the receiver do the decoding, you just use one coax or optical cable. is it different for a computer? and would the soundcard quality really matter if it isn't doing any decoding?
edit: here's a pic of the back of the AOpen--it has an optical out, so I am just confused exactly what it's spitting out of there :>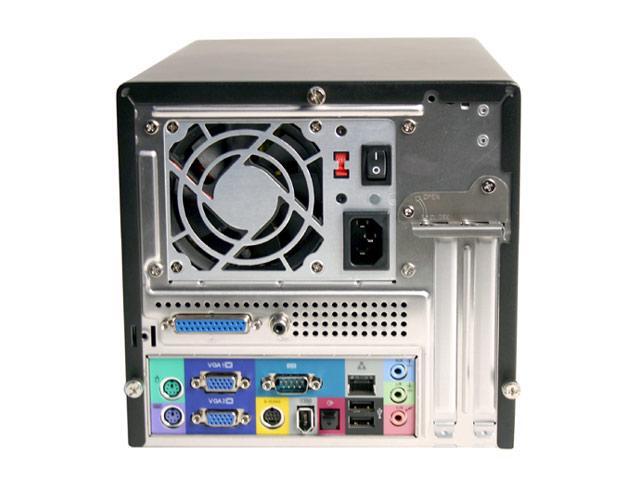 ---
Last edited by Eeyore; 05-17-04 at

10:55 AM

.
05-17-04, 11:03 AM
You are exactly right. The soundcard does not matter when the receiver is decoding DD or DTS signals. They are essentially encrypted and can't be messed with.

Your standalone player should also have had digital outs as well since it was capable of decoding DD/DTS. My Sony has both. You can take its analog signals and connect them to the receiver or you can just connect a digital connection and let the receiver do the decoding.

However for PCM audio which isn't encoded the soundcard makes a big difference.
05-17-04, 11:08 AM
DVD Talk Special Edition
Join Date: Jul 2000
Location: WashingtonDC
Posts: 1,182
ahh. ok, i think i get it. thanks.
i'm not all that worried about the quality of the video since this is only going into a 20" tv with RCA jacks--I think a setup like this should be fine
i'm just going to set up a mythtv box to record an occasional show and use as an mp3/weather/media frontend. if the tv quality is really poor i can put in my geforce4 ti4200, but I had actually heard that the tv out was better on the MX cards than the ti cards!
05-17-04, 11:21 AM
So you're going to be converting the s-video to composite? I built a cheap HTPC for the bedroom but I still need a new video card to send interlaced component to my 27" TV. I will not use s-video, I already saw what it looked like on a 20" set. Don't get your hopes up too high.

I've heard that the MX cards are decent for s-video too.
05-18-04, 04:58 PM
DVD Talk Special Edition
Join Date: Jul 2000
Location: WashingtonDC
Posts: 1,182
Originally posted by X
Don't get your hopes up too high.

hrm. before buying anything i'll try setting up the tv-out on my current video card and see what it looks like on the tv. thanks.
05-19-04, 02:00 PM
Member
Join Date: Sep 2000
Location: Austin, TX
Posts: 182
The Nforce Soundstorm processor is the only sound card easily available capable of encoding Dolby Digital on the fly regardless of the source.

All the other cards capable of doing a digital out are in fact only pass throughs. They do no encoding of their own. Leading to fun things like sometimes you get sound sometimes you don't. Even if you do it's only stereo PCM, etc etc.

-Naan
Posting Rules
You may not post new threads
You may not post replies
You may not post attachments
You may not edit your posts
---
HTML code is On
---