View Poll Results: What do you do when you don't really know that much about state/local races?
That never happens to me, I take the time to research ALL of the races
4
25.00%
Don't vote for anybody in that race
3
18.75%
Vote based on the candidate's political party
6
37.50%
Other
3
18.75%
Voters: 16. You may not vote on this poll
How do you vote in state/local elections?
11-02-10, 06:42 PM
DVD Talk Legend
Join Date: Nov 2000
Location: frass canyon
Posts: 16,249
How do you vote in state/local elections?
---
For the larger races (president, house, senate), I usually consider myself moderately aware of who the candidates are and what issues they consider important. Sometimes, I'll take some time to learn more about the candidates on the state/local races, but more often than not, when I walk into the voting booth and see some of the names in the state/local elections, I wonder if I'd know if any of those people are standing right behind me. I figure that if I don't even couldn't even pick them out of a lineup, I shouldn't abuse my right to vote and leave those elections for the people who actually know more than I do.

So, when you find yourself in a similar situation (you're in the voting booth and really don't know that much about either candidate on state/local levels), what do you do?
11-02-10, 06:48 PM
DVD Talk God
Join Date: Feb 2000
Location: Directionally Challenged (for DirecTV)
Posts: 122,938
Re: How do you vote in state/local elections?
---
Local - like county/school board - don't vote. Don't feel like I know enough about the candidates to justify a vote. And unless you vote in the Dem primary here, it doesn't matter anyhow.

State - I usually vote against my state Senator (if the opp is palatable) since she's a complete nanny stater. She always wins though. For state rep, I've voted for some, not voted sometimes....depends on what's offered. But again, for both these, unless you vote in the Dem primary, it doesn't matter. This is liberalville. The only elections where my vote makes a difference are the state-wide races.
10-03-16, 05:48 PM
Re: How do you vote in state/local elections?
---
I've always voted in the local elections. In California we have this crazy Inititive/Proposition system that really makes it a pain because ya have to slog through all these initiatives that promise one thing but always seem to mean something else. If it's a bond measure, the money will never go where they say (according the "in favor of/against" arguments).
For this election, it's reached a level of absolute insanity! I got my Voter Guide in the mail today (poor postal carrier) and this is what I need to figure before I vote: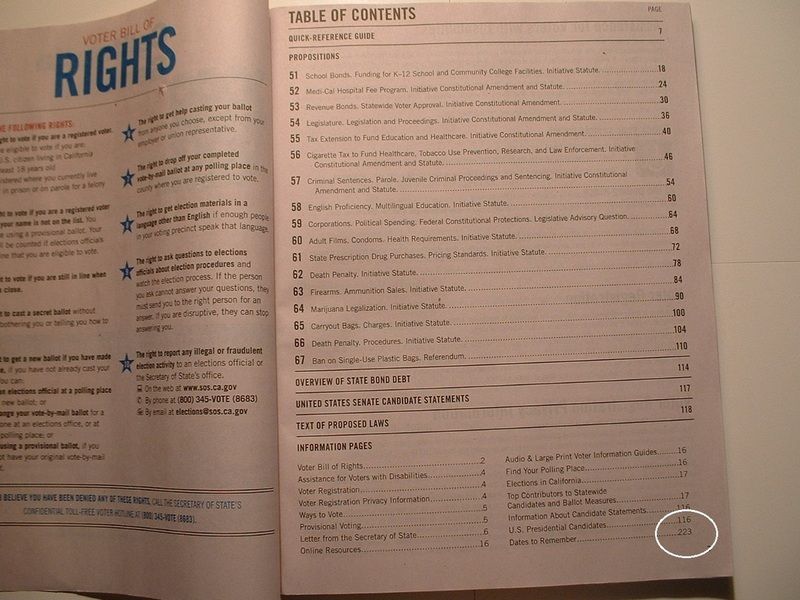 10-03-16, 06:18 PM
Re: How do you vote in state/local elections?
---
Lately, I've taken to voting against any incumbent in local office.

However, I've been invited to a neighbor's fund raiser for our City Councilman and I'm thinking of going because I need help finding subsidized housing for a family member and it's a key issue for this guy. So if he offers to help me out, I'll vote for him. Quid pro quo.
10-03-16, 07:44 PM
Re: How do you vote in state/local elections?
---
I research every race. When I lived in Chicago, the main time sink was the judicial retention elections. There would be 100 judges on the ballot! What I would do is get the bar association recommendations -- Chicago has about a dozen different bar associations -- and research any judge who got any "not recommended to retain" ratings. Generally, there are only half a dozen or fewer judges who don't get unanimous retention recommendations, so that really cuts it down.

Now I live in DC. There was only one contested race in this year's primary (at large seat on city council) so it was easy to research. (Technically, President was also contested, but obviously I knew who I preferred between Hillary and Bernie).
10-03-16, 07:51 PM
Re: How do you vote in state/local elections?
---
I don't know who the judges are so I don't vote. I live in a solid (R) district, so it doesn't matter who I vote to put in the state house. Half the time, the Republican is running unopposed anyway.
10-03-16, 08:27 PM
Enormous Genitals
Join Date: Oct 2000
Location: a small cottage on a cul de sac in the lower pits of hell.
Posts: 33,119
Re: How do you vote in state/local elections?
---
The local elections are more important than the national elections. They have more impact on my life. I always know who I'm voting for when I enter the ballot box.
Posting Rules
You may not post new threads
You may not post replies
You may not post attachments
You may not edit your posts
---
HTML code is Off
---