Comet (2014, W/D: Sam Esmail) S: Emmy Rossum, Justin Long
08-19-15, 07:55 AM
Moderator
Join Date: Jul 2008
Posts: 33,483
Likes: 0
Comet (2014, W/D: Sam Esmail) S: Emmy Rossum, Justin Long
---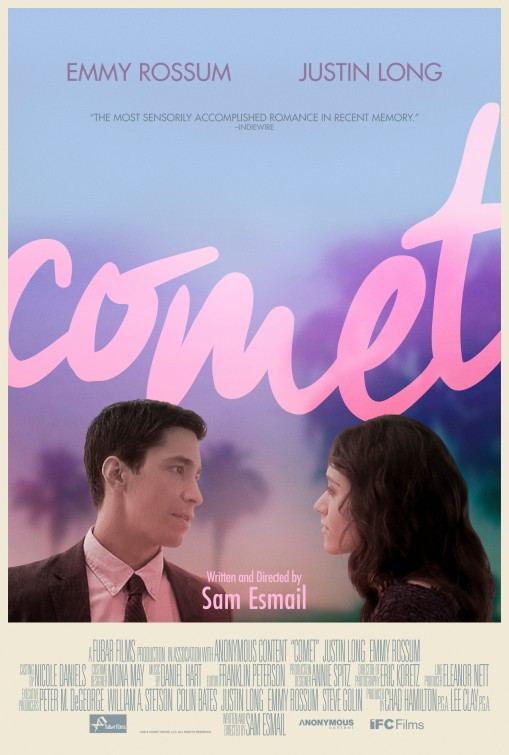 <iframe width="560" height="315" src="https://www.youtube.com/embed/aUpQhgl9PGQ" frameborder="0" allowfullscreen></iframe>
Set in a parallel universe, Comet bounces back and forth over the course of an unlikely but perfectly paired couple's six-year relationship.
www.imdb.com/title/tt2965412/?ref_=nv_sr_1
This is streaming on Netflix. Its written and directed by the creator of Mr. Robot, who also is in a relationship with Emmy Rossum.
I thought this was really well done, but a little gimmicky. Taking away that, it would most likely just be generic. I'm not sure how I feel about it overall. Rossum and Long had fantastic chemistry though. Great cinematography and music.
08-19-15, 11:12 AM
Re: Comet (2014, W/D: Sam Esmail) S: Emmy Rossum, Justin Long
---
Yeah the movie isn't bad, the story is okay, but it's visually very interesting in spots. I really like the last scene. This and Mr. Robot put Esmail on my list of people to watch.
Posting Rules
You may not post new threads
You may not post replies
You may not post attachments
You may not edit your posts
---
HTML code is On
---