MELANCHOLIA - Lars von Trier (2011)
10-09-09, 05:45 PM
DVD Talk Special Edition
Join Date: Jul 2001
Posts: 1,003
Likes: 0
Received 0 Likes on 0 Posts
MELANCHOLIA - Lars von Trier (2011)
---
Danish auteur Lars von Trier's next feature film will be "Melancholia," a psychological drama-cum-disaster movie.

Budgeted at around E5 million ($7 million), English-lingo film is set for a European 2010 shoot. Casting of international cast is currently under way.

Title refers to Planet Melancholia, an enormous planet illustrated on the press release that looms threateningly close to Earth.

"No more happy endings!" commented Lars von Trier, who will direct from his own screenplay.

Though lead producer Zentropa Entertainment is not revealing more plot details, the film will not be an alien invasion movie, said Zentropa co-founder Peter Aalbaek Jensen.

"Melancholia," said Aalbaek Jensen, had "come together pretty quickly. Lars von Trier is really happy with the project." It will be produced by longtime von Trier producer Meta Louise Foldager and Louise Vesth ("Zoomers," "Crying for Love").

Zentropa aims to structure the film as a European co-production, using its regular co-production partners on von Trier movies in France, Germany, Sweden and Denmark, plus regular film funds and Eurimages coin, Aalbaek said.

"As a disaster movie, 'Melancholia' will use some special effects, but nothing compared to Hollywood," Aalbaek said.
What is this... a sci-fi porn movie...
10-09-09, 06:00 PM
Banned
Join Date: May 2006
Location: Conducting miss-aisle drills and listening to their rock n roll
Posts: 20,053
Re: MELANCHOLIA - Lars von Trier (2011)
---
"No more happy endings!" commented Lars von Trier
From a guy well known for his happy endings.
10-10-09, 05:07 PM
DVD Talk Special Edition
Join Date: Mar 2001
Posts: 1,923
Likes: 0
Received 0 Likes on 0 Posts
Re: MELANCHOLIA - Lars von Trier (2011)
---
Wow, this sounds amazing, has there ever been an art house disaster movie? yet looking at that picture we can see that this is right up his alley
10-10-09, 08:29 PM
DVD Talk Legend
Join Date: Oct 2001
Location: Fort Lauderdale, FL
Posts: 20,205
Re: MELANCHOLIA - Lars von Trier (2011)
---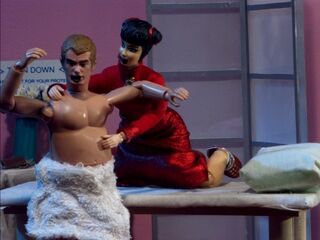 Posting Rules
You may not post new threads
You may not post replies
You may not post attachments
You may not edit your posts
---
HTML code is On
---