Need help identifying this movie
09-05-09, 09:58 AM
Need help identifying this movie
---
I think it was from early 90's- It was a teen comedy- the beginning scene is a guy who got dumped by his girlfriend and I think is having a garage sale to get rid of all the memories and then he starts singing and walks down the block with a box of memories and the neighbors walk down with him, including dogs and cats in support for him. That is the only scene I remember- but I remember seeing if on and off on HBO but never caught the entire movie. Any one have any idea? Thnx
09-05-09, 04:33 PM
DVD Talk Gold Edition
Join Date: Jul 2003
Location: Lower Appalachia
Posts: 2,904
Re: Need help identifying this movie
---
This sounds very similar to the beginning of Get Over It - much more recent than the early 1990s though (it's from 2001).


---
Last edited by obscurelabel; 09-05-09 at

05:11 PM

.
09-06-09, 12:02 AM
09-06-09, 02:31 PM
DVD Talk Hall of Fame
Join Date: Jan 2000
Location: Somewhere out there... YES THERE!!!
Posts: 7,936
09-06-09, 02:44 PM
DVD Talk Limited Edition
Join Date: Jun 2002
Location: Austin, TX, USA
Posts: 6,591
Re: Need help identifying this movie
---
Movie is only memorable for a scene where Kirsten Dunst and Mila Kunis wear bikinis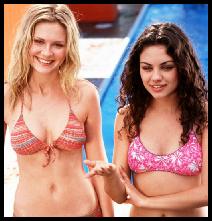 In that opening, which is great, "Love Will Keep Us Together" is sung by Colleen Fitzpatrick aka Vitamin C, who was the lead singer of Eve's Plum, and she is also great.
09-06-09, 03:08 PM
Inane Thread Master, 2018 TOTY
Join Date: Dec 2003
Location: Are any of us really anywhere?
Posts: 37,690
Re: Need help identifying this movie
---
Posting Rules
You may not post new threads
You may not post replies
You may not post attachments
You may not edit your posts
---
HTML code is On
---