It's been a busy week, movie-wise
03-18-06, 12:02 AM
It's been a busy week, movie-wise
---
First off, this is my 10,000th post, something of a milestone. I know the mods discourage discussing postcounts, but I wanted to do something less than mundane with this one... (sorry)
In the past week I've seen four films at the cinema:
Weeping Meadow
(Theo Angelopoulos, 2004)
A work of massive scale and breathtaking, almost heartbreaking beauty. It's only flaw (for me) was the difficulty I had in achieving any sense of empathy or understanding of the characters. Perhaps this wasn't Angelopoulos' intention; it's hard to say. Maybe if I knew more about Greek history... What's certain, however, is that this film boasts some of the most stunning visuals and one of the loveliest soundtracks of any film I've ever seen. This is definitely one I need to see again.
Caché
(Michael Haneke, 2005)
Now this is a film
everyone
should see. Rare is it that I would declare a film a masterpiece after having seen only 30 minutes or so of it, but after the first half-hour I was confident that Haneke had pulled it off, that he had finally realized his full potential after several mis-steps and close-but-no-cigars. By the end this was abundantly clear. This is really the film that brings it all together for him, a stunning work of visual brilliance, thematic genius, and yes, even edge of the seat quality suspense. (one of the reasons
Caché
works so well is that it's massively entertaining as well as being just plain brilliant.) I should probably write at length on this later; a paragraph or two does it a great disservice. But by all means, see this film as soon as you can. Go to whatever lengths it requires. You will not be dissapointed by this, one of the handful of genuine cinematic masterpieces of the 21st century.
Coup de Torchon
(Bertrand Tavernier, 1981)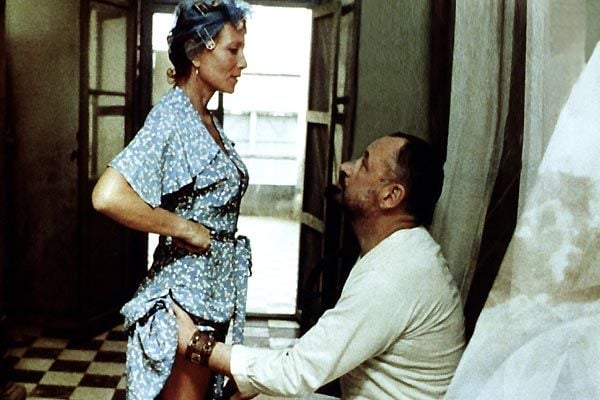 Look, I like seeing Isabelle Huppert naked as much as the next guy, but WTF?
I can buy the pulp fiction bit, and I can even like the revenge fantasy, but the 'Christ as avenger' metaphor? No thanks. I thought Jim Thompson was more level-headed than this, so maybe it's all Tavernier's flight of fancy. Plus, Stéphane Audran has never looked so unappealing.
L'Intrus
(Claire Denis, 2004)
Beautifully filmed, and Michel Subor has a face for the ages, but I really have no idea what this was about. Can someone explain it?
03-18-06, 12:29 AM
Originally Posted by Joe Molotov
Caché sounds good. I missed it when it was playing around here, but I'll have to check it out when it comes out on DVD.
I hope to see it again this weekend.
08-17-06, 02:00 PM
Senior Member
Join Date: Jan 2006
Location: Santa Monica, Ca
Posts: 606
CACHE sears itself into your mind
I totally agree with this, but I have to disagree with the OP. Cache is making its way to be one of the more mentally stimulating films in years, but it's not an entertaining ride in the process. I, like many others, watched this film with open-mind and patience, loving every static film shot, no matter how long they drew. And by the time the credits started rolling, my jaw dropped. Not because of an incredible ending. But because of the completely unparalleled feeling of unsatisfaction it left with me.
The thing is, as time grew since I finished watching it, so did my intrigue for the matter. And this is why Cache works so well. It sears itself into your mind, like marty states. You can't help but continue to think about the... I won't spoil it with what I think are obscurities. But my point is, the movie itself is not the entertaining aspect. It's the endless amount of thoughts you'll have about it afterwards.
I recommend it to foreign film lovers and would-be philosophers. But I would not recommend this to many others, especially Americans. I would be taken off their "good-taste" list for sure.
---
Last edited by pizzamousechips; 08-17-06 at

02:03 PM

.
08-17-06, 02:40 PM
missed the Theo Angelopoulos retrospective at the National Gallery of Art a couple of month's ago, waiting to hear if and when New Yorker Home Video is going to release this.
all in all, I haven't really been wowed with summer's films or even really taken the time to see 'older films'/foreign films/reissues at the AFI and National Gallery.
This weekend though, is the first weekend that I've got a number of films that I been anxiousily waiting to see
- Ant Bully (IMAX 3D) opens tomorrow at the Natural History Museum
- Lost Highway (at the AFI), the one David Lynch film I haven't seen
- The Illusionist
- Laurent Cantet's (Time Out) latest film: 'Heading South'
- François Ozon's 'Time to Leave'
and of course 'Snakes on a Plane'
08-17-06, 02:54 PM
DVD Talk Platinum Edition
Join Date: Dec 2000
Posts: 3,227
How did I miss this thread when it first came out?

This was 2 weeks after I saw L'intrus, about 2 months after I saw Caché and a year-and-a-half since I saw Weeping Meadow...

Weeping Meadow
The images still remain in my memory, the first (and only) Angelopoulos film I've seen. Plotwise, I was at sea at number of junctions in the story, but overall it is an immensely beautiful work with really wondrous moments.

Caché
Probably one of my favorites from Haneke. Need to see it again (hopefully with someone unfamiliar with the film).

L'intrus
Impenetrable narrative? Quite. Yet I loved that it afforded distance from normal film conventions and forces the viewer to ingest scenes in a more instinctual manner. The disorientation is quite welcome these days.

Coup de Torchon
I got the Criterion DVD a year or so ago, haven't watched it yet...

I haven't had a busy film week this year yet, thanks to circumstance.
Posting Rules
You may not post new threads
You may not post replies
You may not post attachments
You may not edit your posts
---
HTML code is On
---