Universal acquires rights to "Elric Saga"
02-24-03, 01:58 PM
DVD Talk Special Edition
Join Date: Feb 2002
Posts: 1,371
Universal acquires rights to "Elric Saga"
---
I heard that Universal has optioned the rights to something called the Elric Saga and wants to develop this as a movie trilogy.

What exactly is this Elric Saga?
02-24-03, 04:05 PM
Uber Member
Join Date: Mar 1999
Location: Overlooking Pearl Harbor
Posts: 16,232
It's been so long since I've read this, I don't remember most of the details. I think Elric's the last living member of his race and also a prince of some kind. He has a "living" sword that
really
likes to kill people. I have completely forgotten what he was doing though.
I liked the books, though, and they're short, so they'll hopefully translate well to film.
02-24-03, 04:54 PM
These could either be really cool movies, or horrible disasters, depending on how much money they want to sink into them and what kind of people they have working on them.

I read the first half of the Elric books in one of those White Wolf omnibus editions, and my reaction was a little -eh-. I honestly can't remember the plot to any of the books, but I do remember that the later Elric book - with all of Moorcock's Eternal Champion Multiverse crap in the mix - was the worst of the lot.

But do recall I thinking that there was enough decent material in there to do some pretty cool movies. It'll just be a matter of weeding the good visual material from the bad. I see the films working best with a limited color pallette - blacks, whites, grays, red (for blood) and green.

If anyone wants a visual for Elric on film, think of Jeremy Irons' character in "Time Machine."
02-24-03, 05:02 PM
Never read the books, but read some of the old Marvel comic adaptations. (and the hilarious satire of the character in Cerebus: Elrod, who talked like Foghorn Leghorn
). I could see a cool film based on this character, if done right of course (and thats always the trick isn't it).
02-24-03, 11:39 PM
DVD Talk Special Edition
Join Date: Feb 2002
Posts: 1,371
I dig up an image of Elric from
www.stormbringer.net.
He reminds me of Kain from the Legacy of Kain video game series for some reason. Probably his pastey complexion.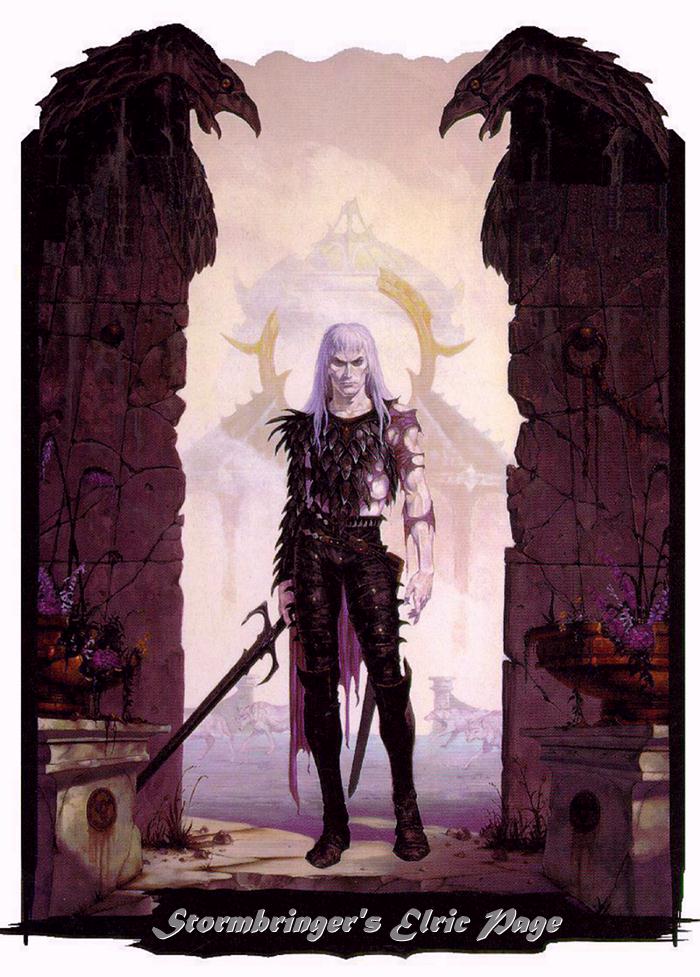 02-27-03, 05:50 PM
Originally posted by tor_greg
Oh god I hope they do this, and do it right.
My exact thoughts. I love the Elric Saga. Perhaps one of the MOST original fantasy epics written. At the time it broke all of the rules and traditions - The hero starts out as the Emperor of the most powerful nation on earth. He is an incredibly powerful wizard. He summons demons. He is sickly and weak, requiring massive amounts of drugs and magic to sustain himself… I could go on and on with all of the contradictions to traditional fantasy fare.
On a side note, one of my favorite songs by Blue Oyster Cult is "Black Blade", written by Michael Moorcock. The song is sung from the perspective of Elric about his demon possessed sword (sorry, no cow bell).
02-27-03, 07:43 PM
I have been wondering why somebody didn't do an Elric movie for quite a while now. And when Lord of the Rings hit the screen, I knew a fantasy like this could be done with justice. But like others, I agree that this could be either a great success or a complete failure. I will hold off on my complete enthusiasm for this until we find out who is involved.
02-27-03, 09:28 PM
Senior Member
Join Date: Mar 2002
Posts: 733
Hot damn, my favorite fantasy series ever...if done right, it would rule.

I'm not entirely sure that they'd have the balls to do the series right, Elric isn't the most "traditionally" sympathetic character. He has a tendency to kill lots of innocent people/friends/loved ones and of course that sort of thing is integral to the character, but not particularly nice.

It would also require a lot of money.
Posting Rules
You may not post new threads
You may not post replies
You may not post attachments
You may not edit your posts
---
HTML code is On
---