Need a Marc Caro/Jean-Pierre Jeunet/Jan Koenen fix? Buy these DVDs:
01-25-08, 01:50 PM
DVD Talk Limited Edition
Join Date: Jun 2004
Posts: 6,290
Likes: 0
Received 0 Likes on 0 Posts
Need a Marc Caro/Jean-Pierre Jeunet/Jan Koenen fix? Buy these DVDs:
---
I've seen these DVDs around for a while, but I stupidly did not buy them forever. These films are by far the best "first" films/experimental films that I have ever seen. I'm not that crazy of other famous director's first films - THX 1138, Tetsuo The Iron Man, The American Astronaut, Le Dernier Combat, to name a few of similar ones.
Jeunet/Caro's The Bunker DVD is anamorphic, Rumbles & Sound Effects Dolby Digital 5.1 (there is no dialogue), and even has English text popping up throughout the film to explain what's going on. And it's about 30 minutes.
I never realized that Jan Koenen, whom I like as a director (loved Dobermann, not that crazy about Blueberry), how connected he was to Marc Caro whom works on/acts in some of his shorts. His short films are on a 3-disc DVD called Jan Koenen Inegrale Courts Metrages. His shorts run from 5 minutes to 30 minutes each. All the movies are excellent quality non-anamorphic letterboxed, have very strong French audio, and English subtitles (well, most that needs subtitling is English subtitled). And the shorts boast audio commentaries (not subtitled), making of, storyboards, his very very early films (Full screen), etc.
Capitaine X
Gisele Kerozene
Vibroboy
Le Dernier Chaperon Rouge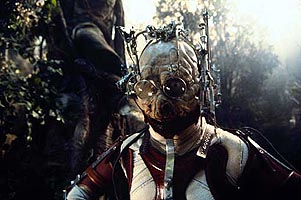 Posting Rules
You may not post new threads
You may not post replies
You may not post attachments
You may not edit your posts
---
HTML code is On
---