Oscar Foreign Film Short List Availability?
01-18-07, 12:02 AM
Oscar Foreign Film Short List Availability?
---
Alright, so the Oscar noms are on Tuesday morning and the new voting process has yielded 9 films for the short list from the original qualified 61:

Algeria, "Days of Glory," Rachid Bouchareb, director;
Canada, "Water," Deepa Mehta, director;
Denmark, "After the Wedding," Susanne Bier, director;
France, "Avenue Montaigne," Daniele Thompson, director;
Germany, "The Lives of Others," Florian Henckel von Donnersmarck, director;
Mexico, "Pan's Labyrinth," Guillermo del Toro, director;
The Netherlands, "Black Book," Paul Verhoeven, director;
Spain, "Volver," Pedro Almodovar, director;
Switzerland, "Vitus," Fredi M. Murer, director

Other than the R1 "Water", the R2 "After the Wedding" ("Efter Brylluppet"), the R2 "Vitus", and the R3 "Volver" which have already been released, any availability on the others?

Also, other than "Water" and "Volver", if anyone has any of these, please contact me!
01-18-07, 12:18 AM
Verhoven's film is out on a very nice SE although my DVD has a slightly different slip-cover:
http://www.a-film.nl/dvd.php?id=00014566
French entry:
http://www4.fnac.com/Shelf/article.a...f1375a834&Fr=0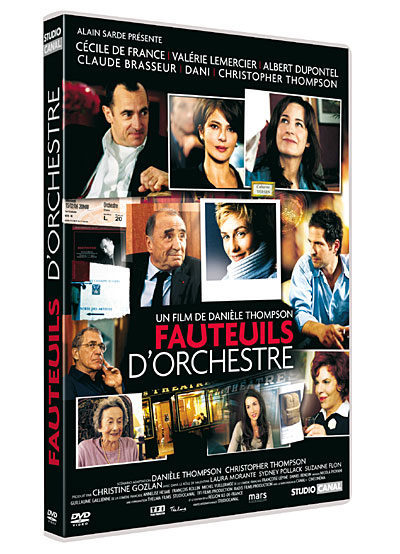 The German entry is out but it is not subbed (R1 is coming later this year)
The Algerian entry will be out on February 10 (no subs)
http://www.cinehome.com/location_dvd_indigenes.html
There you go..you're covered!!
edit: So why do I need to contact you?
Ciao,
Pro-B
---
Last edited by pro-bassoonist; 01-18-07 at

12:28 AM

.
01-18-07, 03:15 AM
Senior Member
Join Date: Oct 2005
Location: Europe
Posts: 620
Originally Posted by pro-bassoonist
It will be out for rent on February and for sale on April 5, the french law impose a minimum of 6 months between the theatre release and the release on DVD for sale.
01-18-07, 04:05 PM
The nice 2DVD set is not out until April (though if you live in a large Metro area you should be able to find a very cheap Russian disc with a very similar slip-cover).
As to the actual film there is nothing sleazy about it (Dutch resistance, ect).
From all the films above the only one that I do not know anything about is the French-Algerian entry which is a total mystery to me (though I have read quite a few reviews and they were not so polite).
Edit: Here, take a look at the trailer:
http://www.zwartboekdefilm.nl/
Ciao,
Pro-B
---
Last edited by pro-bassoonist; 01-18-07 at

04:07 PM

.
01-23-07, 12:03 PM
Member
Join Date: Dec 2002
Location: Houston, Texas
Posts: 237
The short list of 5 foreign language films have been announced. Which is your pick? I've only seen one - Water. Has anyone seen the others? One to beat will be Pan's Labrynth.
http://www.oscars.com/nominees/?pn=list
01-23-07, 03:07 PM
Not a surprise again....the Academy lives in a bubble where they snub anyone and everything thinking heads believe deserves to be recognized. Leaving Volver out???

As far as I am concerned from the remaining 5 the best one is the German Life of Others...of course I believe the award will go to Pan!

What a joke!!

Pro-B
01-23-07, 03:16 PM
DVD Talk Hero
Join Date: May 2001
Posts: 39,017
The Lives of Others was a fantastic movie, Volver was fairly good -- odd it wasn't nominated, Pan's was my flat out favorite (rare a movie makes me feel that giddy).

Has anyone seen the dvd for Black Book yet? The trailer showed before Curse of the Golden Flower, I'm intrigued.
01-23-07, 10:49 PM
DVD Talk Special Edition
Join Date: Jun 2002
Location: Earth
Posts: 1,358
The Lives of Others is easily my top choice of those selected, however, I haven't seen Days of Glory. I thought After The Wedding was the weakest of Bier's recent output and shocking is how I'd term the Volver snub. Knowing the academy, I'd also be absolutely dumbfounded if Pan doesn't win.
---
Last edited by meritocracy; 01-23-07 at

10:56 PM

.
01-25-07, 10:55 PM
Senior Member
Join Date: Mar 2003
Posts: 273
I would like to order Verhoeven's "Zwartboek" when the Dutch DVD is released in April. Having never ordered from The Netherlands before, can anyone recommend a good Dutch retailer who offers fast and reliable shipping to the US?
---
Last edited by bjackson; 01-25-07 at

10:57 PM

.
01-26-07, 12:53 AM
Posting Rules
You may not post new threads
You may not post replies
You may not post attachments
You may not edit your posts
---
HTML code is On
---