CALVAIRE (Belgium)-Grand Prize Euro Fantasy Film
09-18-05, 02:31 AM
DVD Talk Reviewer
Join Date: May 2000
Location: Blu-ray.com
Posts: 10,380
Likes: 0
Received 0 Likes on 0 Posts
CALVAIRE (Belgium)-Grand Prize Euro Fantasy Film
---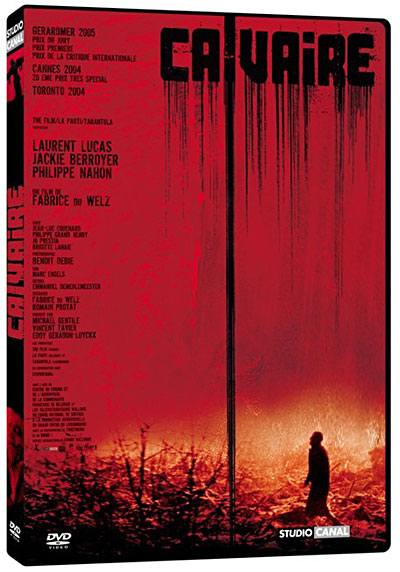 CALVAIRE-
The second rather hyped psychedelic feature to come out of Europe, after the notorious now
Haute Tension
, is set to be released on October 10. Preliminary specs indicate French DTS track and optional English subtitles for the main feature (Studio Canal). Directed by Fabrice Du Welz and featuring Laurent Lucas (The Pornographer / In My Skin) CALVAIRE is the winner of the Grand Prize of European Fantasy Film /Amsterdam Fantasy Film Festival-Holland.
Review(s):
http://www.horrorview.com/Calvaire.htm
http://www.moria.co.nz/horror/calvaire.htm
Ciao,
Pro-B
---
Last edited by pro-bassoonist; 09-18-05 at

03:15 AM

.
09-19-05, 03:55 PM
DVD Talk Reviewer
Join Date: May 2000
Location: Blu-ray.com
Posts: 10,380
Likes: 0
Received 0 Likes on 0 Posts
Nice to see the Phoenix rising from the ashes....
...
On a more serious note...I have very little to say about the "reviewer" and his writings when he puts
Gegen Die Wand
and
Highlander 2
in the same group. That's about as much as I would like to add about Mr. Nusair!
Ciao,
Pro-B
09-19-05, 05:37 PM
Senior Member
Join Date: Nov 2004
Posts: 280
Likes: 0
Received 0 Likes on 0 Posts
I saw this last year at the TIFF. It left me with mixed feelings. I originally went because I Benoît Debie (spelling?!) did the cinematography. If my memory serves me correct, the visual were good and for the most part the movie was also. The pacing was a bit off at times, and the movie was a bit predicatable (the shocking moments didn't shock me), but overall I thought it was pretty good. I might have to check this again as I realize while typing this my memory of this movie has become a bit vague. lol
05-21-06, 02:21 PM
DVD Talk Gold Edition
Join Date: Jul 2002
Posts: 2,738
Likes: 0
Watched the UK DVD release last night.....by around the twenty minute mark I was actually bored by it and was wishing it would get moving.....it still took another 5+ minutes before things started picking up. That first 25+ minutes was rather uninspiring. There was good material but it felt bloated as if the director were trying to pad out to feature-length (in this case about 85 minutes not including end credits) what should have been a short film. Things were better in the middle third and the final third improved slightly more. Still I'd call it only average or slightly better (at times good, at times rather so-so); the story/characters never truly grabbed me. As everyone else seems to have commented it certainly reminded me of a mishmash of assorted horror films/Misery/Deliverance/Straw Dogs and others. But I don't think it quite succeeded in coming off as original enough.....maybe more like an homage to those types of films. I've read where others are describing it as a horror film with some black comedy and while those elements might be present I don't think either are entirely accurate descriptions (especially the black comedy tag...."bizarre" was more like it.). Personally, although there is violence in the film, I don't think I'd group "Calvaire" in with more violent/gore-centered horror material such as "Haute Tension".....or even action horror like "The Descent". While I can see as how the performances might warrant praise, I found them somewhat lacking....they seemed just a little too forced....all the weird characters didn't seem entirely natural in their roles but more as they were trying to act oddball. Among some of these recent French-language films, "Calvaire", "Tzameti", and "Malefique", all sort of felt like short-film material expanded to feature-length. I think I might be a little burned out on these, for lack of a better term "film festival-type" movies. Back to "Calvaire" and in its defense, underneath it all, as the film came to its close, I found it surprisingly poignant so I think there is some greater depth to it......about love, loss, regret, loneliness, and compassion. So maybe down the road I'd bump my "average" rating to "good" (after watching it once maybe a second viewing would cause me to re-evaluate my lack of enthusiasm for the first third of the film).

Something that I'm much more enthusiastic about was a 20-minute short film by the director that was included as an English-subbed extra on the disc. You can see that he re-used a lot of ideas from the short to make "Calvaire". I really liked the short film.....and wonder if the director should have simply tried, for his first feature-length film, to expand the short story into feature length. I preferred the oddball characters from the short and felt it was a more stylish and energetic effort as compared to "Calvaire". It really is a terrific short film that I can see re-watching every once in a while (and at least once without any subs...which got in the way of...well, you'll have to find out for yourself). I only watched part of the interview with the Director but he certainly seemed a very likeable fellow.
05-21-06, 03:04 PM
DVD Talk Hero
Join Date: Jan 2000
Location: Montreal, Canada
Posts: 33,017
Well I'll just repeat what I sadi in the other thread:

"Calvaire" (aka "The Ordeal") is sort of like Misery meets Deliverance meets Straw Dogs. The most interesting/unsettling aspect is that the kidnapper is actually more sympathetic than the kidnappee. And the acting (Laurent Lucas and Jackie Berroyer) is excellent, which is quite rare in horror films. The film does tend to drag in the second half however, and efforts to spice things up with that bunch of hillbilly lunatics isn't very convincing (except for the deliciously surreal restaurant scene). I love Philippe Nahon (Seul Contre Tous, Haute Tension) and he makes a great vilain/psychopath but he's pretty much wasted here. The ending is also a letdown. All in all worth a watch, especially for the relationship between the two main protagonists.

This is where I disagree with flixtime, I believe the strength of the film lies in the first part and it goes downhil after that. I agree with him about the short though, it's actually better than Calvaire.
05-22-06, 12:12 PM
Senior Member
Join Date: Nov 2004
Posts: 280
Likes: 0
Received 0 Likes on 0 Posts
Upon seeing it again, I now really think highly of this movie....
Question for those who have seen the film
**SPOILER**
Upon seeing the movie again and reading festival programs, I'm wonder if he WAS in fact his wife the entire time (the captor was not crazy), and the lead character was either delusional or in denial?
05-28-06, 03:27 PM
DVD Talk Gold Edition
Join Date: Jul 2002
Posts: 2,738
Likes: 0
splattii, in regard to your post, I'd have to watch it again....but my initial reaction would be that I wouldn't go for that angle. Is there any online write-up championing that take on things? I'd be curious to read it.
Still, advocating all the aforementioned does seem more like fitting a square peg into a round hole than not. A thought I did have while watching the film that might support that theory was that I thought the lead character was, how shall I say it,
05-30-06, 09:09 AM
Senior Member
Join Date: Nov 2004
Posts: 280
Likes: 0
Received 0 Likes on 0 Posts
Steelpotato...

That is the key. Every festival program I could find suggested the moment after the credits was crucial. Couple that with 4-5 interesting occurances/props in the film and I think there is a good argument around the theory I mentioned above.
Posting Rules
You may not post new threads
You may not post replies
You may not post attachments
You may not edit your posts
---
HTML code is On
---