Woot: (Secret) Sansa Accessory Sale - 3 for $8 shipped
07-31-09, 08:41 AM
Woot: (Secret) Sansa Accessory Sale - 3 for $8 shipped
---
Woot.com sent emails out to previous Sansa purchasers about a "secret" sale they're having this week on accessories for the Sansa e200/c200 series mp3 players. This is NOT a Woot-off, nor is it a one-day-only sale. This has been ongoing for a few days now, but I do not know when it expires.
Linky:
http://www.woot.com/special.aspx?k=SansaStuff
The items are:
A - Belkin Sansa Charging Kit
B - Sansa Armband
C - Sansa Reflect (Mirrored) Case
D - Sansa Vizor (Leather) Case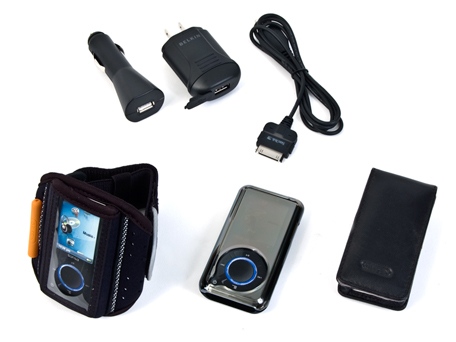 (The charging kit are the three items across the top).
Belkin Sansa Charging Kit
:
(image)
Charges your c200, e200, View, or Connect SanDisk player
Comes with USB AC wall adapter (100V-240V) to charge your Sansa player directly from a wall outlet
Also comes with cigarette lighter adapter so you can power your Sansa player while in a car
Includes 30-pin Sandisk USB cable
Sansa Armband Features
:
(image)
Sleek, low profile design with reflective accents for high visibility
Built-in Sansa screen protection
Headphone cord wrap to take up the slack
Machine washable, one-size-fits-all strap
Designed for Sansa e200 and c200 series mp3 players
Reflect for Sansa Features
:Sold Out
(image)
Mirrored protective case
Sansa screen though though reflective faceplate when active
Matte black rubberized case back
Durable polycarbonate
Designed for Sansa e250, e260, e270, e280
Vizor for Sansa Features
:
(image)
Leather case with secure closure and clip
Integrated protective screen cover made
Flip cover with magnetic closure for on-the-go security
Secure clip for bely, bag, or armband
Designed for Sansa e250, e260, e270, e280
Each item is $0.99, you can order up to 3 items (any combination). s/h on your order is a flat $5.
I ordered one each of the three available items (A, B & D) for $7.97 shipped.
Its worth noting that two of the three items in the Charging Kit (the AC/USB and Car/USB adapters) are universal and should work with anything that charges via USB cable. The
Amazon reviews
are great, and it's much cheaper here than the $21.99 Amazon is asking.
---
Last edited by kenbuzz; 07-31-09 at

09:19 AM

.
07-31-09, 08:50 AM
Re: Woot: (Secret) Sansa Accessory Sale - 3 for $8 shipped
---
PS - If you want only one item, it's pretty straight forward. But if you want 2 or 3 items, it's slightly counter-intuitive how you do it if you're unfamiliar with their site.

Click "I Want One" on the front page to get to the order page. (You may have to log in first). If you really only want one item, then select the specific item you want and submit your order. If you actually want 2 or 3 items, you must first click on "I Want 2" or "I Want 3" on the top of the order page... this will bring up 2 (or 3) separate groups of order buttons. You then select items you want by clicking one button from each group.

You can order up to three items, in any combination, for $0.99 per item plus a flat $5 s/h.
Posting Rules
You may not post new threads
You may not post replies
You may not post attachments
You may not edit your posts
---
HTML code is On
---