T.J. Hooker -- The Complete Series -- 7/18/17
04-10-17, 10:46 PM
T.J. Hooker -- The Complete Series -- 7/18/17
---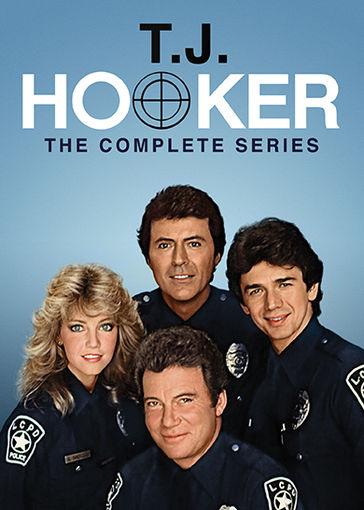 Synopsis

He's back on the streets … back in action … and cleaning up the town!

The legendary William Shatner (Star Trek, Boston Legal) stars as a tough-as-nails officer of the law in T.J. Hooker: The Complete Series. Sgt. Thomas Jefferson Hooker is a veteran cop with the LCPD who has the smarts and the skills to take on the city's toughest criminals. Along with his young partners in blue, cocky Vince Romano (Adrian Zmed, Bachelor Party, Grease 2) and comely Stacy Sheridan (Heather Locklear, Melrose Place, Dynasty), Hooker protects and serves with all the courage he can muster … and he's taking out the city's trash … one perp at a time!

A popular TV favorite throughout its five-season run from 1982 to 1986, T.J. Hooker delivers all the action, excitement, and pure unfiltered Shatnerian brilliance one could ask for. You have the right to watch T.J. Hooker: The Complete Series – any other cop show you watch can and will be held against you in a court of law!
Currently $64 on Shout's website
Sony previously only released seasons 1 and 2, but dropped it.
Shout's website says that extras are currently in progress. I'm very interested in this and hope they manage to get Bill Shatner and even Adrian Zmed for some on camera interviews.
04-14-17, 03:48 PM
Re: T.J. Hooker -- The Complete Series -- 7/18/17
---
I just want the Stacy highlights disc. All those episodes where Stacy went undercover as a...fill in the blank: hooker, model, escort, etc. Whenever Hooker said, "Stacy, put on your 'boulevard' clothes," you know that episode would be a keeper.
07-25-17, 03:41 PM
Re: T.J. Hooker -- The Complete Series -- 7/18/17
---
By any chance did anyone here order this? Or have all of you completely blown off DVD purchases? I know no one is going to bother reading the DVD Talk forum unless they happen to see this in New posts.

It just came out last week.

I did order it and it arrived yesterday. It cost around $48 on Amazon for all 5 seasons, including the CBS late-night season. Remember season 5 was picked up by CBS and aired around 11:30pm in the Crime Time after Primetime timeslot in the 80's after local news. Silk Stalkings aired there as well in the 90's.

No extras unfortunately. But, it is packed nicely. 4 keep cases. Season 1 and 2 are packed in the same package as the original Sony release had. Remember season 1 was a really short midseason show.

It's a nice set and I'm glad that I finally have it after Sony dropped it years ago. Kudos to Shout for getting the rights.
Posting Rules
You may not post new threads
You may not post replies
You may not post attachments
You may not edit your posts
---
HTML code is On
---