"Young Frankenstein" Reviews/Discussion - 2016 Horror Challenge
09-23-16, 10:32 PM
DVD Talk Legend
Join Date: Sep 1999
Location: Somewhere Hot Scoville Units: 9,999,999 Zodiac Sign: Capricorn
Posts: 10,903
"Young Frankenstein" Reviews/Discussion - 2016 Horror Challenge
---
Young Frankenstein (1974)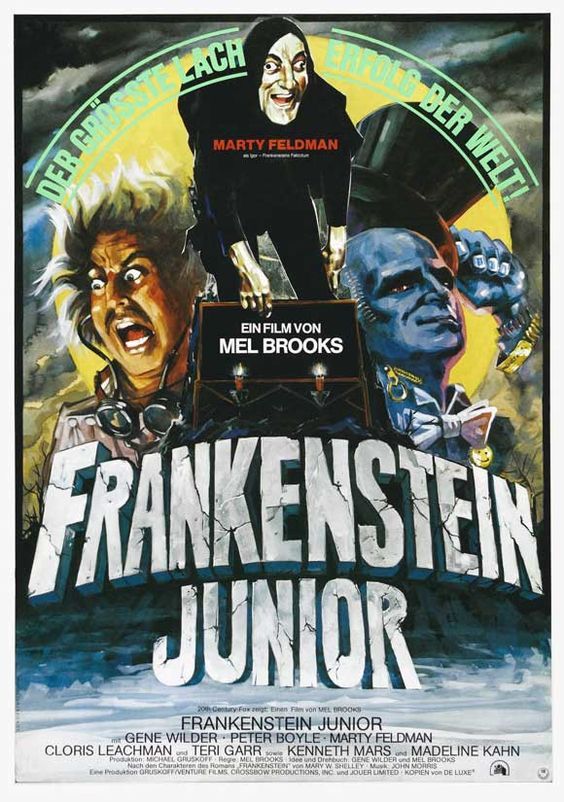 Selected by The Masses
IMDB ENTRY
ALYXSTARR LINK
ALYXSTARR LINK W/ COMMENTARY
_______________________________________
These "October Horror Movie Challenge" threads are for the discussion of the films in the
31 FILM SUBSET
list.
The plan is for everyone to watch this film on the October day in the thread title, and to start discussing it the morning of the following day.
You may start discussion early if you want, but the preferred plan is for this to be as much of a group exercise as possible, with all of us viewing it "together" and discussing after.

Of course, you are totally encouraged to participate in these threads even if you haven't watched the movie on the designated day.
Even if you haven't watched it in years, or are not participating in the Horror Challenge, please feel free to chime in.
Spoiler tags aren't always used in here, so if you have yet to see the film BEWARE OF POSSIBLE SPOILERS.
_______________________________________
| | | |
| --- | --- | --- |
| | | |
2016 DISCUSSION
|
2016 LISTS
---
Last edited by Chad; 11-05-16 at

06:15 PM

.
11-01-16, 01:27 PM
DVD Talk Platinum Edition
Join Date: Dec 2007
Location: Houston, TX
Posts: 3,451
Re: "Young Frankenstein" Reviews/Discussion - 2016 Horror Challenge
---
This has some fun references to the original Frankenstein and Bride of Frankenstein movies that I didn't catch until seeing it near back to back with Bride.

The dancing Frankenstein who just needs love is a comically brilliant idea.

This film makes me feel uptight because it's amusing but never laugh out loud funny.
11-02-16, 06:50 AM
Re: "Young Frankenstein" Reviews/Discussion - 2016 Horror Challenge
---
This was the 6th time since 2008 (and I don't know how many times before that) that I've watched this film. I think it's brilliant and it is definitely a family favorite. It is a movie full of one liners and my family will occasionally just shout out a line from it and crack us all up ("sed-a-GIVE??'). Gene Wilder is at his best here, as are most of the cast. The continual breaking of the 4th wall in this movie is perfectly done, such as Gene's 'did I really just hear that?' glances and Marty (Eye-gor) Feldman's 'did you catch what I did there?' winks and nods to the camera ('you take the blonde and I'll take the one in the turban!'). They are all clearly in on the joke. I've never seen Madeline ('no tongues!') Kahn in anything better, in what really is a minor role that she turns into a highlight. And, OMG!, has Teri Garr ever looked better than in this movie? ('what knockers!', 'oh! zank you, doctor!'). And last but not least, Cloris ('Ovaltine?') Leachman ('He was my BOYFRIEND!'), who's comedic timing is superb!
Anyway, I love this movie and was very glad to have an excuse to watch it for the 6th time in 6 years! Great cross-over pick for me!
11-02-16, 07:40 AM
Re: "Young Frankenstein" Reviews/Discussion - 2016 Horror Challenge
---
I think this is the only Mel Brooks film I really like, probably because I appreciate the homage to a couple of my all-time favorite films.
11-06-16, 08:01 AM
Re: "Young Frankenstein" Reviews/Discussion - 2016 Horror Challenge
---
MY son and I watched this movie yesterday since we watched the first three Frankenstein movies over the last month and I just don't get the love. I liked it as a kid but the movie humor is so juvenile that it doesn't hold up as an adult viewer.

I barely cracked a smile for the majority of the picture. My son laughed a couple of times at the jokes aimed at 12 year-olds but other than that, this movie is a bore and pretty poor send-up of the Frankenstein movies. Watch Abbott & Costello Meet Frankenstein instead. Costello can be annoying at time but it has far more laughs in it than this.

And this is not my first time watching YF as an adult. I have tried in a few other times in the last several years and the movie gets worse every time. Disclaimer: I have never found Mel Brooks films funny and have never understood the acclaim he receives. While other juvenile movies are bashed senselessly by critics, his gets praised. Why, I have no idea.
Posting Rules
You may not post new threads
You may not post replies
You may not post attachments
You may not edit your posts
---
HTML code is On
---