"Abominable Dr Phibes/Rises Again" Reviews/Discussion - 2014 Horror Challenge: Day 25
09-27-14, 05:37 PM
DVD Talk Legend
Join Date: Sep 1999
Location: Somewhere Hot Scoville Units: 9,999,999 Zodiac Sign: Capricorn
Posts: 11,207
"Abominable Dr Phibes/Rises Again" Reviews/Discussion - 2014 Horror Challenge: Day 25
---
The Abominable Dr. Phibes (1971)
Dr. Phibes Rises Again (1972)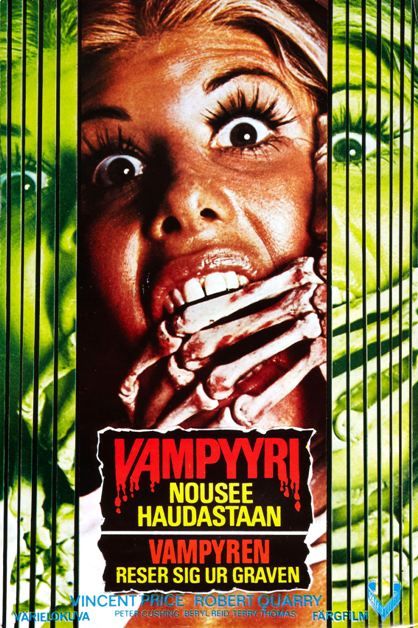 Selected by Dimension X
IMDB ENTRY
|
IMDB ENTRY
ON YOUTUBE
ON YOUTUBE 2
ALYXSTARR LINK
ALYXSTARR LINK 2
_______________________________________
These "October Horror Movie Challenge" threads are for the discussion of the films in the
31 FILM SUBSET
list.
The plan is for everyone to watch this film on the October day in the thread title, and to start discussing it the morning of the following day.
You may start discussion early if you want, but the preferred plan is for this to be as much of a group exercise as possible, with all of us viewing it "together" and discussing after.
Of course, you are totally encouraged to participate in these threads even if you haven't watched the movie on the designated day.
Even if you haven't watched it in years, or are not participating in the Horror Challenge, please feel free to chime in.
Spoiler tags are unnecessary in here, so if you have yet to see the film BEWARE OF SPOILERS.
_______________________________________
| | | |
| --- | --- | --- |
| | | |
2014 DISCUSSION THREAD
|
2014 LIST THREAD
---
Last edited by Chad; 10-05-14 at

01:53 PM

.
10-24-14, 05:49 AM
Re: "Abominable Dr Phibes/Rises Again" Reviews/Discussion - 2014 Horror Challenge: Da
---
Damn, I hate to be first on the comments on these films since I know there are going to be many who love them...but here goes...

I hated both of these movies. I love Vincent Price but nothing in these movies worked for me. The humor fell flat. There are no thrills or chills. The police detectives are obnoxious. And so on and so on.

I just don't get the love for these dull as dishwater films. I could have sworn I had seen the first one before but if I had, I had forgotten every minute of it (and rightfully so).

I can understand someone liking these if they grew up watching them on a Sunday afternoon and have some nostalgia for them. But other than that, I just don't get it.

And it is a cinematic crime to have Vincent Price's iconic voice at your disposal and then it is only used sparingly through both movies. I know that is the character but it still sucks.

My rating for both movies: * out of *****
10-25-14, 09:00 AM
DVD Talk Platinum Edition
Join Date: Dec 2007
Location: Houston, TX
Posts: 3,578
Re: "Abominable Dr Phibes/Rises Again" Reviews/Discussion - 2014 Horror Challenge: Da
---
I prefer somewhat similar Theater of Blood but the kills in Abdominal were inventive. As a campy time capsule the first, I agree somewhat with Spiderbite, was mediocre in a cartoonish brain dead way. It's humorous how circumstantial and coincidental the police investigation was (maybe intentionally comedic). I found Price's distorted non-voice creepy serving as a metaphor for his spectral existence. The ending to the first film was poetic with Phibes' final curse visited upon himself in a ghastly manner (only to be undone in the sequel). With the biblical murders, I wonder how much influence Abominable had on Fincher's Se7en. Ultimately I don't think Phibes lives up to the reputation I perceived it had even if it was cheap fun. Favorite kill - frozen car.

Off to watch Rises Again now...

Edit: Certainly don't want to disrespectfully step on anyone's favorite film, Phibes is enjoyable enough \/
---
Last edited by Undeadcow; 10-25-14 at

10:28 AM

.
10-25-14, 10:08 AM
Re: "Abominable Dr Phibes/Rises Again" Reviews/Discussion - 2014 Horror Challenge: Da
---
Oh, boy, but I've got to disagree with you on this one, Spiderbite. And, Undeadcow, you DO realize that it's "Abominable," not "Abdominal," right? You ARE making a joke, correct? Just checking.
This movie is ultra-special to me. I've written about it a lot, but here's what I wrote about it on my blog:
I first saw
The Abominable Dr. Phibes
when I was 9 years old, in the theater in its original run. As soon as it was over, I had a new favorite movie. I had had a favorite movie before—
Snow White and the 7 Dwarfs
, which I loved so much that Mom and Dad gave me an entirely
Snow White
Christmas when I was five. I got ceramic figurines of Snow White and all seven dwarfs, three 100-piece round puzzles that featured scenes from the film (which I put together so many, many times that I was able to beat my father at puzzle races—he would pick a puzzle for each of us, and he would put his together normally while I would assemble mine face down; I always won, and I really don't think that he was letting me win), the soundtrack album, etc. But
Dr. Phibes
was different. I somehow connected with this film, and it has remained one of the joys of my movie-viewing life for the last 40 or so years.
I can never get tired of
The Abominable Dr. Phibes
. I've had it, in some form or another, as part of my movie library since it was
first released on VHS
back in the mid-80s. Before that, I looked everywhere for the
soundtrack LP
, and actually found it once at a movie convention, but I just didn't have the bucks the dealer wanted for it at the time. I found out later that it was not actually the score of the film, but Paul Frees singing some of the songs that were featured in the movie. I felt a lot better about not buying it after that. By the way, the score has been officially
released on CD
within the past few years.
Two or three years after first seeing the film, and shortly after having rewatched it on the CBS Late Movie, I was having a piano lesson when my piano teacher brought out a piece of sheet music for me to try. The piece was called "War March of the Priests" by Felix Mendelssohn. She played it for me, and I nearly fell off of the piano bench where I was sitting next to her. I asked her how she knew that the piece was from my favorite movie,
The Abominable Dr. Phibes
(it's the piece that Phibes plays on the organ during the opening credits). She said that she didn't know—she just thought that I might like it. So there's another piece of evidence for synchronicity. Thanks, Uncle Carl!
After salivating over the
paperback novelization
in the ads in the back of
Famous Monsters of Filmland
magazine for years, I finally got a copy when a friend of mine gifted me with one. I still proudly it display on my bookshelf. (Thanks, Stan!) And the posters…. One of the ones displayed outside the theater where I first saw that film said "Would you say that Phibes is a Phiend?" I looked for
that style of poster
for years, and I
finally
found it on eBay recently. The seller's asking more than I want to pay, but it's still a wonderfully ornate piece of advertising/work of art. In fact, I can trace back my love of all things art deco to this film, which is where I first saw the style before I knew that it had a name.
There's a lot of love out there for this film, and deservedly so. It's a true classic of the cinema of horror and the fantastic. Every time I watch the film, I'm amazed all over again at how…
perfect
the film is. The cinematography is gorgeous, Basil Kirchin's music is dreamy (as are all his scores—he has a very individualistic style that is immediately recognizable), the sets and set decoration are sumptuous, and Robert Fuest, who has an artist's eye for the telling detail, never again directed a film that was even half as good.
The first ten or so minutes of the film are a textbook example of what the scholars call "pure cinema." Not a word of dialog is spoken during those first ten minutes, but they set up everything that's to come later. Once the dialog comes in, screenwriters James Whiton and William Goldstein balance humor and horror nearly perfectly. The film is laced with a sly wit—notice the look that Phibes gives the camera when Dr. Hargreaves introduces himself as "a psychiatrist—a headshrinker." And I can't think of a more sublime moment in ANY horror film than the one where Vulnavia, Phibes's assistant, stops cleaning for a moment and sits smoking, listening to "One for My Baby, and Another One for the Road." That moment, which does absolutely nothing to advance the plot, shouldn't be in the film. But there it is, and it's absolutely lovely and, to me, absolutely perfect.
Utterly remarkable,
The Abominable Dr. Phibes
deserves to be held in the same high esteem as other acknowledged classics of the dark fantasy cinema such as
Bride of Frankenstein
and
Curse of the Cat People
. It's probably my favorite of all the films listed in
The Psychotronic Encyclopedia of Film
, and for any horror film fan, or any film fan period, it's essential viewing.
10-25-14, 03:48 PM
Re: "Abominable Dr Phibes/Rises Again" Reviews/Discussion - 2014 Horror Challenge: Da
---
Even though she was not credited as Dr. Phibes' late wife Victoria I certainly recognized the striking eyes of Caroline Munro who was featured in The Golden Voyage of Sinbad, The Spy Who Loved Me, as well as one of my all-time favorites -- Captain Kronos - Vampire Hunter.
Despite Price's gift of oration his constant narration in Dr. Phibes Rises Again wore thin with me -- less was definitely more with regard to the first film. Since I streamed the second film via YouTube I cannot attest to its cinematography but the first film looked incredible on Blu-ray. As rbrown498 mentioned there was no plot advancement in Vulnavia taking a break to smoke but it sure was a nice looking scene. It may be style over substance but that's not always a bad thing.
10-25-14, 07:41 PM
DVD Talk Platinum Edition
Join Date: Dec 2007
Location: Houston, TX
Posts: 3,578
Re: "Abominable Dr Phibes/Rises Again" Reviews/Discussion - 2014 Horror Challenge: Da
---
Dr Phibes Rises Again had a great ending. I liked how the Vulnavia character just reappeared without the damage from the first film. Approaching these with a sense of style over substance I can better understand some of the appeal – the art deco style is great as is the music so I can see that from Rbrown's perspective, the robot orchestra from both. It's a shame they tagged along the bundling police team in the sequel because still they failed to win me over. I agree with Wishbone that the Rises Again narration by Price wore thing and, to me, often felt whiny and redundant.

Certainly burying keys in people's chest and forcing them to fight for life worked better here than the torture porn of Saw.

Favorite Rises Again kill - snake pincer scorpion.


10-25-14, 08:05 PM
Re: "Abominable Dr Phibes/Rises Again" Reviews/Discussion - 2014 Horror Challenge: Da
---
Here are screenshots from Arrow Video's
The Complete Dr. Phibes
Blu-ray set, which includes both movies and many special features:
http://www.doblu.com/2014/07/01/dr-p...lu-ray-review/
http://www.doblu.com/2014/07/11/dr-p...lu-ray-review/
I think
The Abominable Dr. Phibes
holds up rather well, it's one of the more stylish horror films of its era. Its sequel is a far inferior film, one that wastes much of the potential demonstrated by the first one. If they had somehow involved Caroline Munro as more than a photograph, they might have been my favorite Vincent Price films of all time.
10-25-14, 08:30 PM
Senior Member
Join Date: Sep 2006
Location: Cleburne, TX
Posts: 490
Re: "Abominable Dr Phibes/Rises Again" Reviews/Discussion - 2014 Horror Challenge: Da
---
I'm a fan of both films, though I actually prefer Dr. Phibes Rises Again for the addition of Quarry, the desert location and the terrific ending. I have the Arrow set, and it's an essential release.
10-27-14, 12:28 PM
DVD Talk Special Edition
Join Date: Jan 2004
Posts: 1,948
Re: "Abominable Dr Phibes/Rises Again" Reviews/Discussion - 2014 Horror Challenge: Da
---
Although Vulnavia's origins are not explained, I have always thought, due to the visuals of her entrance in the first film combined with Dr. Phibes's doctorate in theology, that she is a spirit summoned from the Great Beyond to assist him in his work. That would explain the cigarette scene--an immortal being made flesh suddenly being able to enjoy sensory pleasures for the first time in her existence.
10-27-14, 07:41 PM
Re: "Abominable Dr Phibes/Rises Again" Reviews/Discussion - 2014 Horror Challenge: Da
---
I love the first film and always have. I introduced a friend of mine to it last year, and she loved it as well, enough to want to show the sequel to the boyfriend. They enjoyed the sequel, too. I like the sequel, but I generally think it's a step down from the first one. I think there might be degree of focus that comes with the plague theme. The Blu-ray for the first movie looks great! I can see me revisiting it again next. I hope I have the second Vincent Price set by next year so I can see the sequel in HD as well.
Posting Rules
You may not post new threads
You may not post replies
You may not post attachments
You may not edit your posts
---
HTML code is On
---