"Rubber" Reviews/Discussion - 2012 Horror Challenge: Day 28
09-26-12, 04:47 PM
DVD Talk Legend
Join Date: Sep 1999
Location: Somewhere Hot Scoville Units: 9,999,999 Zodiac Sign: Capricorn
Posts: 11,252
"Rubber" Reviews/Discussion - 2012 Horror Challenge: Day 28
---
Rubber (2010)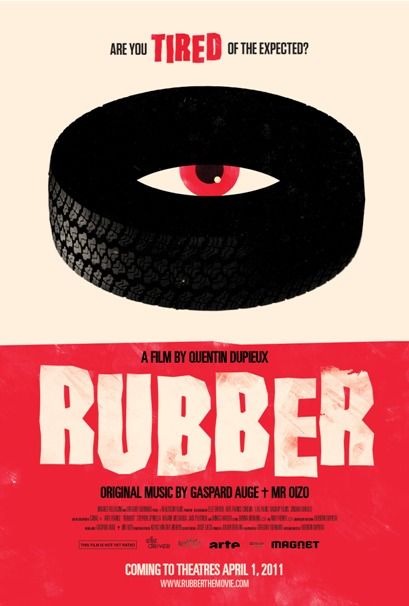 Selected by jmsmath
IMDB ENTRY
NETFLIX WATCH INSTANTLY
These "October Horror Movie Challenge" threads are for the discussion of the films in the
31 FILM SUBSET
list.
MAIN THREAD
|
LIST THREAD
The plan is for everyone to watch this film on the October day in the thread title, and to start discussing it the morning of the following day.
You may start discussion early if you want, but the preferred plan is for this to be as much of a group exercise as possible, with all of us viewing it "together" and discussing after.
Of course, you are totally encouraged to participate in these threads even if you haven't watched the movie on the designated day.
Even if you haven't watched it in years, or are not participating in the Horror Challenge, please feel free to chime in.
Spoiler tags are unnecessary in here, so if you have yet to see the film BEWARE OF SPOILERS.
_________________________________________________
SUPPORT OUR SPONSORS!
_________________________________________________
OHMC8 HOME
10-01-12, 10:35 PM
Re: "Rubber" Reviews/Discussion - 2012 Horror Challenge: Day 28
---
Rubber is the bomb, yo! Equally hilarious is the interview between the French director and a ruber sex doll found in the supplements section.

The music score is also tops.
10-01-12, 10:53 PM
DVD Talk Platinum Edition
Join Date: Dec 2007
Location: Houston, TX
Posts: 3,609
Re: "Rubber" Reviews/Discussion - 2012 Horror Challenge: Day 28
---
Watched Rubber tonight for exploding head day and enjoyed the playful fourth wall jabs. It seems like the whole purpose of Rubber is to insult the viewer and rub their face in cinema conventions. For the first 10 minutes there is little that happens other than an intro monologue that there is no reason for most of things that happen in movie and life then we stare at a lifeless tire. This feels like the director is mocking us for attempting to view his film. The segment were the cop gets shot and tells everyone they can go home because the viewers are all gone further suggests there is no authentic reality or content to the film. The whole purpose of the film seems to flaunt that we are watching a ridiculous movie about a psychokinetic tire in love. It's an interesting and amazing movie that strikes me as contemptuous of it's viewers but entertaining and challenging. It just might be the most meaningful and meaningless movie I've watched today but maybe I'm over thinking it. I just can't understand the symbolism behind the exploding heads?
---
Last edited by Undeadcow; 10-06-12 at

12:29 AM

.
10-11-12, 09:38 AM
Re: "Rubber" Reviews/Discussion - 2012 Horror Challenge: Day 28
---
I saw this last year and didn't like it. I love absurdist humor, and the idea of a psychic tire being a villain sounded like something that would be right up my alley. But the philisophical and meta elements ended up coming off as being pretentious to me,
10-23-12, 07:44 AM
Re: "Rubber" Reviews/Discussion - 2012 Horror Challenge: Day 28
---
Tried to watch this last night and thought it was terrible, dull and obnoxiously pretentious...which I believe is exactly what the filmmakers were going for and how they wanted me to feel while watching it.

I am really glad this was streaming on Netflix because if I had paid extra money to view it, I would have been pissed. Yeah, I know some art majors out there probably love this film and can explain it (or non-explain it) to the nth degree, but why waste your time? Watch a real film instead of one that is just a wanna-be art film. I take back making fun of people who want to include everything under the sun in their horror movie list now. Fucking Charlie Brown's Halloween Special has more horror in it than this film. Spider-Man as well. Ugh.

My rating: * out of *****
10-24-12, 02:34 AM
Re: "Rubber" Reviews/Discussion - 2012 Horror Challenge: Day 28
---
Well, it's certainly unique. Definitely not like any other movie I've seen before. It held my interest but it's not something that I could see myself watching more than once.
10-25-12, 11:27 AM
Re: "Rubber" Reviews/Discussion - 2012 Horror Challenge: Day 28
---
I saw parts when it first came out, mostly of the tire doing stuff and it looked fun. Watched it last night and while I read that the point of the film is to mock people that would want to watch a tire go around killing people, I had an image come to mind during most of the film. It's of someone that's typed out a long word that most people don't know and the thesaurus is giving suggestions on that word and the last one is "pretentious douchebag".
I thought some of the "no reason" topics at the beginning were also pretty stupid. Gee, how come the teens getting killed in The Texas Chainsaw Massacre didn't go to the bathroom and then wash their hands? Couldn't have anything to do with them being chased, tortured, and killed off. I don't know, I figure most people wouldn't be too concerned with making sure their hands are clean before they're getting hit on the head with a hammer.
Overall, from what I had seen earlier, I thought there was going to be a lot more to the story than what we got. It could have easily been shortened to a 20-30 minute story of the tire and thrown in some sort of anthology.
10-25-12, 01:41 PM
10-29-12, 08:53 PM
Member
Join Date: Jan 2007
Location: Sonora, Mexico
Posts: 157
Re: "Rubber" Reviews/Discussion - 2012 Horror Challenge: Day 28
---
Quite frankly, the joke wore off after the first 20 minutes. I was perfectly able to accept the killer tire theme as being "for no good reason" as the film intro suggested but there's no excuse for a dull movie which is what this was. I should have watched The Car instead where we also have an inexplicable killer entity (no one ever explains what The Car is or where it came from) and starts killing for "no good reason" but at least it's entertaining.
11-06-12, 02:19 PM
Senior Member
Join Date: Jul 2005
Posts: 575
Re: "Rubber" Reviews/Discussion - 2012 Horror Challenge: Day 28
---
I personally would have liked the movie more without the subplot of the observers. I know it would have gotten really weird when the stories overlapped, but I would have gladly welcomed the absurdity of that.

Also, I really enjoyed the fact that the filmmakers made a tire emote better than some so-called actors like Nicholas Cage. Really. When it was trying to figure out the bottle or when it discovered its tk powers with the bird you could sense the childlike glee. I've never gotten that feeling from Nicholas Cage.
Posting Rules
You may not post new threads
You may not post replies
You may not post attachments
You may not edit your posts
---
HTML code is On
---