"Gojira" Reviews/Discussion - 2010 Horror Challenge: Day 25
10-07-10, 08:56 PM
DVD Talk Legend
Join Date: Sep 1999
Location: Somewhere Hot Scoville Units: 9,999,999 Zodiac Sign: Capricorn
Posts: 11,007
"Gojira" Reviews/Discussion - 2010 Horror Challenge: Day 25
---
Gojira
(1954)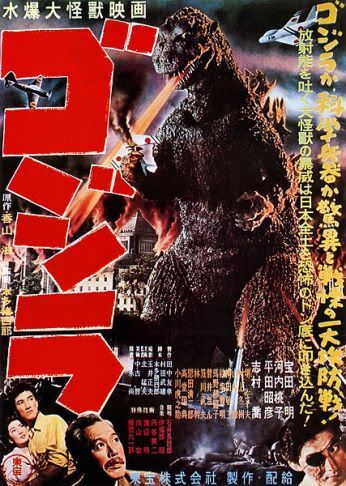 IMDB PAGE
Selected by
Jerpuffs
.
Netflix Streaming Link
These "October Horror Movie Challenge" threads are for the discussion of the films in the
31 Films in 31 Days Subset
.
Main Discussion Thread
|
The List Thread
The plan is for everyone to watch this film on the October day in the thread title, and to start discussing it the morning of the following day.
You may start discussion early if you want, but the preferred plan is for this to be as much of a group exercise as possible, with all of us viewing it "together" and discussing after.
Of course, you are totally encouraged to participate in these threads even if you haven't watched the movie on the designated day.
Even if you haven't watched it in years, or are not participating in the Horror Challenge, please feel free to chime in.
Spoiler tags are unnecessary in these discussion threads, so if you have yet to see the film BEWARE OF SPOILERS.
Horror Challenge Home
---
Last edited by Chad; 11-12-10 at

11:02 PM

.
10-25-10, 09:21 AM
Re: "Gojira" Reviews/Discussion - 2010 Horror Challenge: Day 25
---
Picture is a bit off Chad.
As much as I love the Godzilla series and all goofy monster suit movies, it's almost a shame that this film isn't a stand alone. The Japanese version is really a well-done film, and unfortunately gets lumped in with all the kaiju films.
10-25-10, 09:30 PM
DVD Talk Special Edition
Join Date: Sep 2008
Location: Lost Highway
Posts: 1,117
Re: "Gojira" Reviews/Discussion - 2010 Horror Challenge: Day 25
---
Yeah, this is really well done. I like the scope of terror that the film portrays. It really feels larger than life. And I love the sound Godzilla makes in this one. It's such a creepy, wrong sound. Not sure how to describe it, but it's like it doesn't finish how it starts sound wise.

I'm also really impressed at how well the miniatures were done. They seem to me to be incredibly detailed for that time.

Biggest complaint is the DVD. My edition has the worst looking subtitles I've ever seen. And I mean worse than fan-made bootlegs. I had to zoom in (something I NEVER do) just to make out the words. And they were still hard to read. A great film, though.
10-25-10, 10:35 PM
Re: "Gojira" Reviews/Discussion - 2010 Horror Challenge: Day 25
---
I do love me some Godzilla, but I'm loathe to say that this is the first time I've seen the Japanese version of the original film. I lived in Japan for a year and a half about seven years ago, and I was lucky enough to have found a job in the town where Eiji Tsuburaya was born. Sukagawa is a smallish town about two hours north of Tokyo, and, while it was the hometown of the man who brought life to Godzilla, there wasn't much there to commemorate him. I heard that there used to be a giant fiberglass Godzilla egg in the mountains right outside of town as a kind of tribute, but by the time I lived there it had been taken down due to its attraction to vandals. In fact, the town seemed to be much more proud of Tsuburaya-san for creating Ultraman than for his role in the creation of Godzilla. (There is, however, a pretty nifty 7-foot sculpture of Ultraman that stands at the entrace to City Hall.) Luckily, one of the department stores in town had a pretty good selection of Toho monster toys that I spent a lot of time perusing.

This first film is markedly different in tone than the Americanized version, and it does a pretty good job of laying bare the psychic scars that the atomic bombs left on the populace of Japan. It moves at a pretty good pace, and some of the special effects are still pretty impressive.

There was a 50th-anniversary museum show that toured Japan in the summer of 2004, and I coerced a friend of mine to go see it with me. I bought a pretty cool T-shirt that features a schematic of the Oxygen Destroyer which I have yet to take out of its protective plastic bag. I also got my friend to talk a local shop owner into giving me the poster advertising the exhibit that had hung in the store window in the weeks leading up to the event. I had it framed, and it now hangs proudly in my living room.
10-25-10, 11:47 PM
Re: "Gojira" Reviews/Discussion - 2010 Horror Challenge: Day 25
---
This was the fear of the atomic bomb personified. The mother and child powerless before the oncoming force is the best scene from this Japanese original cut. American viewers had been watching King Kong for over twenty years, so I am a little disappointed that the audience wasn't trusted with original cut. I don't know for sure (or wasn't around at the time), but maybe the effects of the war were still felt too personally for Americans to accept anything purely Japanese without the Raymond Burr character westernizing it for them, or even worse, allowing the story to be told in a way that could have been interpreted as the Japanese people being punished. I know I am unfairly Monday morning quarterbacking, but am thankful the big guy caught on over here and am awaiting the next chapter impatiently.

Am I missing any?

Godzilla (1954) Gojira
Godzilla (1955) Raids Again
Godzilla (1956) King of the Monsters
Godzilla (1962) King Kong vs
Godzilla (1964) Ghidrah 3 Headed Monster
Godzilla (1964) vs Mothra
Godzilla (1965) vs Monster Zero
Godzilla (1966) vs Sea Monster
Godzilla (1967) Son of
Godzilla (1968) Destroy All Monsters
Godzilla (1969) Revenge
Godzilla (1971) vs Hedorah
Godzilla (1972) vs Gigan
Godzilla (1973) vs Megalon
Godzilla (1974) vs Mechagodzilla
Godzilla (1975) Terror of Mechagodzilla
Godzilla (1978) Hanna-Barbera Series
Godzilla (1984)
Godzilla (1985) US version of '84
Godzilla (1989) vs Biollante
Godzilla (1991) vs King Ghidorah
Godzilla (1991) vs Megalon MST3K
Godzilla (1991) vs the Sea Monster MST3K
Godzilla (1992) and Mothra Battle for Earth
Godzilla (1993) vs Mechagodzilla 2
Godzilla (1994) vs Space Godzilla
Godzilla (1995) vs Destroyah
Godzilla (1998)
Godzilla (1998) The Animated Series
Godzilla (1999) 2000
Godzilla (2000) vs Megaguirus
Godzilla (2001) GMK
Godzilla (2002) vs Mechagodzilla
Godzilla (2003) Tokyo SOS
Godzilla (2004) Final Wars
---
Last edited by cproaps; 10-26-10 at

12:17 AM

. Reason: For leaving out Kong like an idiot, LOL
10-26-10, 12:06 AM
Senior Member
Join Date: Apr 2007
Location: long island, ny
Posts: 594
Re: "Gojira" Reviews/Discussion - 2010 Horror Challenge: Day 25
---
There were 28 Japanese movies. You're missing King Kong vs. Godzilla from your list. It would be the 3rd one in the series.

I finally completed the run recently. Though Return of Godzilla (1985) and Biollante haven't had region 1 releases.
10-26-10, 12:12 AM
Re: "Gojira" Reviews/Discussion - 2010 Horror Challenge: Day 25
---
That's RIGHT! DDDDUUUUHHHHH!!!! King Kong, and it seems I've heard there are slightly different versions of it as well. I have the US DVD release and a copy of an all Japanese version, but have never screened the two (or researched online) closely together to see if there are differences.

Thanks!!
10-26-10, 12:15 AM
Senior Member
Join Date: Apr 2007
Location: long island, ny
Posts: 594
Re: "Gojira" Reviews/Discussion - 2010 Horror Challenge: Day 25
---
Anytime. I think the ending were different for the US and Japanese versions of King Kong. Its been a few years though since I've watched either. I've actually been on a huge Godzilla kick lately too so I may pop that one in soon.
10-26-10, 12:39 AM
Re: "Gojira" Reviews/Discussion - 2010 Horror Challenge: Day 25
---
I watched all the Godzilla films, Japanese and US versions, in chronological order back for the Sci-Fi Challenge. It was a great month.
Posting Rules
You may not post new threads
You may not post replies
You may not post attachments
You may not edit your posts
---
HTML code is On
---