"Fright Night" Reviews/Discussion - 2010 Horror Challenge: Day 20
10-07-10, 08:44 PM
DVD Talk Legend
Join Date: Sep 1999
Location: Somewhere Hot Scoville Units: 9,999,999 Zodiac Sign: Capricorn
Posts: 10,947
"Fright Night" Reviews/Discussion - 2010 Horror Challenge: Day 20
---
Fright Night
(1985)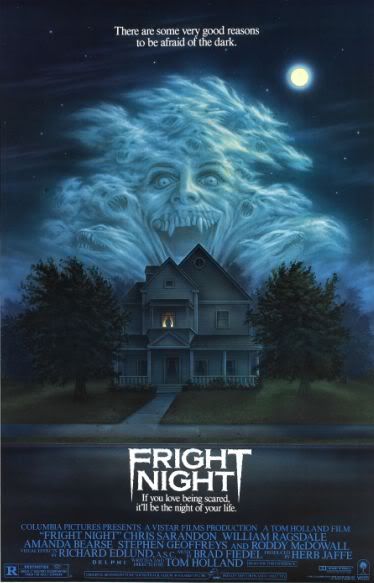 IMDB PAGE
Selected by
orlmac
.
Netflix Streaming Link
Fright Night Commentary
Writer/Director Tom Holland
Stars Chris Sarandon (Jerry Dandrige) & Jonathan Stark (Billy Cole)
Moderated by Tim Sullivan
Fright Night Commentary #2
Writer/Director Tom Holland
Stars William Ragsdale (Charley Brewster) & Stephen Geoffreys ("Evil" Ed Thompson)
FX Artist Randall William Cook,
Moderated by Jeremy Smith (Mr. Beaks from Ain't It Cool News.com)
Hosted by Tim Sullivan
These "October Horror Movie Challenge" threads are for the discussion of the films in the
31 Films in 31 Days Subset
.
Main Discussion Thread
|
The List Thread
The plan is for everyone to watch this film on the October day in the thread title, and to start discussing it the morning of the following day.
You may start discussion early if you want, but the preferred plan is for this to be as much of a group exercise as possible, with all of us viewing it "together" and discussing after.
Of course, you are totally encouraged to participate in these threads even if you haven't watched the movie on the designated day.
Even if you haven't watched it in years, or are not participating in the Horror Challenge, please feel free to chime in.
Spoiler tags are unnecessary in these discussion threads, so if you have yet to see the film BEWARE OF SPOILERS.
Horror Challenge Home
---
Last edited by Chad; 10-16-10 at

10:25 PM

.
10-20-10, 08:14 PM
Re: "Fright Night" Reviews/Discussion - 2010 Horror Challenge: Day 20
---
Welcome to Fright Night.......for real! One of my favorites from the 80s. Roddy McDowall is great as Peter Vincent. With Child's Play last night I end up with a Tom Holland/Chris Sarandon reunion! Another cool thing about this challenge this month is that I now know that the hokey sci fi movie at the end is Octaman!
10-21-10, 01:13 AM
Re: "Fright Night" Reviews/Discussion - 2010 Horror Challenge: Day 20
---
For some reason, I've never really warmed to Fright Night, and I can't really put my finger on why. It hits all the expected notes that a vampire film should, but maybe it just seems too...calculated to me. Watching it this time out, I was really struck by the sheer 80s-ness of the film, especially in the club scene, where Chris Sarandon and Amanda Bearse strut their stuff on the dance floor. Ending leaves room for a sequel, which eventually appeared--although it didn't take the second film in the direction that was hinted at in the first film. Astute viewers will notice that one of the movies playing on McDowall's TV show is Children Shouldn't Play with Dead Things. Fright Night isn't a bad film, but it's no classic, either.
10-21-10, 03:22 AM
Re: "Fright Night" Reviews/Discussion - 2010 Horror Challenge: Day 20
---
Seen the movie lots of times, so I decided to make things fresh by checking out one of the commentaries (Thank you so much for the links!)
Just got done watching it with commentary #2. I like how they point out the first special effect that no one never notices (The mirror non-reflection in mom's room) there was also great trivia of all the props on display at Mr. Vincent's. But I didn't really catch what Randy (The FX guy) got kinda pissed off at when it came time to introduce the "Shark mouth". Was it because he only wanted to use it for like a 1-second shot?
10-21-10, 09:43 AM
Senior Member
Join Date: Oct 2009
Posts: 555
Re: "Fright Night" Reviews/Discussion - 2010 Horror Challenge: Day 20
---
I like the mixture of humor and horror in this movie. Some horror films now have too much humor in them, but this has just the right amount to me. I love Roddy McDowall and Chris Sarandon, but for me Amanda Bearse and Stephen Geoffreys helped make this movie.
10-23-10, 10:05 AM
Re: "Fright Night" Reviews/Discussion - 2010 Horror Challenge: Day 20
---
Loved the two "pirate" commentary tracks. This film is a favorite of mine. As orlmac just mentioned, a nice blend of horror and humor, and Sarandon and Stark nail their parts imo.
10-31-10, 05:20 PM
Re: "Fright Night" Reviews/Discussion - 2010 Horror Challenge: Day 20
---
This one was always a favorite of mine. In fact, it was either the first or second VHS I ever bought with my own money (The Princess Bride being the other one). I still remember walking out of the theater with a big smile on my face, the first time I saw it. It just always hit all the right notes with me. I pretty much wore out the tape with repeat viewings. (Thank goodness for DVDs!)

Roddy McDowell is so wonderful as Peter Vincent. I can barely even think about how the remake's going to turn out. I love me some David Tennant, but still...

Keep meaning to get to the commentaries and keep forgetting. Maybe next time!
Posting Rules
You may not post new threads
You may not post replies
You may not post attachments
You may not edit your posts
---
HTML code is On
---