Filmmaker's Mode
08-31-19, 01:47 AM
Re: Filmmaker's Mode
---
I see James Cameron's face somewhere in there. Shouldn't he be busy prepping my 4K versions of The Abyss and True Lies instead? So I can watch those in Filmmaker's mode.
08-31-19, 11:12 AM
Re: Filmmaker's Mode
---
LOL, good point.
I've given up on those 2.
When Amazon has them for pre-order, I'll believe it then.
09-02-19, 01:44 AM
DVD Talk Legend
Join Date: Feb 2007
Location: The Phantom Zone
Posts: 23,489
Re: Filmmaker's Mode
---
Originally Posted by
Sonic
True. This is just a feature for the high end user.

I don't know how this "Filmaker Mode" is going to be adopted. Especially when the picture and technology of each set is different. What you see on a LG OLED will be different than a Panasonic OLED etc etc so who's to say how Filmmaker mode is really supposed to look?
That's exactly the point. To create a uniform standard for movies across different display companies. This is mostly about setting things like maximum nit range, gamma and other esoteric video settings that Joe Sixpack doesn't normally touch.
09-16-19, 07:37 AM
Re: Filmmaker's Mode
---
Well, this is an interesting POV:

Barry Sonnenfeld, director of the "Men in Black" series, "Get Shorty" and most recently Netflix's "Series of Unfortunate Events", says 8K is "only good for sports" and High Dynamic Range (HDR) is "stupid" and "a waste."

Sonnenfeld speaking at the CEDIA Expo called for a "filmmaker mode" on all TVs that can turn off unwanted HDR. He says Netflix's insistence everything be shot in HDR altered the cinematography on "Series of Unfortunate Events" to his disliking.

Sonnenfeld said Netflix and other streaming services feel HDR makes them appear "next level" from a technology perspective, according to the article, then conceded that "HDR is the future... but it shouldn't be. It's great for watching sports, like hockey, but nothing else... "

He said today's cinematographers are using older lenses and filters on digital cameras to make them look like they weren't shot with a 4K or 8K camera. "The problem with 8K and even 4K is that all it is doing is bringing us closer to a video game aesthetic. It just looks more and more 'not real.' I can't watch any Marvel movies because none of the visual effects look real."
09-16-19, 11:05 AM
DVD Talk Legend
Re: Filmmaker's Mode
---
Yep, ANY setting the TV changes to, and people are going to bitch about it that it's wrong. This is a massive waste of time. Better to do a 3 minute YouTube video about the basics and leave it at that.
09-16-19, 04:50 PM
Re: Filmmaker's Mode
---
I don't agree with Sonnenfeld at all.
4K and HDR are wonderful advancements.
I don't know what the hell a "video game aesthetic" means.
If filmmakers are AFRAID to use new
tools
, they should retire to their Beverly Hills mansion and keep their opinions to themselves.
There is a reason why this pic always gets a laugh...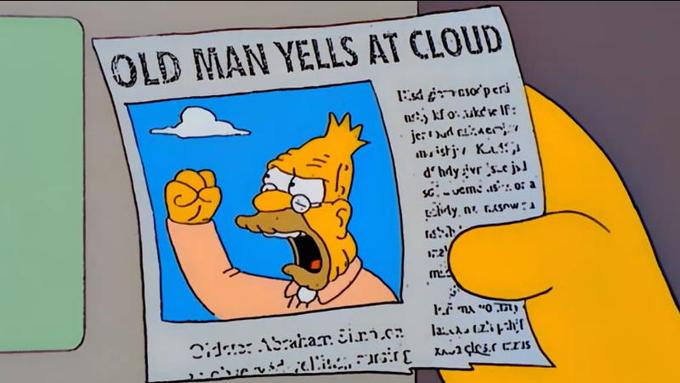 Posting Rules
You may not post new threads
You may not post replies
You may not post attachments
You may not edit your posts
---
HTML code is On
---