Poster display
03-21-09, 08:38 PM
DVD Talk Limited Edition
Poster display
---
It's not electronics-based, but I think this counts as a home theater issue. Our entertainment room only has three walls, rather than four, meaning that our wall space is greatly limited. I'm greatly fascinated by movie poster art and think they greatly accentuate an entertainment room (by now, you're bound to realize I'm in the right sub-forum!).
Anyway, because I've got tax money coming and I'm just the kind of person to do something stupid and whimsical with it, I've spent the last half hour Googling options for multiple poster displays. It seems that the most affordable option does the following:
The best price I've seen is about $300 for such a critter, though. Has anyone actually bought and used such a thing at home? How has it been for you? Are there any more reasonable alternatives I've overlooked?
I don't really care about storing rolled posters in this display at all; it just happens that the wall-mounted and table-top ones without this feature have all been even more expensive.
03-21-09, 09:05 PM
DVD Talk Hall of Fame
Join Date: Oct 2006
Location: portsmouth, va
Posts: 9,177
Likes: 0
Re: Poster display
---
i think you'd be better off buying smaller 8x10 posters and putting them on the wall. why would you want to buy one of those units that stores like wal-mart use to display posters? i mean, is this what your talking about....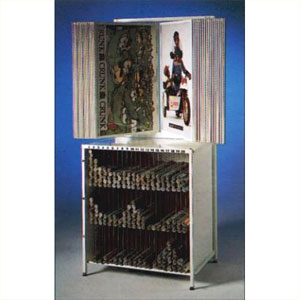 03-21-09, 09:16 PM
Re: Poster display
---
Yea...personally if I had the $$ I get the fancy lighted frames. I'd look at those that are back light and have lights on the outside.

Then as you build your poster collection, just rotate them in once a month or something.

There is a thread at AVS where there are details to build your owe. I've considered it for a long while. And every time I start to do it, something comes up and I get distracted. BTW smaller pics can also look good. You can see my signature for what I have.
Posting Rules
You may not post new threads
You may not post replies
You may not post attachments
You may not edit your posts
---
HTML code is On
---