Whats the Deal with Projection TV"S??? NEED HELP
11-04-02, 11:22 PM
Senior Member
Join Date: Aug 2002
Location: Colorado
Posts: 381
Whats the Deal with Projection TV"S??? NEED HELP
---
I was thinking about buying a projection TV, I dont know much about them, that or like a 48" Widescreen tv from Pansonic i saw at a pretty good price, So whats the deal with these things? Are they good? Ive seen them pretty good prices on ebay, and also can they be projected in Widescreen as well(16:9 ratio i think it is)? And how is the quality?
11-06-02, 07:44 AM
DVD Talk Legend
Join Date: Jun 1999
Location: USA
Posts: 12,246
Originally posted by Mantecore
To clear this up incase anyone isthinking otherwise, i mean prjectors, like the ones you hang from you wall and stuff, and project an image on yur wall.
Depending on your budget this can be the best viewing experience possible.
Alot needs to go into a setup, proper room lighting, screen size and type and the projector you are using.
11-06-02, 11:32 AM
DVD Talk Gold Edition
Join Date: Jun 2001
Location: New York, NY
Posts: 2,644
What you refered to the first post was clearly a rear projection TV. Something like this: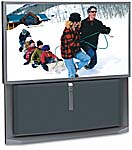 But in the second post you talked about a front projection system like this:
The quality of front projection can be excellent. One of the major advantages is large screen size like 80-120" diagonal. Another great advantage is the fact that you can project 1.33, 1.85, .2.35 or any other ascept ratio. (although a digital projector has a native ascept ratio)
One problem is that you need a dark room, and I mean the DARKER the better.
Here are a few articles to help you get started with digital pj's:
http://www.projectorcentral.com/big_screen_tvs.htm
(Note that the prices in this article are old. New projectors start around $1500, as do HD rear projection TV's.)
http://www.projectorcentral.com/lcd_dlp.htm
http://www.projectorcentral.com/formats.htm
If you are still interested, start reading threads in the sub-$5000 digital projector forum at:
http://www.avsforum.com
Don't worry, after a while what they are talking about will start to make sense.
11-06-02, 11:10 PM
Senior Member
Join Date: Aug 2002
Location: Colorado
Posts: 381
Yeah was looking to have about a 70 inch and widescreen is definetly a must, also whats good lumens to get? Because a lot of the ones i see are like 1200 and i dont want *****
[please don't use those types of words here - http://www.dvdtalk.com/forum/showthr...hreadid=240891 -X]
quality while im watching in a lighted room? I dont know much about these things at all, so dont know if they are a good investment. I was looking to spend like $1300.00
11-07-02, 11:48 PM
Senior Member
Join Date: Aug 2002
Location: Colorado
Posts: 381
Well i may just get this 48 inch panasonic widescreen hdtv, bestbuy has it for 1500$, seems good deal to me, anyone know where to find good prices on these things? also i will most likely wait to christman, cause hopefully i can get some good deals, and best buy has the get a free leather chair and ottoman right now, which is kinda kool!
Posting Rules
You may not post new threads
You may not post replies
You may not post attachments
You may not edit your posts
---
HTML code is On
---