70+ Blu Rays for Sale + Bonus PS3 Games!! Serious Buyers Only!
05-10-08, 10:09 PM
Member
Join Date: Mar 2006
Location: Las Vegas
Posts: 100
Likes: 0
Received 0 Likes on 0 Posts
70+ Blu Rays for Sale + Bonus PS3 Games!! Serious Buyers Only!
---
Ok guys here are all the 74 movies with pictures. I have 24 still SEALED. I am not selling any individually so please don't bother asking.
Troy
The Transporter
A Few Good Men
Incubus Alive At Red Rocks
Kiss Of The Dragon
Stir Of Echoes
Kung Fu Hustle
House Of Flying Daggers
Planet Of The Apes
The Prestige (Sealed)
Reign Of Fire
Swordfish (Sealed)
Shooter (Sealed)
Kingdom Of Heaven (Sealed)
Enter The Dragon
The Omen (Sealed)
Chronos (Sealed)
300
Spiderman (Sealed)
Spiderman 2 (Sealed)
Spiderman 3 (Sealed)
Spiderman 3 PS3 version
Spiderman 3 Best Buy Bonus Disc (Sealed)
Destiny's Child Live In Atlanta
Under Siege
Blood Diamond
Identity
Superbad
Shoot 'Em Up
Galapagos
Planet Earth
Enchanted (Sealed)
Pirates Of The Caribbean Curse Of The Black Pearl (Sealed)
Pirates Of The Caribbean Dead Mans Chest (Sealed)
Pirates Of The Caribbean At Worlds End (Sealed)
Lost Season 3 (Sealed)
Masters Of Horror Vol. 1
Masters Of Horror Vol. 2
Masters Of Horror Vol. 3
Masters Of Horror Vol. 4 (Sealed)
Superman Returns
Pearl Harbor
Stargate
Night At The Museum
Silent Hill
Remember The Titans
Dark Water (Sealed)
Stranger Than Fiction
Rocky Balboa
The Departed
Simpsons Movie
The Invisible
The Reaping
The Patriot (Sealed)
The Lake House (Sealed)
Memento
Crank
The Descent
High School Musical 2 (Sealed)
The Curse Of King Tut's Tomb (Sealed)
The Invasion
Annapolis
The Day After Tomorrow
Casino Royale
Saw (Sealed)
Saw 2
Saw 3
Saw 4 (Sealed)
Nacho Libre
The Brave One
War
28 Days Later
28 Weeks Later
I Am Legend (Sealed)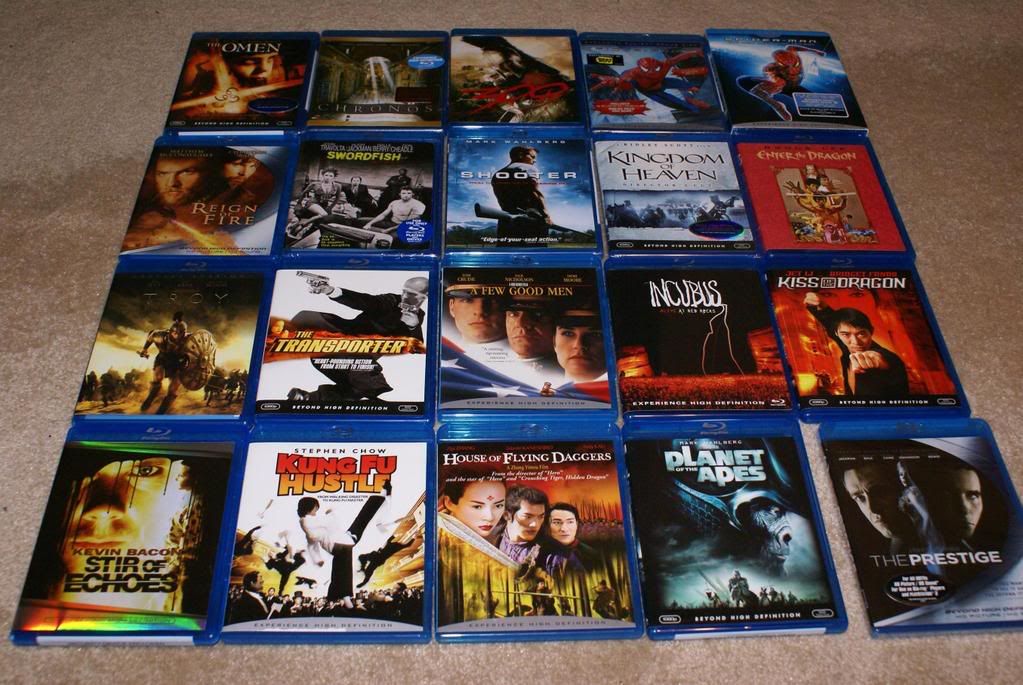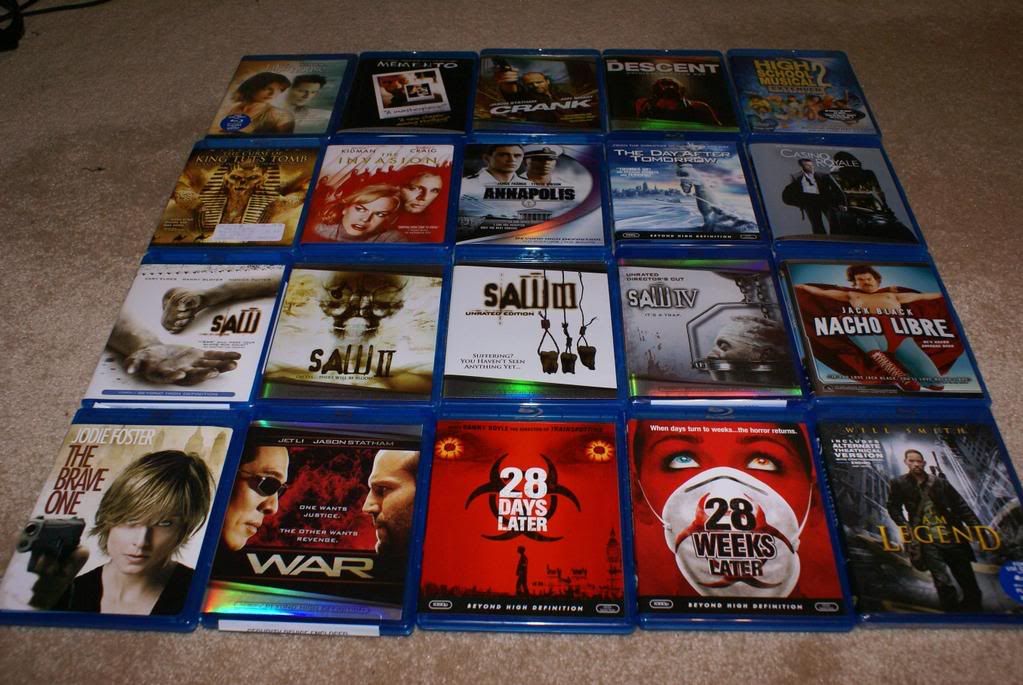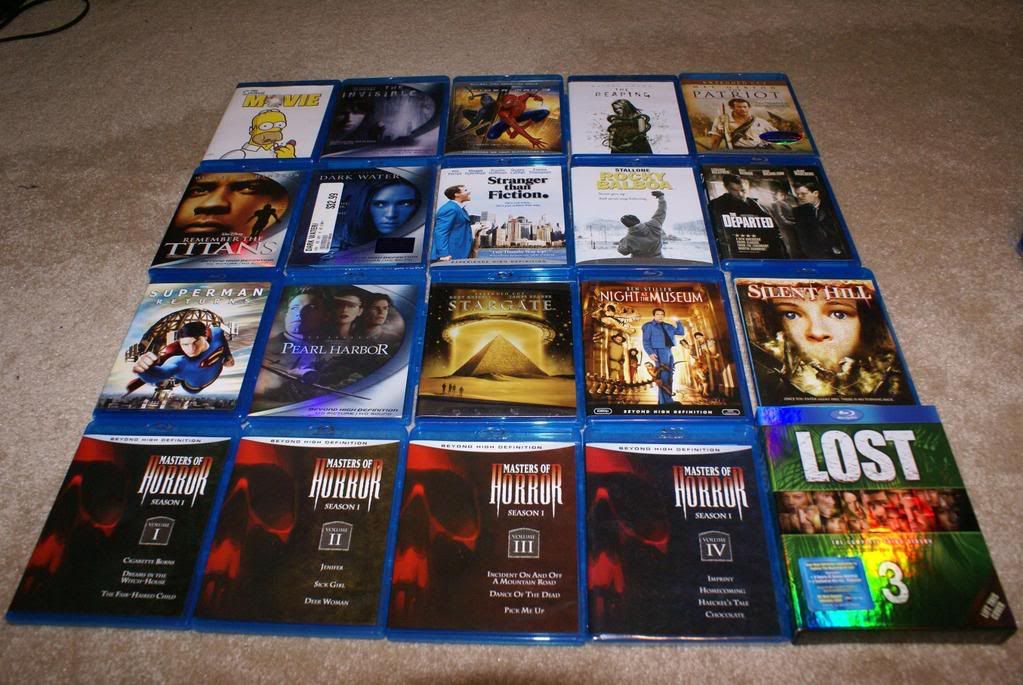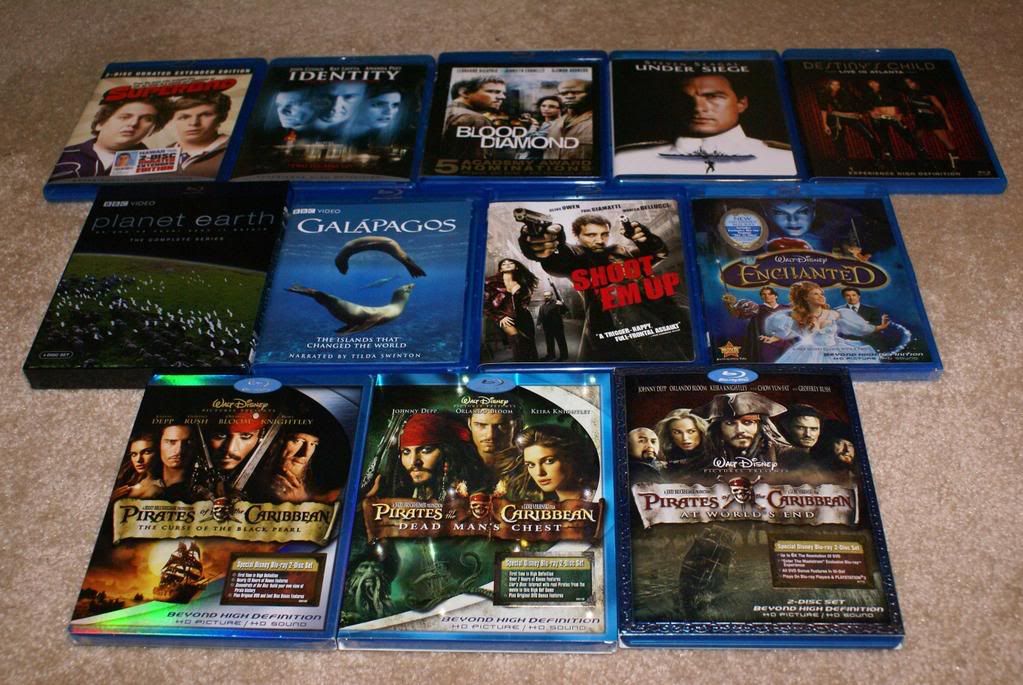 Here is the catch...I don't want to get hit with Paypal fees so i would like either a Money Order, Cash Or Personal Check.
I can take Paypal if you would like to pay for the fees as well.

I have a Power Sellers account on Ebay under the username :
kcire27
So you can contact me at my Ebay name if you need proof that I'm not a dud. Also the buyer will get my personal cell phone number to contact me with any questions. I have traded on these boards for a while now as well so may people know me here.
Also I have a huge thread here where I've sold to lots of people here :
http://forum.dvdtalk.com/showthread....ight=unknown27
I'm going to ask for $960 + 40 Priority Shipping w/confirmation. So $1000 total. That's about $13 a Blu Ray. Of couse if anyone want to offer more...I'll be more than happy to take the highest bidder.
I believe the price is fair for what you are getting. These are well taken care of and come from a smoke free home.
I'll also throw in the PS3 game Warhawk + Conan as a bonus...actually it's not so much a bonus since the Conan game does suck
This is about an $80 value
PM me if you are interested. Any other offers will be ignored for I am not really looking to negotiate. Again don't bother asking for individual sales. I am only looking to sell as a whole...either here on these boards or somewhere else.
Thanks for looking guys.
Posting Rules
You may not post new threads
You may not post replies
You may not post attachments
You may not edit your posts
---
HTML code is On
---