Russ Heath Passes Away at 91
08-24-18, 01:46 PM
Russ Heath Passes Away at 91
---
Russ Heath Passes Away at 91
By George Marston, Newsarama Contributor August 24, 2018 08:36am ET

The family of Russ Heath has confirmed the comic book legend passed away Thursday evening at the age of 91 in Long Beach, California, after battling cancer.

Born in 1927, Heath broke into comic books working on Western stories for Timely Comics (now Marvel Entertainment), including Two-Gun Kid.

Moving on to horror and war stories, Heath worked for EC Comics for a time before co-creating the Haunted Tank at DC Comics and drawing the first appearance of the Losers.


Heath's illustrations were well known outside of comic books as well. Several panels of fighter jets from his work on DC war comic books were appropriated by Roy Lichtenstein for his paintings, including his works "Blam," "Brattata," and "Whaam."

Heath also contributed to Playboy's comic strip Little Annie Fanny – even living at the Playboy Mansion for a brief period.

Heath also worked in commercial art, illustrating battle scenes to advertise toy soldiers which ran in comic books for many years.

In his career, Heath was recognized with a 1997 Inkpot award, a 2010 Comic Art Professional Society Sergio Award, and the National Cartoonists Society's Milton Caniff Award in 2014. In 2009, he was inducted into the Will Eisner Comic Book Hall of Fame.
https://www.newsarama.com/41535-russ...sses-away.html
One of his most famous ads.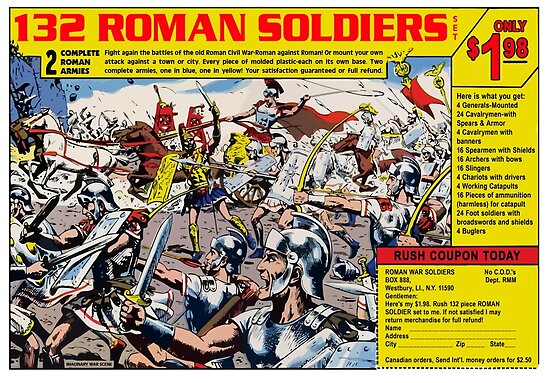 08-24-18, 02:37 PM
DVD Talk Legend
Join Date: Sep 1999
Location: Building attractions one theme park at a time.
Posts: 10,539
Re: Russ Heath Passes Away at 91
---
I've had the opportunity to share several lunches with Russ over the years (thanks to the Hero Initiative). Russ was a character who always had a story to tell. Several stories, in fact. He enjoyed life to the fullest until age finally caught up with him. Even then, he was always raring to go.

He was a legend and I'll truly miss him.
08-27-18, 06:30 AM
DVD Talk Gold Edition
Join Date: Aug 2001
Posts: 2,135
Re: Russ Heath Passes Away at 91
---
Russ Heath was great on Haunted Tank. Well, everything really, but Haunted Tank was what did it for me. I was glad to see that DC reprinted his work in the b&w Showcase line. He deserved it.
09-01-18, 09:33 PM
Member
Join Date: Jan 2002
Location: new york
Posts: 176
Re: Russ Heath Passes Away at 91
---
From the Marie Severin thread, just a quick c&p :
with the recent passings of Marie Severin and Russ Heath, that makes Angelo Torres the sole surviving person who contributed creatively to EC Comics. We're almost to the end of an era.
Posting Rules
You may not post new threads
You may not post replies
You may not post attachments
You may not edit your posts
---
HTML code is On
---